Main content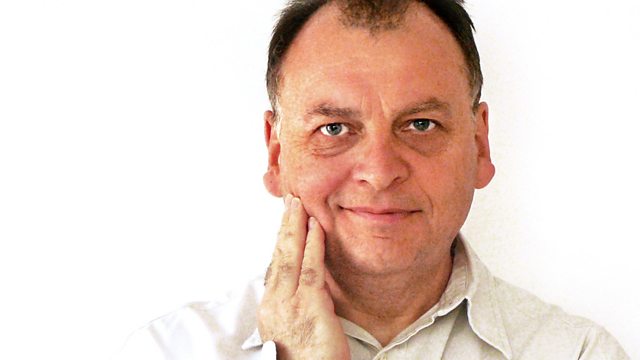 Robert Worby with music performed at the 2014 New Music Biennial in Glasgow. Including Matthew Herbert, Lau, Dobrinka Tabakova, Errollyn Wallen, Alistair Anderson and Jez Colborne.
For more information about Matthew Herbert's 20 Pianos: http://issuu.com/edmckeon/docs/20pianos_5.0
Staged by the PRS for Music Foundation to coincide with this year's Commonwealth Games, the first ever New Music Biennial showcases new commissions from a wide range of composers across the UK in two special events held in London and Glasgow. In this second programme, recorded at Glasgow's Royal Concert Hall on the closing weekend of the Games, we hear a collaboration between the folk trio Lau and the Elysian Quartet, 20 pianos from around the world sampled by Matthew Herbert, Niraj Chag's family journey from India to Britain, a film score by Dobrinka Tabakova, a journey in sound between the Highlands and Canada from Mary Ann Kennedy and Scott Macmillan, plus music for shipping container by Jez Colborne, a work for steel pans and accordion by Alistair Anderson and a piece about the lost tradition of Scottish cattle droving by Matheu Watson and Luke Daniels.
Presented by Robert Worby.
Lau: The Bell That Never Rang
Lau
Elysian String Quartet
Matthew Herbert: 20 Pianos
Sam Beste (electronic keyboard)
Niraj Chag: You Run on Tracks, Not Roads
Priti Menon, Denyse Anyogu (vocals)
Vikaash Sankadecha (Indian percussion)
Harvin singh (drums)
Niraj Chag (laptop / creative director)
Matheu Watson and Luke Daniels: New World Drovers
Patsy Reid (fiddle)
Matheu Watson (electric guitar)
James Fagan (bouzouki)
Luke Daniels (melodeon & zither banjo)
Mac Morin (piano and step dancer)
Alistair Anderson: Panning for Gold
Alistair Anderson (accordion)
Wendy Doyle (steel pans)
Adam Cogdon (DJ)
Laura Connolly (clog dancer)
Jez Colborne: Gift
Jez Colborne and members of Mind the Gap Theatre Company
Mary Ann Kennedy and Scott Macmillan: Aiseag (The Ferryboat)
Mary Ann Kennedy (singer/harp)
Scott MacMillan (guitar)
Aonghas MacNeacail & Christine MacDonald (narrators)
Colin Grant (Cape Breton fiddle)
Angus MacKenzie (pipes)
Brodie Jarvie (bass)
Allan Og MacDonald (percussion)
Inverness Gaelic Choir
Scottish Festival Strings
Dobrinka Tabakova: Pulse
Rolf Hind (piano)
Richard Uttley (piano)
Richard Benjafield (percussion)
George Barton (percussion)
Robert Campion (gamelan)
Isabelle Carré (gamelan).
More episodes
Next
You are at the last episode
Stockhausen's Gruppen – What's the Big Deal?