Main content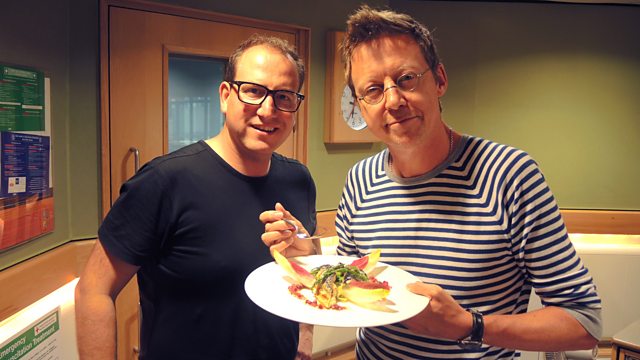 Foodie Thursday: Seared Mackerel with Pomegranate and Manuka Honey Dressing
Nigel Barden cooks up seared mackerel with pomegranate and manuka honey dressing. Rebecca has the business news, Matt has the sport and we have another of your confessions.
Seared Mackerel with Pomegranate & Manuka Honey Dressing
by Simon Boyle from Recipes for Life, Inspired Cooking Beyond Cancer (Chef Books)<?xml:namespace prefix = u9 />
<?xml:namespace prefix = o ns = "urn:schemas-microsoft-com:office:office" />
Serves 4
Prep time 50 mins
Cooking time 10 mins
Ingredients
Dressing
1 pomegranate (Nigel says you can buy a packet of fresh seeds)
2 tsp Manuka honey
1 red pepper, fairly small dice
3 large fresh mint sprigs, finely chopped
3 tsp red wine vinegar
4 tbsp extra virgin olive oil
¼ tsp rose harissa (optional)
1 level tsp chopped capers (this is a Nigel optional extra)
freshly ground black pepper, for seasoning
Mackerel
2 tbsp extra virgin olive oil
1 small spring green
½ red onion
1 lemon, zested & juice
4 fresh mackerel fillets, pin boned, cut into 2 equal pieces, & the skin scored diagonally with a sharp knife at 1cm intervals.
Method
Dressing
Cut the pomegranate into 4 quarters & de-seed. Collecting any escaping juice, place half the seeds in a food processor & blitz.  Strain the juice & pour into a small pan, add the honey & bring to the boil, reduce by half.
Place all the other dressing ingredients into the bowl with the pomegranate juice & combine thoroughly, add the pomegranate seeds & reserve.
Mackerel
In a large shallow pan, heat some olive oil until very hot.  Add the shredded spring green & stir-fry for 2-3 mins.  Add the sliced red onion & continue cooking for a further 2-3 mins.  Season with lemon rind, juice & pepper.
Heat a frying pan until quite hot & add the olive oil.  Season the mackerel fillets & then place skin side down in the hot frying pan.  Cook for 3 mins & then turn & cook for a further 1 min on the other side.  Remove the fish from the pan & place skin side up on a tray.
To serve
Arrange a small pile of spring greens onto a plate.  Using a fish slice, place a warm mackerel fillet on each.  Spoon the dressing around & serve immediately.