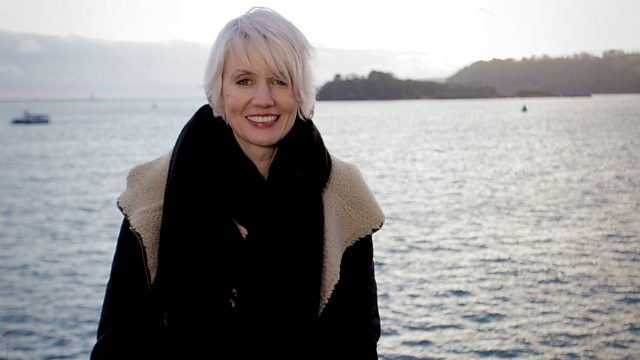 Coast embarks on its first adventure to North America, exploring British connections far offshore and surprising stories in the waters just off Britain's shoreline.
Nick Crane journeys over the Atlantic to New Scotland, that is Nova Scotia, in Canada. Attending a gathering of descendants from the MacNeil clan, Nick discovers how centuries-old traditions, now forgotten even in Scotland, have been kept alive in Nova Scotia. Why did Scottish settlers flood offshore to Canada 200 years ago and how well did they succeed? An archaeological dig also reveals the 400-year-old secrets of the first English colony in Canada, near the site where Canadians now fly the largest Union flag in the world. Nick also discovers the remains of the transatlantic telegraph cable which first hardwired Britain to America 150 years ago and which continued to carry telegrams until late into the 20th century. At the Canadian cable station Nick learns about the secret messages which Marilyn Monroe sent over the wires to her lover across the Atlantic.
Tessa Dunlop reveals an untold story from the Falklands War, the struggle to communicate the fateful message to sink the cruiser General Belgrano. How was the order to attack the Argentinian battleship sent 8,000 miles to the submarine HMS Conqueror, submerged deep underwater? Tessa learns of the radio network centred on massive antenna housed outside landlocked Rugby. Built to communicate with nuclear submarines during the Cold War, why did this system struggle to cope at the most dramatic moment of the Falklands War?
On a beautiful but desolate isle in the Outer Hebrides, Miranda Krestovnikoff goes in search of Britain's oldest puffin. She discovers how seabirds manage to live up to 50 years in the harsh environment offshore.
Nick Hewitt uncovers the hidden history of the 100-year-old Nab Tower, which sits in the sea off the shores around Portsmouth. Nab Tower is now a life-saving lighthouse, but it was built to sink U-boats during the First World War. What were the secrets behind the construction of this concrete and steel giant, designed to sit in the middle of the English Channel? And what became of its twin, the tower that never made it to sea?
Offshore from the Isle of Wight is one of the few locations in Britain where people can be buried at sea. Coast gains unique access to reveal how this rarely seen ceremony is conducted, using a specially designed coffin together with a poignant and appropriate choice of music and poetry to commit the dearly departed to the deep.
Last on
Credits
| Role | Contributor |
| --- | --- |
| Presenter | Nicholas Crane |
| Presenter | Tessa Dunlop |
| Presenter | Miranda Krestovnikoff |
| Presenter | Nick Hewitt |
| Executive Producer | William Lyons |
| Series Producer | Jessica Colman |
| Series Editor | Steve Evanson |