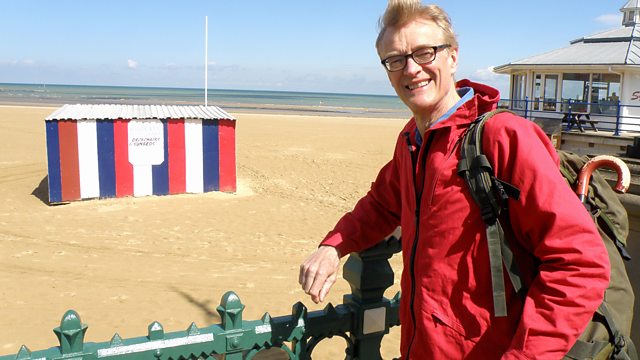 The team discover untold tales of explorers around our shores, and far beyond, including a stop-off down under in Australia.
In Cornwall, Nick Crane uncovers the most astonishing artistic exploration of Britain's coast. Two hundred years ago a young artist, William Daniell, embarked on a ten-year journey around the edge of Britain to produce hundreds of full-colour illustrations in the age before photography. But who was the forgotten companion who travelled with him, and what made these two artist explorers mysteriously split up and go their separate ways?
To emulate our earliest explorers, Nick takes to the sea in an authentic replica of Britain's oldest known boat. How will this paddle-powered design from the Bronze Age perform today? Nick also tells the tale of the first sailor to circumnavigate Britain some 2,400 years ago, the fabled explorer dubbed 'Pytheas the Greek', who first mapped our isles.
Mark Horton reveals the story of explorer and adventurer Lachlan Macquarie. Born on a tiny Scottish Isle two centuries ago, he went on to establish the country he named Australia. Scotsman Major general Lachlan Macquarie is virtually unknown in Britain, but he is a hero down under, heralded as the 'Father of Australia'. How did Macquarie and his wife Elizabeth manage to defy the British establishment to lay the foundations both for present-day Sydney and the new nation of Australia, using convict labour and radical social reforms?
Tessa Dunlop investigates the hidden history of the Pilgrim Fathers. Why did the Pilgrims flee Britain to live in Holland for ten years before their eventual voyage to found modern America? Tessa discovers how these English explorers for religious freedom created the archetypal American celebration of Thanksgiving from a tradition they learnt in the Netherlands.
Andy Torbet teams up with modern-day scientific explorers trying to crack an age-old puzzle - how can you count the number of fish in the sea? Andy joins an underwater mission that has been underway in Scottish waters for over half a century. What clever fish counting tricks have British scientists invented to preserve stocks of our favourites like cod and herring?
We also follow the struggles of modern-day explorers competing in a race to row around the British Isles. Will any of the teams in their tiny rowing boats complete the arduous 2000 mile route in unforgiving seas? Can they match up to the heroic feats of the explorers who were our ancestors?
Last on
Credits
| Role | Contributor |
| --- | --- |
| Presenter | Nicholas Crane |
| Presenter | Mark Horton |
| Presenter | Tessa Dunlop |
| Presenter | Andy Torbet |
| Executive Producer | William Lyons |
| Series Producer | Jessica Colman |
| Series Editor | Steve Evanson |