Main content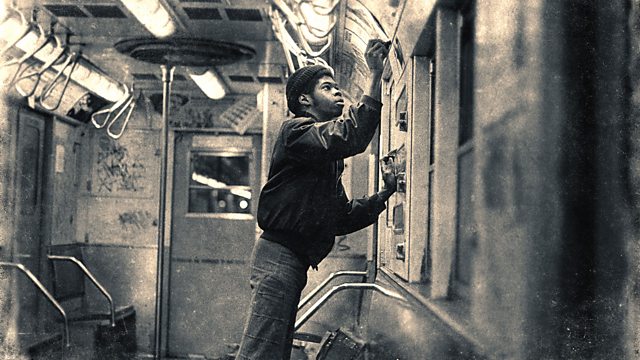 Graffiti: Kings on a Mission
4 Extra Debut. Norman Mailer said New York's graffiti was "the great art of the 70s". The artists explain what they were up to. From 2014.
In 1974, one of America's most celebrated cultural figures declared graffiti as "the great art of the 70s".
Back then, thousands of teenagers were vandalising New York, in particular the subway system. Yet Norman Mailer described their "passion", their "cool", their "masterpieces in letters six feet high".
Who were the teens behind the "tags" - now the veterans of the scene? Why did they create this movement? Were they even thinking about art, politics, protest - or simply writing their names on trains?
We meet some of those who defied the law (and their parents) and diced with death including pioneers such as Riff 170, Jester, Coco 144, Flint Gennari, and Tats Cru. Their efforts have been replicated far beyond New York – in art galleries and in the hands of Arab Spring protesters – and yet their aspirations were largely apolitical: they were chasing fame and the acceptance of their peers.
We explore the city's complicated relationship with graffiti, which it appears to condemn and celebrate in equal measure. Former artists – or "writers" as they prefer to be known – revisit their old haunts and discuss why they believe they had a right to "tag", "bomb" and "destroy" New York with markers and spray paint.
The programme paints a vivid picture of a city that became a canvas at a time when, according to Norman Mailer, "it looked as if graffiti would take over the world".
Producer: Steve Urquhart
A Falling Tree production for BBC Radio 4 first broadcast in August 2014.
Last on
Broadcasts