Main content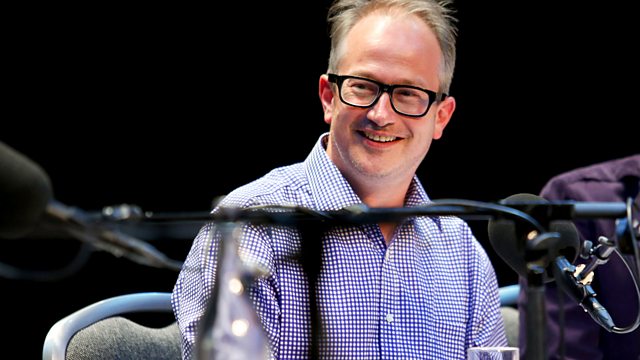 Robin Ince on our timeless fascination with the self-help shelf. From Socrates to Sam Smiles, Marcus Aurelius to Men Are From Mars, let's get richer, happier and more productive.
Robin Ince explores our fascination with the self-help shelf. From Socrates to Sam Smiles, Marcus Aurelius to Men are from Mars, can this $13 billion industry really make us all richer, happier and more productive? And what is it about the 21st century that has made it bigger than ever before?
Episode 1/3
From the earliest recorded times, philosophers and writers have offered living advice to their readers. Much of ancient Stoic thinking reads a lot like a modern set of rules for a better life.
A lot of the more famous Stoics we know of were writing at the same time as the very early Christians, and there are some parallels.
What Christianity added into the mix was the idea of the personal narrative, the evangelical moment of conversion. The style of these short biographies became a mainstay of much modern self-help. I was unhappy, now I am am content. I was poor, now I am a rich businessman. You can be too.
Subsequently, this mode of writing and publishing spread over into other lifestyle areas such as food and well-being, paralleled by the continued use of the classical consolatio diatribe. Thus further setting the genre into the western European consciousness, Elizabeth I personally wrote an English translation of Boethius' Consolations in Philosophy.
Last on
More episodes
Previous
You are at the first episode
Heal Thyself: A History of Self Help 1/3 - Programme Transcript
Downloaded from www.bbc.co.uk/radio4
THE ATTACHED TRANSCRIPT WAS TYPED FROM A RECORDING AND NOT COPIED FROM AN ORIGINAL SCRIPT.  BECAUSE OF THE RISK OF MISHEARING AND THE DIFFICULTY IN SOME CASES OF IDENTIFYING INDIVIDUAL SPEAKERS, THE BBC CANNOT VOUCH FOR ITS COMPLETE ACCURACY.
HEAL THYSELF – A HISTORY OF SELF HELP
TX:  05.08.14  1530-1600
PRESENTER:  ROBIN INCE
PRODUCER:  ALEX MANSFIELD
Radiohead clip
Fitter, happier, more productive, comfortable, not drink too much, regular excise at the gym three days a week…
Colourful Conversations clip
Hi there, let us suppose that you are going to a little gathering someday soon in the home of a friend, there you will meet people, nice people like yourself, you will wish to mingle freely with these people, you will wish to talk with them easily and smoothly and interestingly, you can do it.  This record and the others in this series will show you how to develop the ability to engage in good conversation, listen to what follows right now and you will hear conversation that will enrich your vocabulary and stimulate your imagination.
John Gray clip
One of the few basic points here is no philosophy on Mars, there's never been anything you don't have to do.  You want to call that lazy, yes we call it conservation…
Norman Vincent Peale clip
These are designed to help you develop your own powers of positive thinking by practising the ideas contained in the book.  Now let us begin.  Here is Dr Norman Vincent Peale.
At the time that I wrote The Power of Positive Thinking it never occurred to me that several million copies should be sold…
Ince – Stand Up
I've just started doing a documentary about self-help and I've had to read a load of self-help books.  I find it very – it's such a huge industry and you think you're fine until you go into a bookshop and then look at some of the self-help books and you go – oh I didn't realise I wasn't happy, I thought I was content but it turns out this doctor has explained that life isn't as good … because it's selling you this idea that you should be happy and you shouldn't be….
Ince
My name is Robin Ince and I'm a stand-up comedian, then again isn't everyone nowadays.  I'm also a keen book collector.  Now many genres have fascinated me but the one that I've generally left alone has been the self-help book, apart from some oddities that I found in charity shops, one of my favourites is probably How to Marry the Man of your Choice, which includes such advice as "skirt lengths should be short or within the normal range for where you life", also the 1930s book Everyday Problems and their Solutions which includes tip top problem – should a manager marry a factory hand.  The answer, more often than not, I'm afraid to say, is no.  Oh and also there was a diet book I got in Exeter called What Would Jesus Eat? 
Ince – Stand Up
… because I find it, so I'm interviewing a psychotherapist today and yeah it's the other way to normal and…
Perry
That was another one that I really enjoyed – Feel the Fear and Doing it Anyway – because it was very practical.  I can remember one exercise in it about unrequited love and how it held women back and she sort of drew a box and she divided it into eight…
Ince
Philippa Perry's a psychotherapist and has also written a self-help book called How to Stay Sane.
Perry
…and she said what you've got to do is make the other boxes bigger, so you're not putting all your eggs in one basket.  And I thought that was brilliant.  And as a psychotherapist I often repeated that exercise with my clients.
Ince
Do you think there is in terms of – I mean psychotherapy is – always – I know it's the cliché but people immediately – the first image is Woody Allen, the first image is the New York neuroticism and that though there seems to be far more of it now in the UK than there was there still – those books like Susan Jeffers Feel the Fear someone – oh dear very American kind of…
Perry
I think the trouble with the American self-help book is they commit the sin of earnestness and as anything us Brits hate it's earnestness, we can just about manage serious but earnest – no, we just can't do it, it's just not us.  So a lot of those books are good but you've just got to realise that earnestness isn't the sin in America as it is in the UK.
Roderick
I didn't want these lectures to turn into some kind of funky kind of Tony Roberts' course in self-development.
Ince
Though I have a list of self-help tapes I've often been interested in tapes of more idiosyncratic philosophy professors, such as Rick Roderick from Duke's University.
Roderick
In fact Tony Roberts and people like him are part of the problem themselves, they're banalisation.  I love it when I hear someone say – I've listened to Tony's tapes and now I used to be fat and unhappy and now I'm skinny and happy.  And it just makes me want to cut someone up with a chainsaw, I mean that's ridiculous, that's not why humans think, they think because they have to think, it's a necessity, it's the way of the world, the complexity of it and you can avoid it, I admit, with drugs but at some point in your life you have to come across the need to think.
Ince – Stand up
So I started to wonder why is it that I don't – I never – I don't like the idea of self-help?  And then I realised part of the reason I think is because I get the chance every single night to come out and say this is a thing that happened to me is it weird or normal and then people go – Oh it's alright, we do that as well.  So you share what is meant to be kind of anxiety and pain is fine because it turns into material…
Ince
I'm fortunate because I can stand on stage and talk about whatever problems have plagued me that day, whether it might be intrusive thoughts near a cliff or perhaps just those questions of well what is the point of it all.  Other people don't have that valve and so every time I go into a bookshop I seem to see that the self-help section has got wider and wider with more and more subsections, a Russian doll system of different problems that might plague humanity.
But how far back do the roots of this $13 billion industry go?  Is it actually as far back as the great classical works of the ancient Greeks and Romans?
Perry
I think we've always had this thing of wanting to be told or wanting to tell people how to live, I think that's probably gone on as long as there have been human beings.  And maybe when we had more time and other people had more time we used to write about it in a longer and possibly more detailed better argued way than we do now.  I think you just can't knock self-help because it's going to be useful for someone.  And if it isn't any use then you don't have to use it do you, it's a complex thing.
Evans
So my name's Jules Evans and I am the Policy Director at the Centre for the History of Emotions at Queen Mary University of London where I research the history of wellbeing basically.
Ince
Rooms above pubs used to be the home of grubby comedians like me, in fact they still are sometimes, but now philosophers like Jules Evans have stolen some of our territory and tell people about Socrates there instead.  There's not as much heckling but it's far more rigorous from an epistemological perspective.  Here he is in a London pub talking to a group of deaf students about practical philosophy.  It actually happens that this is a pub where I attempted my first ever joke about Immanuel Kant.
Actuality – Evans
And there is another philosopher called Cicero who said – There is a medical art for the soul and its name is philosophy.  Philosophy teaches us how to be doctors to ourselves.
Student
Was it also Cicero that he said about the unexamined life wasn't worth living?
Evans
That was Socrates.  So we're going to look at that idea – why is that true for the unexamined life is not worth living?   How does – is it true that thinking more about our life makes it better?
Ince
So your sign language name that you were given is Weepy Philosophy?
Evans
Yeah.
Ince
Why Weepy Philosophy?
Evans
Because I often start off by talking about how philosophy helped me through a difficult period in my life.  So when I was a teenager I did lots of drugs and basically a couple of bad trips on LSD left me with post-traumatic stress disorder which I had for about six years and then I was helped through that by a self-help group, I guess you could say, one of these groups that meet up of an evening.  So this was a group of people who suffered from social anxiety.  And there was no therapist there but someone bootlegged a CBT course from the internet, a course in cognitive therapy for social anxiety, which helped me a lot.  And I then discovered that cognitive therapy came from ancient philosophy, so that's how I got into ancient philosophy basically, it kind of helped me through a slightly weepy phase of my life.
Ince
When did you know that you actually had something kind of – that something had really gone awry?
Evans
It's a good question, you don't know when you're an adolescent what's normal adolescence and what's – you know you should get help and stuff and I didn't really talk to many people about it and what I was really worried was that I'd broken myself, broken my neural chemistry before the age of 21.  So I didn't really talk about it much but after a few years of this, of kind of intrusive negative thoughts, panic attacks, all that stuff, I thought something's not right here.  So eventually I told my parents and they paid for me to go and see a therapist at the Priory, this private clinic, and he diagnosed me as suffering from social anxiety, depression and post-traumatic stress disorder – I think he was being paid per diagnosis.  But he wasn't able to cure me, so I then went away in classic self-help fashion and looked up these conditions for myself on the internet and found that they could be cured 50% of the time by cognitive behavioural therapy.  So I kind of did it for myself really. 
Ince
I mean the internet I suppose has changed a lot hasn't it, if you do think I've got weird thoughts or you believe – I mean this is a lot of being humanist, we don't know the thoughts everyone else has, I can put that into a search engine and you go oh – when you saw the results were there different kind of things that attracted you or was the one – the actual kind of CBT style group that you went to, was there a particular reason that you were drawn to that?
Evans
I had a sense that it was my own thoughts and beliefs that were causing me suffering.  What I needed to learn was a way of somehow transforming those thoughts and beliefs and taking new thoughts and beliefs and turning them into habits.  And I knew that that was basically the essence of CBT, I mean it was inspired by this quote from historic philosopher Epictetus, who said it's not events but our opinion about events that causes suffering.  So I just had a kind of intuitive sense that CBT was the way to go, it was what was going to help me.
Norman Vincent Peale clip
I've been privileged to suggest a simple workable philosophy of living to so many people. 
Evans
Modern self-help is such a marketplace that everyone's always trying to claim that their ideas are unique and in fact a lot of modern self-help gurus they actually just take ideas from each other.  And if we're all being honest we'd all admit that we're all basically just taking ideas from a handful of very wise people who lived 2,000 years ago, particularly from the stoics.
Ince
If Jules's suggestion is that the roots of self-help are to be found in stoicism then what were the rules of the stoics? 
Long
First what you believe makes a large difference and how you value things makes a large difference.
Ince
Dr Alex Long from St Andrews University gave me a brief course in the core tenets of stoic thinking.
Long
Most errors or forms of moral deficiency derive from a false evaluation of things.  For example, regarding money as more important and more central to happiness than it really is.  Secondly, you need to consider constantly what the appropriate thing to do is and you may need to consider that under specific headings – what's appropriate for you to do as a father or as a son or as a councillor if you're a politician.  Third, the things that make a difference to your happiness are far more specific, can be defined far more narrowly than you might suppose and one of the key stoic slogans is that virtue makes the difference to your happiness and if you are virtuous you are happiness but only if you're virtuous.
Evans
We make our reality through our thoughts and beliefs – that idea is at the heart of Buddhism and it's at the heart of stoicism.  And most self-help basically comes down to that idea.
Ince
If stoicism was intended as an answer well what was the question?
Long
The stoic ethic is in origin a response to Socrates.
Evans
Socrates was in some ways the first Greek philosopher to say that the aim of philosophy should be taking care of the self.  He told his fellow Athenians when he was on trial that all he did was teach his students how to take care of their souls and that's where the word psychotherapy comes from, it literally means care of the soul.  In the writings of his student Plato and in the writing of Plato's student Aristotle personal wellbeing is very much tied to political wellbeing, so the good of the individual soul is tied to political conditions.  Plato therefore didn't write individual self-help he wrote the Republic, which is a cure both for the individual soul and for the whole of society.  Likewise Aristotle wrote a book of the good life for the individual which is the Nicomachean Ethics, but then it was very much tied to his politics as well.  What happens after Aristotle is that the independent city states of Greece become conquered by various empires, by the empire of Alexander and then by the Roman Empire as well.  So from about 300 BC until maybe 100 AD the schools of Hellenistic philosophy are much more interested in individual wellbeing, philosophy becomes really a form of personal therapy, personal of the self-help.  How can we live the good life even when our society is falling apart?
Ince
Today many people seem to think the world is falling apart again, it's a frequent and much repeating worry for a self-aware creature.  So should we read the latest self-help book, such as Your Life Could be Fantastic Too by Nik Speakman or should we return to 2,000 year old stoic therapy?  Alex Long.
Long
A lot of the form in which stoic therapy is expressed takes – at least in surviving texts – takes the form of letters.  One of the largest surviving works of stoic therapy is Seneca's letters to his friend Lucilius, a huge correspondence in which Lucilius is encouraged to be more and more active in his own development and we see a kind of shift as Seneca portrays himself as a fellow invalid or a fellow pupil of Lucilius, not as his teacher.  So there is a real flexibility and personal touch to Seneca's writing and to the way in which he tries to urge one individual to help himself to improve.
Norman Vincent Peale clip
The dynamic laws which my book teaches were learned the hard way by trial and error in my personal search for a way of life.  I've found in these laws solutions to my problems and believe me I'm the most difficult person with whom I have ever worked.
Long
But the term used by specialists is exemplarity and that is Seneca likes giving exemplars and he is a leading exemplar of his own letters, not always a good exemplar, sometimes full of show and attitude or a reaction that should be avoided, for example he says that he was – he responded too strongly when he heard about the premature death of a friend.  Sometimes it takes the form of an anecdote, so Seneca will relate something that's happened in his day to day life or he'll say something that's really specific to Lucilius, for example that Lucilius has sent him a piece of his writing and Seneca comments on it – on its style.  Sometimes the letters are on far more general themes, for example when Seneca is picking a fight with members of other philosophical schools.  But very often the letters start with something very personal and specific.  There's one letter where he starts by relating the very noisy environment in which he has to live, he lives above a bath, he says, and has to listen to other people exercising and crying out orders.  And he talks about the kind of distraction of this and this leads to a discussion of the kind of turmoil and noise that matters most and not surprisingly he argues that this is inner turmoil.  So he uses personal examples all the time.
Evans
The Ancient Greeks understood the importance of habits, it's this idea you get all the way through the stoics and the epicureans and through Aristotle, that it's not enough to have a good idea once, you've got to repeat it and turn it into a habit.  So they had some techniques they would use to try to make their philosophy easy to remember, they would condense it into little phrases which they called maxims, things like "know yourself" or "life itself is but what you deem it" or "everything in moderation".  And the young budding trainee philosopher would say some of these maxims out loud to themselves.
Some Mother's do have 'em clip
Every day in every way I'm getting better and better.
Evans
Or write them down in little handbooks, which they call enchiridions or perhaps put them around their room or their home, so that all through the day they got little reminders of the ideas they're trying to embody.  Another technique they had was to keep a journal, so Seneca says at the end of every day – "find the quiet place and think about what you've done that day, what you've done well and what you've done badly" – so that's a very similar technique that the Jesuits use, for example, they have a thing of like recollection at the end of every day, trying to recollect what you've done.
Roderick clip
It seems difficult to imagine how on the ruins of the Roman Empire Christianity could have arisen and conquered and had its conditions conquered so quickly in the West.
Ince
Stoicism had been born under the subjugation of Athens by Rome.  When the Roman Empire fell stoicism supplied a soft landing for Christianity, as Rick Roderick explains.
Roderick clip
Stoicism helps us to understand this:  during the declining part of the Roman Empire the stoics account of their social reality and of the limited chances for happiness within it.  It was also backed up with an almost – and here I'm going to use the American [indistinct word] – existentialist view that sort of all is vanity.  So for me a classic stoic doctrine – it's in every motel – the Gideon Bible, open your Gideon Bible find the Book of Ecclesiastes and read Ecclesiastes, it is a magnificent stoic doctrine because it says vanity, vanity, all is vanity.  Pretty big statement – all.  The guy goes look I had money but that was vanity.  I gave myself to know knowledge, that was vanity.  All is vanity.
Evans
I think one of the interesting things which Christian culture brought in was the idea of your personal story, the importance of your personal story.  So Greek philosophy kind of exists in the eternal present, here are some good ideas and you should just practise them now, in the moment.  What you get with Augustine and other early Christians is this huge emphasis on your personal testimony, on your narrative.
Charlton Heston clip
The year's 386 AD, the place Milan, Italy.  Imagine you're looking into a garden by the home of a well to do Milanese citizen.  Suddenly a man in his early 30s comes rushing out of the house, he's obviously distraught, beating his forehead, tearing at his hair and he stops, stares fixedly at his outstretched arm and with great deliberation clenches and unclenches his fist.  For some reason this makes him cry out in exasperation.  Then he throws himself down by a fig tree and bursts into a flood of tears.  He cries for some time but then suddenly quiets.  Then he seems to hear a sound.  A look of eagerness comes over his face, he gets up, dashes back towards the house, picks up a book he'd left lying there, rips the book open, glances at the first page he comes on and suddenly his face is bathed in an expression of peace and bliss.  We just travelled back in time to witness one of human history's great turning points – the conversion of Aurelius Augustine.  In his autobiography, The Confessions, written some 10 years later, Augustine himself looks back on his scene of inner conflict and how it resolves itself.
Evans
You know if you read Augustine's Confessions it's like, it kind of is like the first self-help narrative – I was really lost, I was really messed up, I was filled with lust and anxiety and then I was saved, now I'm better.  And if you read modern self-help it kind of grew up out of Christianity and it secularised that idea of your testimony, your story.  And so really the kind of – the genre of self-help is full of these kind of stories.  I was an alcoholic, but then I was saved; I was 20 stone but now I'm better; I was unemployed and poor but now I'm a successful salesperson.  So they took that idea of personal narrative of redemption and secularised it. 
Ince
What do we see as the change of the problems of being human?  Are the problems of being human different or is it merely that – what is outside and created the problems may have changed but the problems themselves are being human are roughly the same?
Evans
I think there's a fundamental way in which our minds work which are the same now as it was then.  And that's that our emotions are connected to our belief, our perspective, our attitudes to things and that if you change your perspective on things that changes your emotions.  So that's I think still the case today, like our mind hasn't fundamentally changed in 2,000 years.  Nonetheless I think the beliefs and values that we hold have changed a lot, we've got way more choices, I think, so we have much more anxiety about are we making the right choice.  We have a much more optimistic view of what life is like, we think we should be happy all the time, so when we are not happy we're much more freaked out by that.  I think the ancients had much of a sense that life is a – at best a rough and difficult affair.  We're kind of astonished when life is difficult.
Ince
Self-help before it was called self-help, before it became a genre, you could say that there was self-help in reading, that great works of art are about going into the human mind and therefore you go ah I see this author has imagined these situations, these scenarios and these reactions and therefore there are lessons to be learnt here.
Haynes
Absolutely and I think that's true from the very beginning of literature, I think that's true from the very beginning of culture in truth…
Ince
Natalie Haynes is a former stand-up comic who used to talk on stage of scepticism and diagnosis murder but eventually turned away from openly discussing Dick Van Dyke and instead has become a novelist and writer on the classics.
Haynes
…I think if you were to read certainly The Iliad then you would find life lessons in there.  By the time you get to tragedy then absolutely that's what you're looking for.  I once pitched a book to a publishing company called Oedipus Died Happy which sad to say they did not pick up because it would have been fun to write.  But at the end of Oedipus the King everything is disaster, disaster, disaster – he's got no eyes, he's about to be banished, he's lost therefore his family, his wife has hanged herself, he's lost his kingship, it's all gone wrong.  But two plays later Oedipus dies happy, sorry to spoil the ending, but he does and it turns out that even somebody who's gone through this horrendous traumatic disastrous experience in their relative youth eventually is in a position to grant a blessedness from his dying, he's been told obviously his whole life has been shaped by the gods, he's cursed before his born etc., but he's been told that wherever his body is buried there'll be a sort of a good vibe I suppose for the place that that is and so he offers himself to die in Athens or near Athens at Colonus as a sort of good thing for Athens and its future.  And so that's why Thebes ends up – had a civil war but Athens, hooray, rules over everyone. 
So right from the very beginning – I mean if you look at something like the Hippolytus, it's about psychology, the reason that the plot of Hippolytus happens is because gods represent psychological features, there is no vocabulary at the time for those kinds of very strong emotions.  And so a god comes on, Aphrodite, at the beginning of the Hippolytus and says I don't like Hippolytus, he never makes any offerings to me, in other words he's uptight, frigid, prudish, he's not – he doesn't appreciate the pleasures of the flesh, which she represents, and therefore I'm going to punish him.  And in order to punish him she makes his step-mother Phaedra conceive an inappropriate lust for him and then of course by the time the play is – again I'm giving away the ending – but by the end Theseus is left with no child and no wife.  And then Artemis, Hippolytus was her favourite, she comes in and says well now I'm going to ruin one of Aphrodite's favourites.  And so these two kind of warring factions of lust and abstemiousness from lust we would now see those as being psychological but from the very, very earliest dramas they're being acted out as characters on stage.
Ince
Imminent death can cause panic or it can focus the mind, I mean I'd probably go with panic and begging for mercy but Boethius, a senator, composer and translator of Aristotle, used his imprisonment and impending execution as impetus to write one of the major philosophical works of the Middle Ages, a narrative called The Consolation of Philosophy.
Evans
What Boethius did was you could say he bridged the world of antiquity and the world of Medieval Christianity.  He introduced this idea which became hugely influential in the Middle Ages of the wheel of fortune – don't trust in fortune.  He's really down and depressed about how his life's turned out, he went from being one of the most powerful politicians in the Empire to basically a few weeks away from eventually being put to death.  And he imagines being visited by this kind of deity or this goddess called Lady Philosophy and he complains about how miserable his situation is and she just gives him incredible advice about finding inner freedom and inner freedom from the up and downs of fortunate, how you can use philosophy not to be a slave of fortune but to find a kind of inner freedom.  And that seemed to resonate through the ages.
Colourful Conversation clip
The moon hangs high as we take leave of our gay and talented new friends and conversationalists – Betty and Bob dancing together out there on the moon drenched patio.
Ince
Where is the idea of self-help by the beginning of the Middle Ages?  Well packaged up and bundled in Medieval theology we see those ideas that remain in contemporary self-help – our thoughts change our emotions, Aphorisms and Maxims convey a point, narratives can inform and educate us on how to live a better life.  In our next episode we're going to look at how the Renaissance adapted and changed those ideas.
Colourful Conversation clip
Have you profited from this record?  We hope so.  We leave you to meet you again on the other records.  Good luck.
Broadcasts