Main content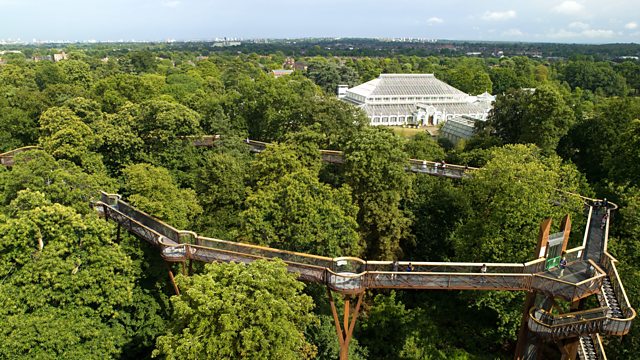 Towards the Light
Kathy Willis examines the struggle to understand the process of photosynthesis and the impact on plant cultivation. From 2014.
The Nobel prize for Chemistry was awarded to German scientist Richard Willstatter in 1915 for his analysis of the green plant pigment chlorophyll. It marked a significant moment in the long history of piecing together the many elements that contribute to photosynthesis - the process by which plants draw in carbon dioxide from the atmosphere and together with light and water can generate their own glucose and release oxygen back into the air. The limits of this process were now clear
Kathy Willis hears from historian Jim Endersby about defining moments in photosynthesis' long history and from Kew's Head of Conservation Biotechnology about how artificially elevating levels of carbon dioxide in the air,a technique long developed by horticulturists to produce bigger fruit and vegetable crops, is now having dramatic effects on successful reintroduction of cultivated endangered plants back into the wild.
And as scientists understand the different methods that plants use to photosynthesise, Kathy Willis hears from Oxford plant scientist Jane Langdale who's part of a network of international scientists who are attempting to mend a fundamental flaw in the process of photosynthesis which could improve future rice yields by 50%
Producer Adrian Washbourne.
Last on
Broadcasts

Royal Botanic Gardens, Kew
Podcast
Our relationship with plants: a major new history by Kew's science director Kathy Willis.