Main content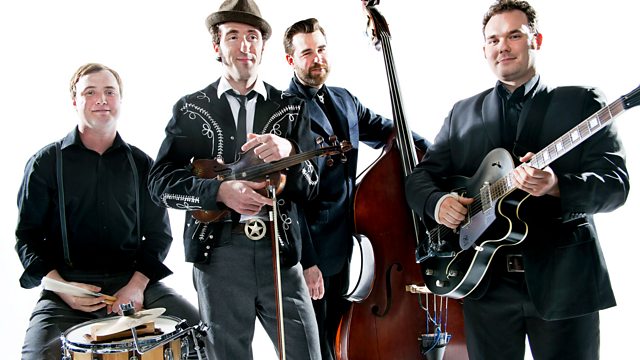 Oliver Mtukudzii, Cigdem Aslan, Commonwealth Connections: Fiji
Lopa Kothari and Mary Ann Kennedy present music from WOMAD 2014, including Oliver Mtukudzi, Gordie MacKeeman and his Rhythm Boys, Cigdem Aslan and the Chair.
Lopa Kothari and Mary Ann Kennedy with the last of our weekend of broadcasts from the globe's leading festival of world music, live from the festival site in Charlton Park in Wiltshire. One of today's Open Air Stage headliners is veteran Zimbabwean artist Oliver Mtukudzi, still performing his own 'Tuku' style four decades on. On the BBC Radio 3 Charlie Gillett Stage, Gordie MacKeeman and his Rhythm Boys play the frenetic dance music of Canada's Prince Edward Island; Turkish-born Cigdem Aslan sings the classic style of Rebetiko; and the Chair perform the traditional tunes of their native Orkney. Plus interviews and truck sessions, and a Heritage Track from Commonwealth Connections.
WOMAD LIVE 2014: BBC Radio 3 returns to the world-famous WOMAD festival for a fifteenth year, broadcasting from the Open Air Stage, the Siam Tent and new for this year, the 'BBC Radio 3 Charlie Gillett Stage'. This sees the Radio 3 stage moving to WOMAD's main arena, and to a stage named after a broadcaster who achieved so much for world music over many years, and was one of the original trio of presenters on Radio 3's World on 3.
HERITAGE TRACK FROM FIJI:
Fiji will be taking part in the Commonwealth Games for the first time in eight years,having been banned from participating in 2010 after failing to meet a Commonwealth deadline for holding national elections. Team sports like Rugby sevens are still under suspension but individual athletes will be allowed to compete in Glasgow. Among them is Fijian weightlifter Apolonia Vaivai who has chosen the famous farewell song "Isa Lei" sung by Laisa Vulakoro.
More episodes
Next
You are at the last episode
Lucy Duran profiles Madagascan musician Justin Vali and records his Malagasy Orkestra.
Featured in...
Every episode of World on 3 at Womad 2014 in one place, plus clips and highlights