Main content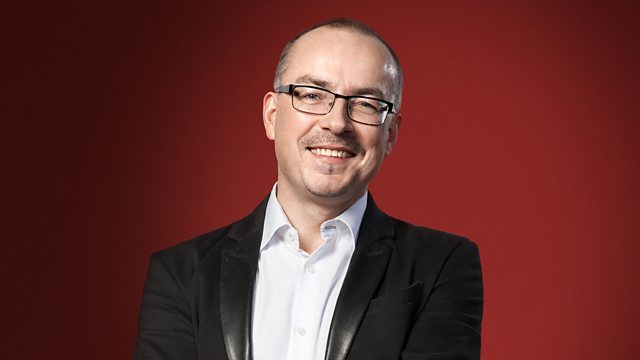 Summer CD Review: Elgar, Sally Beamish, Eisler, Strauss
With Andrew McGregor. Including Elgar: Symphony No 1 (excerpt); Proms Composer: Sally Beamish; Borusan Istanbul Philharmonic; Hanns Eisler box set; Strauss: Lieder.
Clips

9.05am
RIMSKY-KORSAKOV: Sheherazade, Op.35*
BALAKIREV: Islamey – Oriental Fantasy, Op.18
IPPOLITOV-IVANOV: Caucasian Sketches – Suite no.1, sketches 2 & 4
ERKIN: Kockece, dance rhapsody for orchestra
Pelin Halkaci Alkin (violin)*, Borusan Istanbul Philharmonic Orchestra, Sascha Goetzel (conductor)
ONYX 4124 (CD)
ELGAR: Symphony no.1 in A flat major Op.55, Cockaigne (In London Town) - overture Op.40
Royal Stockholm Philharmonic Orchestra, Sakari Oramo (conductor)
BIS SACD-1939 (Hybrid SACD)
The Classical Piano Concerto – 1
JAN LADISLAW DUSSEK: Piano concerto in G major, Piano concerto in C major, Piano concerto in E flat major
Howard Shelley (piano/conductor), Ulster Orchestra
HYPERION CDA 68027 (CD mid-price)
The Last Symphonies, Mozart's Instrumental Oratorium
MOZART: Symphony no.39 in E flat major K.543, Symphony no.40 in G minor K.550, Symphony no.41 in C major K.551 "Jupiter"
Concentus Musicus Wien, Nikolaus Harnoncourt (conductor)
SONY CLASSICAL 88843026352 (2CDs)
WIER: The Vanishing Bridegroom
Ailish Tynan (soprano), Anna Stephany (soprano), Andrew Tortise (tenor), Owen Gilhooly (baritone), Jonathan Lemalu (bass-baritone), BBC Singers, BBC Symphony Orchestra, Martyn Brabbins (conductor)
NMC NMCD196 (2CDs)
9.30am Proms Composer: Sally Beamish
BEAMISH: Violin Concerto, Callisto for flute and orchestra, Symphony no.1
Anthony Marwood (violin), Sharon Bezaly (flute), Royal Scottish National Orchestra, Martyn Brabbins (conductor)
BIS CD 1601 (CD)
Bridging the Day, works for cello and piano
BEAMISH: Gala Water for solo cello, Bridging the Day for cello and piano, Sonata for cello and piano
Robert Irvine (cello), Sally Beamish (piano)
BIS CD 1171 (CD)
Sally Beamish – River
Viola Concerto, Cello concerto "River", Tam Lin for oboe and orchestra
Philip Dukes (viola), Robert Cohen (cello), Gordon Hunt (oboe), Svenska Kammarorkestern, Ola Rudner (conductor)
BIS CD 971 (CD)
The Piano Tuner: Piano Trios from Scotland
BEAMISH: The Seafarer Trio
WEIR: Piano Trio Two
OSBORNE: The Piano Tuner
Alexander McCall Smith (narrator), Fidelio Trio
DELPHIAN DCD 34084 (CD)
Beamish; Beethoven – String Quartets
BEAMISH: String quartet no.1, String quartet no.2 "Opus California"
BEETHOVEN: String quartet in C minor, Op.18 no.4
Emperor String Quartet
BIS CD 1511 (CD)
Crossing Waves – British works for solo harp
ARNOLD: Fantasy for harp, Op.117
BEAMISH: Awuya
BRITTEN: Suite for harp in C major, Op.83
SCOTT: Crossing Waves
WATKINS: Suite for harp
YOUNG: Varying Rule Britannia
Keziah Thomas (harp)
DISCOVERY MUSIC AND VISION DMV 110 (CD)
a white room
Commissions for young and amateur musicians from The Schubert Ensemble's Chamber Music 2000 project.
Composers include Weir, Skempton, Matthews, Beamish, Roxanna Panufik
NMC D075 (CD mid-price)
BEAMISH: Spinal  Chords
Juliet Stevenson (narrator), Orchestra of the Age of Enlightenment
NMC DL2012-04 (download)
A Song More Silent, new works for remembrance
McDOWALL: Ave Maris Stella
PLOWMAN: Cries Like Silence
O'REGAN: And There Was A Great Calm
BEAMISH: The Lion and the Deer
Alexandra Stevenson, Sophie Bevan (sopranos), Carolyn Dobbin (mezzo-soprano),
Michael Chance (counter tenor), Ben Johnson (tenor), Dawid Kimberg (baritone), Sebastian Comberti (cello), Paul Archibald (trumpet), Portsmouth Grammar School Chamber Choir, London Mozart Players, Nicolae Moldoveanu (conductor)
AVIE AV2147 (CD)
10.05am Borusan Istanbul Philharmonic Orchestra
A session report from Istanbul. Andrew talks to the conductor and players from The Borusan Istanbul Philharmonic Orchestra as they record Rimsky-Korsakov's Scheherazade. Their Austrian conductor, Sascha Goetzel, explains their vision of being a bridge between the people of Turkey and the European tradition in classical music. 
HINDEMITH: Symphonic Metamorphoses on Themes by Carl Maria von Weber<?xml:namespace prefix = o ns = "urn:schemas-microsoft-com:office:office" />
RESPIGHI: Belkis, Queen of Sheba: orchestral suite
SCHMITT: La Tragedie de Salome, Op.50
Borusan Istanbul Philharmonic Orchestra, Sascha Goetzel (conductor)
ONYX 4048 (CD)
RIMSKY-KORSAKOV: Sheherazade, Op.35*
BALAKIREV: Islamey – Oriental Fantasy, Op.18
IPPOLITOV-IVANOV: Caucasian Sketches – Suite no.1, sketches 2 & 4
ERKIN: Kockece, dance rhapsody for orchestra
Pelin Halkaci Alkin (violin)*, Borusan Istanbul Philharmonic Orchestra, Sascha Goetzel (conductor)
ONYX 4124 (CD)
10.45am
Panufnik, Lutoslawski – string quartets
PANUFNIK: String quartets nos 1, 2 & 3
LUTOSLAWSKI: String quartet
Tippett Quartet
NAXOS 8.573164 (CD budget)
Zemlinsky, String Quartets – 2
String quartets no 1 in A major, Op.4 and no.2, Op.15
Escher String Quartet
NAXOS 8.573088 (CD budget)
Lieder and songs by Strauss, Faure, Debussy, Poulenc, Wolf and Berg
Christiane Karg (soprano), Malcolm Martineau (piano)
WIGMORE HALL LIVE WHLive 0062 (CD mid-price)
11.00am Hanns Eisler Edition
11.45am
Heimliche Aufforderung – Secret Invitation
Lieder by Richard Strauss
Christiane Karg (soprano), Felix Klieser (horn), Malcolm Martineau (piano)
BERLIN CLASSICS 0300566BC (CD)