Main content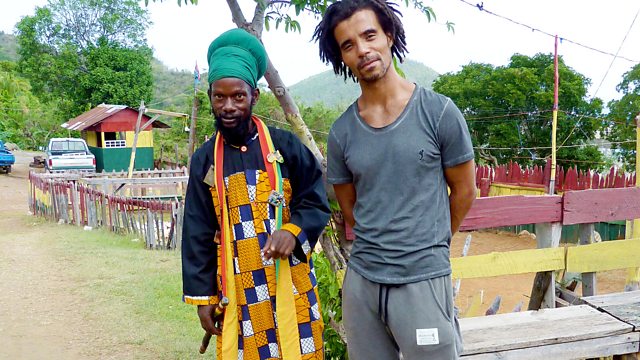 British rapper, poet and political commentator Akala visits Jamaica to examine the cultural and sociological significance of Rastafari and its music.
Rastafari is Jamaica's most famous export. Alongside Bob Marley - the world's most recognised Rastafarian - this cultural and spiritual movement is the enduring global image of the Caribbean island. For better or worse, the red, green and gold colours, dreadlocks, reggae music and marijuana are all closely associated with Jamaica. But what role has this spiritual movement had in forming Jamaica's soul and identity?
Presented by political commentator and educator Kingslee Daley, this series examines how Rastafari turned from an ostracised religious sect into a global phenomenon. Kingslee is better known as Akala, a British poet, rapper and founder of the Hip-Hop Shakespeare Company. Born in London he was brought up immersed in Rasta culture by his Jamaican father. In these two half hour programmes, Akala travels to Jamaica to discover the cultural and sociological significance of his spiritual heritage.
Rastafari first came to prominence in 1930s Jamaica, emerging from the civil rights struggle during British colonial rule. It's a complicated synergy of the Old Testament and the teachings of pan-Africanist Marcus Garvey who predicted in the 1920s that "a black king shall be crowned in Africa" ushering in a "day of deliverance." When the Ethiopian prince Ras Tafari - who was also known as Haile Selassie I - became Emperor in 1930, the descendants of slaves in Jamaica took this as proof that Garvey's prophecy had come true. The fact that Selassie was also a pan-Africanist with black empowerment philosophies of his own only further cemented their belief. Many Rastafari believe Selassie to be the second coming of Jesus, a black Christ. But whatever the theologies surrounding Rastafari, its importance for Jamaica and for the Jamaican diaspora has gone way beyond religion.
In this final part of the series, Akala explores Rastafari's global impact after the explosion of Jamaica's Roots Reggae scene in the 1970s. The music provided a vehicle for spreading the message of Rastafari around the world, not least through the songs of musical icons like Bob Marley, Peter Tosh and Burning Spear. For young Jamaican immigrants growing up in a racist environment of 1970s London - such as Akala's father - Rastafari provided a connection back to their lost Jamaican and African heritage. Akala also visits the Bobo Hill Rasta camp in Kingston to discover modern life as a Rasta and explores whether this spiritual and cultural movement still has relevance today.
Contributors include dub poet Linton Kwesi Johnson, Professor Carolyn Cooper from the University of the West Indies, Italian Rastafarian Alborosie and the residents of the Bobo Hill Rastafari village in Kingston, Jamaica.
More episodes
Next
You are at the last episode