Main content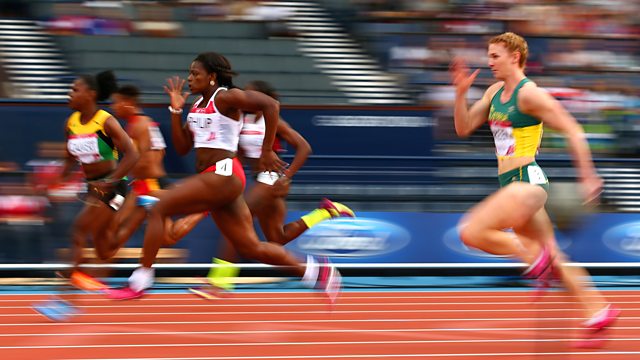 Women in Sport
Eating disorders and sport: Scotland high jumper Jayne Nisbet on recovering from bulimia. Can Olympic and Commonwealth Games legacies improve equality in sport for women?
Live from BBC at the Quay during the Commonwealth Games: will Glasgow 2014 legacy bring improved equality in sport for women? We discuss with Mary Allison from Sportsscotland, Fiona Hathorn from Women on Boards and Ruth Holdaway from the Women's Sport and Fitness Foundation.
Eating disorders and sport: Scotland high jumper Jayne Nisbet talks about recovering from bulimia. We discuss the issue of support for athletes with consultant psychiatrist, Dr Alan Currie, Ashley Bruce from sportscoach UK, and Amanda Woodward, a runner.
Playwright Aisha Zia and boxer Ambreen Sadiq talk about the play, No Guts, No Heart, No Glory part of the Edinburgh Fringe Festival. It's staged in a boxing gym and based on interviews with Muslim female boxers.
Presented by Jane Garvey
Produced by Jane Thurlow.
Women's Sporting Equality
There were high expectations that the London 2012 Olympic Games would deliver a legacy of greater participation in sport for all. But two years on, what impact have they had on women's sporting equality? And what can we hope the Glasgow Commonwealth Games 2014 will achieve for women's sport? We discuss participation, media coverage, sponsorship, and leadership with Ruth Holdaway from the Women's Sports & Fitness Foundation, Mary Allison from Sport Scotland, and Fiona Hathorn from Women On Boards.
Eating Disorders and Sport
Every serious athlete pays attention to what they eat and how much exercise they take – what support is there when this focus becomes a problem and they develop an eating disorder? How much do coaches know about spotting warning signs, and what to do if an athlete in their care does develop anorexia, bingeing or bulimia?
We hear from Scotland high jumper Jayne Nisbet on recovering from bulimia and Anna Woodrow, a runner from Edinburgh who used to suffer from anorexia. Dr Alan Currie, a psychiatrist who's advised UK Sport and other sports organisations, talks about dealing with and minimising the risks of eating disorders and Ashley Bruce a Coaching Advisor at sports coach UK on the role of sports coaches.
Young Female Muslim Boxers
When 20 year old boxer Ambreen Sadiq first took up the sport at age 13 she had to fight not only her opponents, but also others' preconceptions of what a young Muslim girl should do. But as the UK's first Muslim female boxer she kept on going, and was named National Champion at only 16 years old. Now she's working together with the theatre company Common Wealth on a new play 'No Guts, No Heart, No Glory', all about young Muslim female boxers experiences. Based on interviews with 16 to 18 year old Muslim women, it explores assumptions and expectations held of them in both the Muslim and non-Muslim communities. Jane speaks to Ambreen Sadiq about her own experiences, and to the writer Aisha Zia, who translated those experiences into the play.
No Guts, No Heart, No Glory by Common Wealth is at Sandy's Boxing Gym in Edinburgh from 18 – 25 August.
Credits
| Role | Contributor |
| --- | --- |
| Actor | Helen Grant |
| Interviewed Guest | Mary Allison |
| Interviewed Guest | Fiona Hathorn |
| Interviewed Guest | Ruth Holdaway |
| Interviewed Guest | Jayne Nisbet |
| Interviewed Guest | Dr Alan Currie |
| Interviewed Guest | Amanda Woodward |
| Interviewed Guest | Ashley Bruce |
| Interviewed Guest | Aisha Zia |
| Interviewed Guest | Ambreen Sadiq |