Main content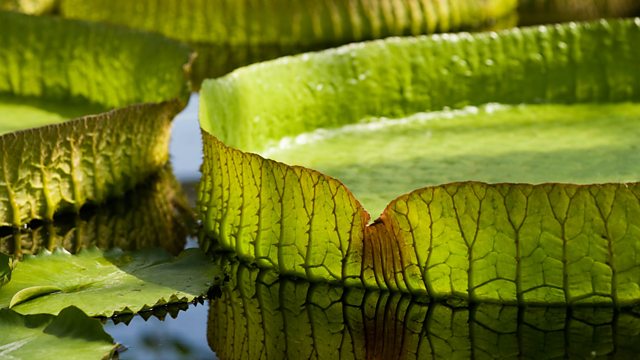 Taming the Exotic
Kathy Willis examines the Victorian race to flower the Amazonian waterlily in Britain's giant greenhouses in the 1840s. From 2014.
To the Victorians the Amazonian water lily was more than just a plant. The adventure of finding this exotic piece of the Empire and getting it to grow on home soil involved horticultural ambition, scientific vision and fierce competition amongst the country's wealthy landowners.
Prof Kathy Willis hears about the race during the 1840s between Kew's director William Hooker and the Duke of Derbyshire's gardener Joseph Paxton to get the aquatic lily to flower. Historian and biographer Kate Colquhoun examines how the plant's exacting requirements demanded an entirely new approach to horticultural architecture, engineering and management of water and heat.
Lara Jewett, manager of Kew's tropical house, and Greg Redwood, head of Kew's glasshouses, explain why this voracious feeder and aquatic beauty still proves a challenge to cultivate today.
But botanists were quick to make the connection between repeating modular-like structures on the underside of the lily's leaf and the possibilities of new engineering design, which as Jim Endersby explains, was to inspire the use of essential giant greenhouses to cultivate food in soot laden cities, and for Joseph Paxton to ultimately create the greatest glasshouse ever built - Crystal Palace.
Producer Adrian Washbourne.
Royal Botanic Gardens, Kew
Podcast
Our relationship with plants: a major new history by Kew's science director Kathy Willis.