Main content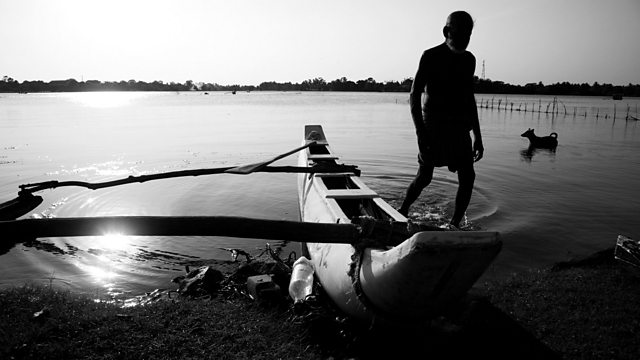 The Singing Fish of Batticaloa
An unusual odyssey in a muddy lagoon, as fishermen, scientists, a journalist and a Jesuit priest set out to discover if an elusive watery wonder has survived Sri Lanka's civil war.
"It is said to be heard the clearest on a full moon night... One has to go by boat, plunge an oar into the water, put the other end of the oar to one's ear, and listen..."
Since the 18th century, Tamil fishermen have claimed to navigate by the mysterious music of the singing fish of the Batticaloa lagoon in eastern Sri Lanka. The fishermen's ancient name for the creature is oorie coolooroo cradoo (crying shells); scientists believe that the underwater choristers are some kind of fish. But, after thirty years of civil war and the ravages of the tsunami, does any evidence of this strange nocturnal chorus remain?
Restrictions and curfews made it impossible to visit the lagoon at night and locals, suffering the deprivation of a bitter conflict, had other priorities. The people of Batticaloa became disconnected from this ancient cultural symbol. Very few have heard the aquatic music, and many believe it's a myth.
But for Father Lorio, a Jesuit priest present at one of the earliest recordings of the phenomenon made using a homemade hyrdophone in the 1950s, the singing fish are the soundtrack to sixty years of profound turmoil and change he's witnessed in the region. And for Prince Casinader, a Tamil journalist in his eighties, there's the belief that they could bring a sense of community and hope to his hometown.
Now a group of young Tamil scientists have joined the effort to rediscover this lost symbol. Guided by local fishermen, they embark on an unusual odyssey into the muddy lagoon to capture a new recording and establish if this elusive watery wonder has survived to enchant another generation with its song.
With music composed by Adam Nicholas.
Produced by Cicely Fell and Kannan Arunasalam
A Falling Tree production for BBC Radio 4.
Featured in...
Unexpected stories from across the globe, from surfers in Gaza to Northern Soul in Tokyo.