Main content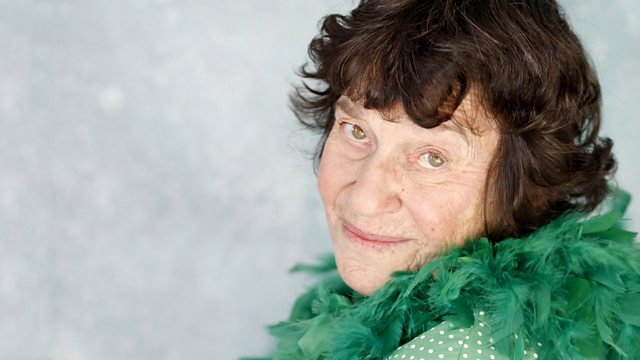 Weekend Woman's Hour: 80-year-old stand-up comic Lynne Ruth Miller.
The octogenarian stand-up comic performing at the 2014 Fringe, being a young cancer survivor and breaking the cycle of having your babies taken into care.
Lynne Ruth Miller began her stand up career at the tender age of 71. What keeps her going and why does she enjoy mixing comedy, dancing and stripping so much?
We hear from Helen trying to turn her life around after having all four of her children removed from her and taken into care because of her drug abuse and chaotic lifestyle.
Why is feminism being used to promote products?
As Scotland hosts the Commonwealth Games we talk about all things tartan and ask why the tartan specially designed for Team Scotland has received such mixed reviews.
Plus what's it like to be a young cancer survivor? Every year around 5000 women under the age of 45 are diagnosed with breast cancer and 3000 told they have cervical cancer. So what support is there for these young women, and how do they begin to tackle the thorny issue of dating. Two young women share their experiences.
And music from songwriter Natalie Williams.
Highlights from this week's Woman's Hour.
Presented by Jenni Murray.
Producer Rabeka Nurmahomed
Editor Beverley Purcell.
Women who've had multiple children taken into care
Women who've had successive children taken into care are a small group with a range of complex problems. Poor outcomes for their children and the cost to society make it crucial to help them but they're stuck in a cycle. In Hackney in London the Pause Project seeks to help women stop getting pregnant and losing their children again and again. To be eligible, women must use long-acting contraception and in return they get support from a key-worker, access to services and even days out. Jane Garvey meets Sophie Humphreys who developed the project after years of experience of taking children from their mothers. And, talks to a woman we're calling Helen who is trying to turn her life around after having losing her four children because of her drug use and chaotic lifestyle.
Feminist Advertising
At the moment there seems to be a trend to use feminism to promote products. Among them is the 'Like a Girl' video.  The ad, directed by Lauren Greenfield, has gone global. It racked up 31 million views in one week and the hastag, #LikeAGirl, recived support from campiagners and celabrities. So what exactly are the implications of using feminism to sell products? Jenni is joined by Deborah Coughlin, writer and former editor of the Feminist Times and Heather Alderson, managing partner of the advertising agency Bartle Bogle Hegarty.
Tartan
Team Scotland will be donning its own unique tartan for the opening of the 
Commonwealth Games
. The turquoise, fuchsia and navy combination is not to everyone's taste but there's no doubt that tartan itself is undergoing a revival. So what's the history of this ancient design and why is it still so popular?
Cancer and Young Women
What's it like to be a cancer survivor in the prime of your life - before you've established a career, met a life partner or thought about having kids?  Every year around 5,000 women under the age of 45 are diagnosed with breast cancer with around 3,000 more being told they have cervical cancer.  What support is there out there for younger  women?  How do you adjust to your new body? And how do you maintain friendships and a love life?  Jenni talks to Cordelia Feldman who was diagnosed with breast cancer aged 33 and to Laura Davis who at 28 was told she had cervical cancer.
Lynn Ruth Miller
You might remember Lynn Ruth Miller from her appearance on Britain's Got Talent. Born in Ohio, based in San Francisco and currently living in Brighton, Lynn Ruth began her stand-up career nine years ago, when she was 71. Her introduction to comedy came when she was working as a local journalist and writing a story about San Francisco's Comedy College. She enrolled, thinking it would make a good story, and has never looked back.
Jenni speaks to her about her brand new show 'Not Yet Dead' and performing as part of the 'Old Folks Telling Jokes' set at the Edinburgh Festival Fringe next week. 
Credits
| Role | Contributor |
| --- | --- |
| Presenter | Jenni Murray |
| Interviewed Guest | Sophie Humphreys |
| Interviewed Guest | Heather Alderson |
| Interviewed Guest | Deborah Coughlin |
| Interviewed Guest | Brian Wilton |
| Interviewed Guest | Amber Jane Butchart |
| Interviewed Guest | Laura Davis |
| Interviewed Guest | Cordelia Feldman |
| Interviewed Guest | Lynn Ruth Miller |
| Performer | Natalie Williams |
| Editor | Beverley Purcell |
| Producer | Rabeka Nurmahomed |