Main content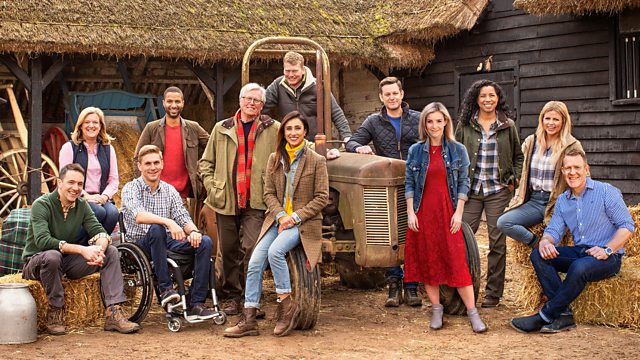 Gower
Countryfile is in Gower, south Wales, where Matt Baker explores Whiteford Burrows and explodes previously unearthed World War II ordnance on the sands with the MOD.
Countryfile is in Gower, south Wales, where Matt Baker explores Whiteford Burrows, one of the most important and richest sand dune systems in Britain. He hunts for flora and fauna and meets the Welsh mountain ponies who have made this environment home. He also explodes previously unearthed World War II ordnance on the sands with the MOD. Ellie Harrison joins him for the final massive detonation.
Adam Henson is getting hands on with his sheep to explore the wonders of wool.
In honour of the World Cup final, Ellie Harrison meets the locals who have turned the old Swansea football pitch, Vetch Field, into a haven of growing and community spirit. She also discovers Vernon Watkins, Dylan Thomas's best friend and confidant, who was a remarkable poet in his own right. Ellie meets Gwen Watkins, Vernon's widow, who tells her about his poetry, inspired by the beauty of the landscape around him.
Selective breeding of animals has made a huge difference to food production - lambs produce more meat, cows provide more milk, chickens lay more eggs. But is there a downside? Tom Heap investigates concerns that animal welfare is paying the price for increased productivity.
Beach bomb disposal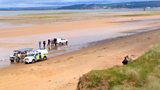 Matt Baker heads to Whiteford Sands, used as an army shelling and mining range during the Second World War. Seventy years on, some of the explosives are still buried under the beach and so Matt gets involved with a military operation to clear historic ordnance.  During the process, Matt sees what it takes to be a bomb disposal expert.  With guidance from the Royal Navy Southern Diving Group, Matt uncovers an explosive piece of wartime weaponry and, with the help of co-presenter Ellie Harrison, blows it up!   
Vernon Watkins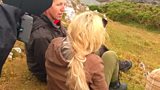 Ellie Harrison finds out more about 'Audio Trails', an app created to enhance people's enjoyment and understanding of Gower and its history through walking.   Swansea's so-called 'Other Poet', Vernon Watkins is featured on one of the fourteen trails.   Ellie meets Watkins' widow, Gwen, and gains an insight into his great love of poetry, his friend Dylan Thomas, and his relationship with the beautiful Gower landscape. 
Find out more about Vernon Watkins
Woolly wonders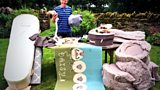 If there is an animal that's shaped this country more than any other, it has to be the humble sheep. For thousands of years they have provided us with milk, meat and wool.  It is thought that sheep production is man's oldest organised industry and, historically, the greatest riches came from the fleece. Adam Henson is counting sheep in Yorkshire as he visits a family business, still thriving after 180 years, where they make mattresses from wool.  They even grow the fleeces themselves on their own sheep farm just up the road from the factory.  Adam finds out about some of wool's special qualities, making it the ideal material for bedtime. 
Find out more about the history of wool
Whiteford Burrows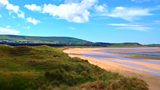 Whiteford Burrows is fast becoming one of the most significant sites for rare species in Wales. With a constantly changing landscape it's important for the land to be properly managed and surveyed.  Matt talks to Nick Edwards, from Natural Resources Wales, and finds out what brings Swansea University students to the dunes.  Local historian Randolph Jenkins recalls the days when the landscape was very different. 
Selective breeding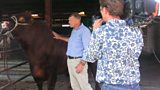 For thousands of years we have been selectively breeding farm animals to make them more and more productive. But in recent years there has been growing concern that pushing profitable traits has led to welfare problems. Groups like the RSPCA and Compassion in World Farming say that breeding for qualities like rapid growth have led to a whole host of issues including leg, bone and heart problems. But, as Tom Heap discovers, people within the industry say that these are problems of the past. So is it possible to have better standards of welfare and high productivity?
Vetch Field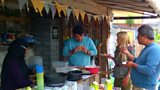 In the spirit of the World Cup Final, Ellie visits Vetch Field, the former home of Swansea City Football Club, to meet the people giving a new lease of life to the once derelict grounds.  The site is now the home of a group of keen gardeners, each with an allotment growing a variety of produce from around the world.  As well as getting a good meal, Ellie sees what can be achieved when a community pulls together. 
Mountain ponies on the marshes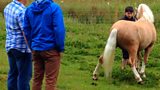 Peter Morgan has looked after Welsh Mountain Ponies on Llanrhidian Marsh for the past thirteen years. He gives Matt Baker an insight into the life of the marsh ponies and how their grazing benefits the local habitat. Matt also meets Peter's sons who are the fifth generation of the family to be working with Llanrhidian Marsh ponies.
Find out more about Welsh ponies
Credits
| Role | Contributor |
| --- | --- |
| Presenter | Matt Baker |
| Presenter | Ellie Harrison |
| Presenter | Adam Henson |
| Presenter | Tom Heap |
| Series Producer | Joanna Brame |
| Executive Producer | William Lyons |