Main content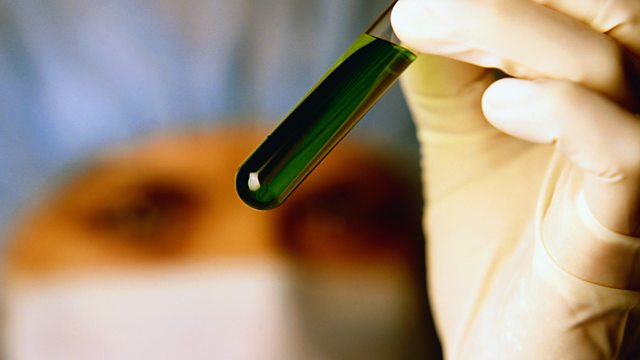 Organ Donation and Newborn Babies
Elizabeth and Kenny are expecting a baby with a fatal abnormality. He will die before, or soon after, birth. Under what circumstances can they donate his organs after his death?
Organ transplants are one of the triumphs of modern medicine. As the field has evolved, views on who can receive organs, and who can donate, have changed.
Elizabeth and Kenny are expecting twins. While one baby looks healthy, the other has anencephaly, a lethal abnormality where the brain fails to develop. Babies with this condition either die in the womb, are stillborn or live for just seconds, minutes or hours after birth. It's possible to terminate the pregnancy of this twin, but the procedure could trigger a miscarriage in the healthy one.
The couple decide to continue with the pregnancy of both twins - a healthy baby girl and a boy with anencephaly. As the pregnancy progresses, it's very emotional for the couple knowing that their little boy won't survive. However, they are keen to meet both babies and spend whatever precious time they might have with their son, before he dies.
Early on in discussions about their son, the obstetrician raises the subject of organ donation. Elizabeth and Kenny are open to the idea. They feel it could enable some good to come out of their son's tragic situation and are keen to explore it further.
Retrieving organs from children for transplant is rare, but it's particularly unusual from newborn babies. It's unheard of in those with anencephaly.
Can Elizabeth and Kenny donate the organs of their newborn baby with anencephaly, after its death? To what lengths can a team go to enable transplantation to take place?
Joan Bakewell and her panel discuss the issues.
Producer: Beth Eastwood.
Last on
The Panel
Bobbie Farsides, Professor of Clinical Ethics at Brighton & Sussex Medical School and a member of the UK Donation Ethics Committee 
Susan Bewley, Professor of Complex Obstetrics at Kings College London
John Wyatt, Emeritus Professor of Neonatology at University College London
Your Comments
---
The tale of Elizabeth, Kenny and their twins will, I think arouse compassion on a wide scale. Arouse too, admiration for the delicacy with which their tragic case was handled. Will contemporary moral philosophers, ethicists and jurists look at some of the seriously important questions that are posed by this tragic case? I hope so.  
The little anencephalic boy died with great dignity. Was this only because he mattered so much to his parents?...or because his organs might be worth harvesting?...or might it be because he was a human being, having an intrinsic dignity that would have been just as real - if discreetly concealed - had the "quick fix" of abortion been his lot?...was he only sub-human because he was 34 weeks old instead of 4O? 
If a foetus in the womb is not the living body of a human being at a normal stage of human development whatever else is it?  A 'potential human being'?.or a human being with a potential?  Elizabeth's intuition is corroborated by her son's DNA.  Human sperms and ova, are potential human beings but only immature human beings can develop into mature ones in due course.  
Do Human Rights depend on size and being 'normal' and mature, or upon being Human: Homo sapiens?.....To be 'fully human' is it necessary to be fit and well mentally and physically, wide awake and in the prime of life? .....Given the shortage of organs for transplant, together with the skills of modern genetic engineering and biotechnology, would it be a good idea to produce anencephalic human beings in the laboratory and farm them on a useful scale? If not precisely why not so?
The prevailing morality of the affluent West: "It's my preference therefore it's my right", with all its ugly snarl ups of conflicting "Rights" poses  headaches for politicians eager for votes. It also tramples on intergenerational justice in a very big way.  My medical student days were over 50 years ago before this heady modern liberalism and egoistic moral agenda took the stage, deriding established values. Having been tried it is already found to be wanting. It is one of the joys of my old age to see that  in academia, if not yet in legislation, the traditional Natural Law philosophies, as proposed by ancient Greeks and elaborated over millennia, have been making a steady come back. May the vulnerable of all ages benefit to the full. 
(Dr Wendy Wright, M.B.,B.S.)
---
This series is Radio 4 at its best and I thought the most recent programme was superb, sensitive and informative about the issues relating to a heart breaking experience for the parents involved which ended up with comforting positives for them both – and we listeners. As ever Joan Bakewell did a first rate job, I can think of no-one better suited to her role in teasing out the issues and treating the contributors with total respect. Thank you.
(Catherine Moorhouse)
---
I have experienced in some respects, quite a similar situation to the content of this programme. I had a natural non identical twin pregnancy. One was healthy and we now have a wonderful 5 year old girl Eloise. The other twin was smaller on first scan. The midwife at the time wrongly advised us that, worst case scenario, if the 2nd twin was abnormal, this could mean I had to carry both till 30 weeks then have one terminated. That was the worst day of my life. I didn't feel I could carry a baby to 30 weeks and then have it terminated. She said, to terminate before 30 weeks would jeopardise the healthy twin. On subsequent scans, it was apparent the 2nd twin was becoming smaller and was curling up and by that time we were under the care of a consultant, who advised that the 2nd twin was going to die. We were strongly advised by our consultant to terminate the 2nd twin before 13 weeks, as otherwise, if it died after that time, it would very likely miscarry and take the 1st twin with it – losing both. We were sent home and told to come back in a week's time, with the view that the baby may have died naturally in that time. It hadn't. So then we had to make the painstaking decision to terminate, in order to "save" Eloise. We were told we'd either miscarry both, or my body would absorb the 2nd fetus.  But neither of those scenarios happened. The 2nd twin fetus came out of me, so I saw him.  We later were told he had triploidy – too many chromosomes. For the next 20 weeks of the pregnancy (Eloise was born 7 weeks early) I was unable to sit down – it hurt - and was on bed rest with heavy bleeding with placental tissue coming out, every 5 days or so. The consultants could not explain what was happening to this day – why I was bleeding. I was rushed into A&E every time for an emergency scan as they thought I was miscarrying each time. But every time, a scan would reveal Eloise was fine and they could not explain the bleeding. My hunch is it was my body miscarrying the 2nd twin gently, so as not to lose Eloise. My consultant says that is possible, but he's never heard of that before and my body must be amazing to work that out – keep one, miscarry the other fetus.    Anyway, hearing this programme offered some shared experience type comfort to me, because I have never known or heard of anyone going through an experience at all like mine. So for that, thank you.  I could relate to a lot of the issues at play here and I think it has been extremely well produced – with all stones unturned, with such a complex issue. 
(Emma Molyneux)
--- 
I listened to your episode about the twins, one of whom was ancephalic, this morning. I don't know what was more impressive; the quiet dignity of the parents, the compassion of the medical staff, or the superb presentation of an expertly written script by Joan Bakewell. The programme was informative, thought-provoking and profoundly moving in equal measures.  I listened to it whilst driving across the Somerset Levels on a beautiful Summer morning and I was struck by how precious and fleeting life is and how fortunate we are to have the medical staff that we do to help us during some of most difficult times in our lives. Of course, it is a bit of a bind having to periodically wipe away the tears but these programmes have provided a valuable and fascinating insight into areas of human existence that most of us have never encountered. Superb programmes like this make Radio 4 what it is.
(Jon Mathias)
---
I really enjoyed the programme today. In 1995 I gave birth to a daughter who was perfect except for a hole in the right side of her diaphragm, which had developed in utero, this meant her right lungs had not developed fully. The intestine invades the chest cavity inhibiting lung development. This was diagnosed at 20 weeks and we were transferred to UCH where there were paediatric surgeons who could operate if she could be stabilised after birth using the little lung capacity she had. ( The lungs on the left side are smaller anyway because of the space the heart takes up.) She never had the hiccoughs that my other babies had! We were told that because the hole was on the right side her chances of survival were quite small; but there was a small chance she would be ok. We had about 5 months to prepare ourselves for the worst. I went into labour a week early and Beatrice was born looking perfect in every way except she was gasping. She was sedated, intubated and whisked away to NNU. Later on in the day my husband, parents-in-law and our two daughters came to see me and Beatrice in the NNU. I saw the chest Xray and saw how small her lungs were. The nurse asked me if I wanted to express some milk for her but I refused saying that the prognosis for her was so poor . At the same time I asked if there was any chance that she could donate some of her organs to help another baby or person who needed them. I wanted to ask early so things could be put in place for finding a recipient. After a hasty consultation I was told that it was not possible for anyone to benefit from her organs. I was very disappointed. I was really looking for something positive to come from our loss. She died about 12 hours later, in the middle of the night. They took the tubes out and turned off the machine and we held her while she gently drifted away from us. Then we bathed her and wrapped her up before she was taken away to the mortuary. I am really pleased that transplants are being considered now and that had she been born today our daughter's organs (except her lungs!) would have stood a chance of helping someone else.
(Hilary Luder)
---
I heard your very moving programme this morning on baby organ donation and it brought back memories for me (and tears to my eyes).  Nineteen years ago my sister gave birth to a 9lb baby girl who had a strong heartbeat but could not breathe. My sister begged the medical to stop resuscitating her baby. I took photos and helped my sister and her husband say goodbye as their baby gasped her last breaths.  Before this my sister had asked the medical team to look into organ donation. Roisin's retinas were the only viable organ for donation and they were given to a seven year old girl. I knew at the time how brave my sister had been to raise organ donation.  I really admired the parents in your programme for facing their challenges and thinking of others. Thank you so much for raising this topic.
(Edel Barnard)
---
I don't usually have opportunity to listen to this programme, and in honesty the subject matter doesn't appeal. However, I found this episode profoundly moving- the way the family bravely considered their dilemma and considered not only their own interests but manay others' was astonishing. In addition, the way the professional's gave time and consideration to the issues surrounding this dilemma reveals the how privileged we are to live in a country where we have a health system and legal system that can work together with such compassion and integrity. This was incredibly uplifting, sad, thought provoking and moving. Maybe, I'll listen to another programme in due course! Well Done!
(Bethan Armstrong)
---
I have just been listening to your programme about organ donation and newborn babies.  I found it very moving because I was a twin and my baby brother died in the womb.  This was back in 1946 and I was wondering whether he (my mother called him Neil) may have had the condition described in your programme.  I was adopted at the age of six weeks and did not find my mother Beryl until I was 36 years old (after the legislation which allowed adopted children to have their original birth certificates).  We had a tricky relationship (Beryl threw me out twice during the years that I knew her) but eventually became very close during her last 15 months when she was dying of lung cancer.  It took some while for Beryl to let me know that I had had a brother.  The doctor who attended her had asked whether she would like to terminate her pregnancy but fortunately for me she chose to continue.  She apparently buried the remains of my brother in a friend's garden (she was told at the time that the church would not accept the remains in their churchyard because Neil had never lived).  Strangely,  I had always felt as a child that there was someone missing in my life so finding out about Neil helped to fill that gap.  Even more strangely, I have ended up living opposite the garden where Neil is supposed to be buried.  This was entirely by chance as I didn't realise this when my husband (now deceased) and I bought this cottage.  Not surprisingly your programme made me think again about the little brother I never knew and made me cry.   The bonding between babies in the womb can be quite strong. Thank you for tackling what is such a complicated and sensitive issue.  I really admire the family and medical team who took part in the programme.
(Sue Cunningham)
---
I don't know whether you would be interested in what happened to me 1961 in Glamorgan. In 1960 I had a daughter; 6 weeks later I visited the Family Planning clinic and was fitted with the newest sort of dutch cap (very small.)  About a month later, breast feeding my daughter, I realised I was pregnant again and felt ghastly. I stopped breast-feeding as soon as possible.  I grew large but thought it was because of being pregnant again so soon. No scans of course in those days, but eventually the midwife wondered if there might be twins and sent me to my GP. He pooh-poohed the idea and said that mid-wives often did this. Apart from the fact that I was huge and had to kick my daughter up the stairs because I couldn't carry her, the pregnancy went normally until the day before my daughter's first birthday, a Saturday, when I noticed a dark discharge and decided to visit the GP on the Monday. On Sunday night, three weeks early, my waters broke and at home and with my husband present I delivered a healthy little girl, followed by another still-born girl who I was told had anancephaly and had died some days ago. I was asked if I wanted to see her but said no and she was whisked away. I hadn't expected twins and hadn't really wanted this second one so soon after the first, so I had a huge feeling of relief the way things had worked out. Bringing up two so close together was almost like having twins anyway. I did not grieve at all for this poor baby until about 2 years ago when my church held a service for the bereaved and I felt a huge guilt.
After listening to your programme, I am overwhelmed with relief that I didn't have to go through all the terrible decisions which were described. There's something to be said for the medical circumstances 53 years ago. I often listen to your programme and find it always thought-provoking.
Mrs Judy Davies (now living in Surrey)
---
Our son died of a brain tumour during the Olympics and I was devastated we could not use any of his organs to save the life of another child. DD was a committed environmentalist and loved any recycling, so it would have made him happy and I like the idea that maybe his lungs or heart would end up at university in another living person - his only regret was not being able to go to university. I've since discovered from Dr. Joe Brierley at Great Ormond St that we have some old laws that desperately need to be changed to enable more child transplants. You'd need to check the details with him. I only know there's a terrible need for children's organs as due to our constantly improving medicine & health & safety, fewer are available.
(Sacha Langton-Gilks, Lead Champion for the HeadSmart Campaign)
--- 
It is quite wrong to describe a foetus as a "baby". "Baby" refers to the stage, AFTER birth, during which the neonate has not yet made contact with the physical world, because there is not a "mind" with which to do so. The foetus is most definitely not "human" or "a person". Your parents of
the programme were fantasising. The foetus is no more than a template in which a baby, infant, child, person will develop by virtue of input via the senses over the first 20 years of life. Any other view is simply fantasy. There is no "life" before birth", because there is no mind. Decisions regarding the fate of the foetus should therefore be made ONLY from the viewpoint of ensuring the birth of a wanted, healthy, normal template in which to create a new man or woman. If these criteria cannot be satisfied, foetus development should be stopped and aborted. Any other view is irresponsible. How a foetus "died" assumes that it was "alive" which it was not, and so there is no reason at all why organs cannot be used, subject to the permission of the would-be parents. It's hard to envisage how any intelligent, rational person could think otherwise.
James Carey (old enough to know a think or two)
ENDS
Programme Transcript
Downloaded from www.bbc.co.uk/radio4 
THE ATTACHED TRANSCRIPT WAS TYPED FROM A RECORDING AND NOT COPIED FROM AN ORIGINAL SCRIPT.  BECAUSE OF THE RISK OF MISHEARING AND THE DIFFICULTY IN SOME CASES OF IDENTIFYING INDIVIDUAL SPEAKERS, THE BBC CANNOT VOUCH FOR ITS COMPLETE ACCURACY.
INSIDE THE ETHICS COMMITTEE
Programme 2 – Newborns and Organ Donation
TX:  24.07.14 
PRESENTER:  JOAN BAKEWELL
PRODUCER: BETH EASTWOOD
Bakewell
Organ transplants are one of the success stories of modern medicine.  And over the years, views on who can receive organs and who can donate have changed. So what happens when parents of a dying child want to donate that child's organs after death?  What about infants and newborn babies?  Who decides?  Who has the right to decide?
Welcome to Inside the Ethics Committee.
It's early 2012.  Kenny and Elizabeth had been trying for a baby and to their delight a pregnancy test brings the news they have been hoping for.
Elizabeth
I was delighted to be pregnant because I didn't know if it would happen or not but then just the nervousness of waiting on your scan, just to know that things are or aren't okay, so yeah, mixed feelings.
Bakewell
The scan date arrives.
Elizabeth
We went for a 12 week scan and obviously excited and nervous to be seeing the baby and then realised there were two babies and we were expecting twins but then it became apparent, quite quickly, that there was a problem.
Obstetrician
One twin looked normal and the other twin had the appearances of a major abnormality called anencephaly.
Bakewell
The obstetrician explains the condition.
Obstetrician
Anencephaly literally means no brain.  When it's in the womb we realise that it's not that, the baby does have a brain, it's just not protected by the skull and the skin over the brain.  And as a result during the pregnancy the brain effectively fails to develop, resulting in the appearance by the time the baby's born of there not really being much brain.
Bakewell
The prognosis for babies with this condition is bleak.
Obstetrician
There is an increased chance of stillbirth, we know that, but I can't put a figure on it.  It may survive the labour.  Of those babies that survive the labour then you're probably looking at most babies only living moments – minutes, maybe half an hour or so.  There are exceptional cases reported of babies living days or weeks but it's likely you've only got minutes.
Elizabeth
I don't think it really sunk in to begin with actually.  We'd been blessed with two little babies here and just trying to take in that information that one is not going to survive much beyond the birth.
Bakewell
The obstetrician explains the options to Kenny and Elizabeth.  Termination of the foetus with anencephaly is one of them. But they're having twins and there are risks associated.
Obstetrician
There is a chance that its death will result in the loss of the healthy one and that figure probably goes up the later you do it.  So there's around a 10% chance of losing an entirely healthy baby for the sake of not having to deliver a baby with abnormalities.
Elizabeth
I never thought I'd have to face the situation where I was considering terminating my own baby or not.  I really wanted to be a mother for many years so it's quite frightening obviously having to think through what do I really believe here, what's the right thing to do.
Kenny
Ultimately we wanted whatever was going to give us the best chance of having a baby survive at all.
Bakewell
The alternative is for Kenny and Elizabeth to avoid that 10% risk associated with termination and continue with the pregnancy of both twins. But if they do, there is a risk that the baby with anencephaly could die in the womb.
Obstetrician
In a pregnancy with twins if one baby dies than there's a risk that that will cause premature labour.  So you could argue that maybe it's better to face that 10% and get it all over with rather than run the risk of the one with the abnormality causing labour at 24 weeks and causing abnormalities in the survivor just through prematurity.  But it's a reasonable estimate that the chances of that were on balance a good bit lower than 10%.
Bakewell
But if the couple decide to continue the pregnancy of both twins, Elizabeth is all too aware of the impact this could have on her.
Elizabeth
I would then need to carry a baby that I knew was ultimately not going to survive.  So they were very good at trying to help me understand how that could perhaps affect me further down the line, as well as the practical implications of maybe a premature birth.
Bakewell
But there are also benefits for continuing.
Obstetrician
For about the 15-20% of women who let nature take its course there's clearly real value and one of those values is having public recognition that they've had a baby, including the fact that they get a birth certificate and a death certificate and all the kind of societal ceremony that goes with life and death adds value to the grieving.
Bakewell
But giving couples this option is relatively new.  The obstetrician remembers being shocked 15 years ago when a woman decided to go through with such a pregnancy, it was her decision that changed his outlook.
Obstetrician
And I think since then we've increasingly said well do what you like.  But it took a while to get a mind shift and I think that's likely to be variable up and down the country, just still somewhat dependent on who you happen to meet.
Bakewell
The decision is Elizabeth and Kenny's to make and there's one other crucial perspective.
Kenny
Our understanding would be that life begins at conception and that both of these babies had that potential for life that was God given and were to be treasured.  So that would be the basis on which you're trying to inform our decision making.
Bakewell
Let's pause here and meet two of my panel to discuss today's case.  Susan Bewley is Professor of Complex Obstetrics at Kings College London.  And John Wyatt, is Emeritus Professor of Neonatology at University College London.
Susan Bewley, can I ask you to enlarge, first, on the relative risks involved of either continuing the pregnancy or terminating the foetus with anencephaly?
Bewley
It's very complex because there's two issues, one the baby with the problem that is inevitably fatal and secondly, the twin pregnancy.  Any pregnancy with twins has more complications and you can either carry on with greater chances of anaemia, caesareans, preeclampsia etc., and prematurity for both the twin that's going to live and the twin that's going to die.  You can end the whole pregnancy, obviously that's unacceptable, or we can do a procedure that terminates one of the pregnancies.  That has a risk of miscarriage, sometimes of breaking the water, sometimes of bleeding, sometimes of going into labour a bit later but after a few weeks if that risk of losing the whole pregnancy doesn't happen it's like converting a twin pregnancy to a single pregnancy.
Bakewell
And what about the risks to the mother?
Bewley
Well the risks to the mother are not so much from a termination but they would be the risks of a twin pregnancy.  So there's more risks of every complication of pregnancy – going into labour prematurely, having blood pressure diseases, having bleeding, having a caesarean, having a haemorrhage afterwards.  So normally a singleton pregnancy has much less risks than any twin pregnancy.
Bakewell
Right now we've heard that it's increasingly the case that women with such pregnancies go full term, why has that happened – John?
Wyatt
Yes it's certainly my experience too that when the options are put towards parents in this kind of way, following the tragic discovery of a very severe, maybe lethal abnormality, increasingly some parents feel that allowing the pregnancy to proceed and wishing to meet their baby after birth is something that they would wish to carry on.  And certainly my experience has been over the years that I've had the privilege of caring for a significant number of babies in this kind of situation and I've seen the positive aspects of having an opportunity to meet your baby.  And clearly if a termination is performed during pregnancy this is a very private event which is often not talked about, apart from with very few close confidantes and so on, in converse the birth of a baby even a baby who may only live a matter of minutes or hours or days is a much more public event, there is a social recognition of the event and therefore is a support mechanism for parents.
Bakewell
It's not surprising that now we have scanning of course the bonding seems to happen much earlier and the child in the womb has a reality that it never had years ago – do you think that's so?
Bewley
I certainly think that's so, mothers have always felt their babies moving, so they've always had a bond and a relationship but I think we prioritise the visual, so seeing a baby on a scan does make it more real and it makes it more real to other parties – the father, the friends and so forth.  So we have changed our relationship with the foetus in the womb.
Wyatt
One of the things I notice is that the baby's photo album which used to start on the moment of birth now invariably starts with a fuzzy grainy image – this is you when you were only a few weeks gestation.
Bakewell
What is interesting though in this terrible case is faced with the decision to go through with the pregnancy or not is how traumatic it might be, is that a word that is applicable at all?
Bewley
Oh absolutely and I think there's something particularly difficult about a twin pregnancy and we see that both in the womb and I'm sure John sees it afterwards when you have one twin who's alive and thriving and another who's ill or dying.  It's not possible in the brain to be looking forward positively like most pregnant women at the same time as thinking and preparing for death, I think that is very hard indeed.
Wyatt
Yes and that's certainly my experience.  Paradoxically it seems that where twins – one of whom survives and does well and one of whom dies – it puts parents in an extraordinarily emotional double bind, that they can't really enjoy the baby they have because they're constantly reminded of the one that died and they can't really grieve for the one that died because they're having to face all the planning and decisions of the one that's alive.  And sometimes I'm afraid family and friends are often very insensitive and would say things like well at least you've got one, just be grateful and would not understand the kind of emotional conflict that parents find themselves in.
Bakewell
Insensitive people, like me, might say things like – wouldn't it be better to get the trauma over and have it resolved rather than proceed through nine months of distress – what do you say to me?
Bewley
I think we can't put ourselves into other people's shoes in that way, it's too difficult.
Wyatt
There's a medical feeling that a termination is like a quick fix, it just solves the problem.  Of course in the real world it's not as simple as that and these are profoundly complex issues which touches at a very deep part of our nature.  So the idea that a termination just solves the problem, in my experience, it's very unlikely that that will be the case.  Therefore what I often say when talking to parents as of course you have to live with this for the rest of your life, you have to live with the knowledge that the decision you made was for the best and in the end no one can tell you what you must do.
Bakewell
And if Elizabeth and Kenny do decide to continue with the pregnancy the birth of the healthy twin takes precedent – is that right Susan?
Bewley
Well I think the health of the mother takes precedence, we'd have to make a decision about whether we do a caesarean for the usual reasons – that's some threat to the mother or a threat to the healthy baby.  So we do have to think ahead and we have to realise that this is quite likely – 50% of babies in twin pregnancies are born prematurely – so it's likely that this is something that will happen and occur to us out of hours, so we must plan and discuss all the possibilities in front of us.
Bakewell
Right well now let's get back to the story.  Elizabeth and Kenny make their decision.  They decide to see the pregnancy through with both twins.
Elisabeth
We also decided to find out the sex of the babies so we could then refer to them as our little boy and our little girl and that was really special.  I guess that was our time with him plus you could feel him moving inside.  So you connect more and more with these two little babies even though you know that one of them is only going to be with you for a very short time.
Bakewell
The neonatologist, who will be looking after the baby with anencephaly, talks to the couple about how they might like to spend any precious time they have with him, if he's born alive.
Neonatologist
A baby who has been born without a brain has the possibility of surviving for a few minutes, could be a few hours, or it could even be days.  It's a case of exploring what options might be available to the parents for them to spend time with their baby, does it have to be in the hospital, could it be home, could it be a hospice?  Things that perhaps you wouldn't necessarily think about when you're just faced with such bad news.
Elizabeth
Meanwhile I'm getting more and more pregnant and you can feel this little baby is alive and kicking literally.  So whilst he was inside me he was alive but then knowing that ultimately the birth would be the beginning of the end.
Kenny
You had trips to Mothercare but you also had trips to the cemetery. 
Elizabeth
It's just quite surreal almost.  You want to be excited about the babies and of course you go into Mothercare and they don't know the story and you've just been up the cemetery looking at plots to work out if that's where you'd like to bury your son.  And at times I guess felt I wasn't excited enough about the other baby because you're mourning already the loss of the baby that you know is not going to survive.
Bakewell
Elizabeth is also apprehensive about meeting their little boy.
Elizabeth
I was really scared that I was going to be scared to look at my own little baby, which is quite a horrible thought, so it was helpful just to know in advance what he might look like, what the slight differences might be compared to other baby who was hopefully healthy.
Bakewell
She meets regularly with her midwife who tries to prepare her.
Midwife
Facially, eyes, nose, mouth are all there and the chin and then protruding eyes and then basically we'd come up to about mid-forehead and then the skull, top to back, has not formed.  To show Elizabeth photographs gave her the idea of what this baby's going to look like.  The options were given – do you want your baby to be given to you straightaway, do you want the head to be covered, wrapping the baby up or putting a hat on, what would you want us to do.
Bakewell
Early on in the discussions, the obstetrician raises another issue for the couple to consider – organ donation.  
Kenny
You can see the obvious benefits in that you've got a pretty hopeless situation where this baby's going to die and everyone kind of knows that there are shortages with regard to organs for all sorts of problems.  And everything else is going to be there, apart from the abnormality with the skull and the brain.  It sounds like a good idea.
Elizabeth
We knew that our little boy wasn't going to survive but equally we want to be able to help other families, so that they're not facing what we're facing – the loss of their own child.
Kenny
There was a potential here for several other families somewhere else and he was going to be very generous, literally giving of himself to others.
Bakewell
Given Elizabeth and Kenny's interest, the obstetrician starts to explore the possibility further.
Obstetrician
I e-mailed a group of colleagues – specialists in foetal medicine – throughout the whole UK and got a pretty unanimous – this isn't possible.  And this was a real learning experience for me, not an area I've dealt with at all.  Independently of course we also contacted the local transplant coordinator and rapidly realised this was a very contentious area and needed to be escalated up.
Bakewell
One of the transplant coordinators.
Transplant Coordinator
This request was very unusual because babies so young there's very few that will actually go on to donation and in particular anencephaly, this was something which had never been done in the UK before.
Bakewell
The organ donation service contacts the UK Donation Ethics Committee.
So under what circumstances can the organs of babies and children be donated?  The paediatrician on the committee.
Paediatrician
These are children and infants in whom it's quite clear that carrying on aggressive invasive intensive care is no longer in their best interests.  With the family's agreement intensive care would usually be withdrawn.  And so once the heart has stopped for five minutes, the lungs aren't working and they're verified as dead, then organ retrieval can occur.
Bakewell
This includes newborn babies.  It's rare but it does happen.  But this baby has anencephaly - he lacks a brain. Does this change things?
Transplant Coordinator
This is definitely different to a newborn without the diagnosis of anencephaly. This was something that we really wanted to consider, was this actually a potential, can a baby with anencephaly actually donate?
Bakewell
Right, well let's go back to the panel.  Joining us now is Bobbie Farsides, who's the Professor of Clinical Ethics at Brighton and Sussex Medical School.
Let me ask you Bobbie, first, you sit on the UK Donation Ethics Committee, don't you?
Farsides
I do yes.
Bakewell
And we've just heard that newborn babies' organs can be retrieved after death but only under specific circumstances, can you explain that?
Farsides
Yes.  As we've already heard it's actually rare for very young children or babies to donate in this country.  And if they are able to donate it is because their death has been defined as death after circulatory death which means that their heart has stopped working, their circulation has stopped working.  And really it's the commonsensical definition of death that we've worked with for hundreds of years.
Bakewell
Now the interesting thing is that we also hear in public discourse about donation happening after brain stem death, so why doesn't that apply? John.
Wyatt
As you say it is well recognised that in cases where there is evidence of irreversible damage to the brain, particularly the brain stem, that in older children and adults it has become standard practice for donation to be considered because death can be diagnosed by these neurological criteria.  When the criteria were debated and discussed more than 20 years ago babies under two months of age were excluded because of concerns about how reliable those criteria are in very small babies.
Bakewell
Bobbie.
Farsides
The issue is that we don't feel at present that we have the criteria to judge brain stem death in such tiny babies.  In recent years we've become much more comfortable with donation after circulatory death in adults and older children and this has opened up the possibility of thinking of donation for very young children or babies because here we would feel confident in knowing that the child had died and that we were safe to proceed with a donation.
Bakewell
Now this child in question here has no brain, does that make a difference to all these options?
Farsides
This child is the very much wanted child and I think we just have to think about their interests in protecting the dignity of their child, the interests of their child and in one sense the brain or the absence of it is irrelevant.
Bakewell
John, what do you think about this baby born without a brain?
Wyatt
Yes I would very much agree with that, although there are some people who have argued that a baby that doesn't have a brain can't be regarded as a person in some way, that it comes in a different category from a human person.  I personally wouldn't agree with that and I think my experience – and I think it's shown out very clearly in these parents – is that as professionals we should respect their desire to see this child as a unique individual and a member of their family.
Bakewell
Does a child like this have anything you could call consciousness?
Wyatt
Again this is a matter of scientific controversy.  Most neuroscientists would say that since consciousness comes from the cortex, the lining surface of the brain, and since that isn't present here then there can't be any kind of consciousness.  Having said that I've had the experience of caring for babies with this condition.  The babies sometimes do show some signs of responsiveness – they seem to move and stroke their face – so I would be cautious to be absolutely dogmatic and say there's no kind of awareness or consciousness.
Bakewell
Do they have rights, do they have the rights of a newborn baby?  Bobbie.
Farsides
We have obligations to this child, I think is probably a better way of thinking about it, because as John said some people want to base claims to rights in a particular type of identity in personhood and we would get into a sort of controversial argument about whether this child is a person and therefore has interests upon which we can base rights.  But I think we would say this child is a member of a family to whom we have responsibilities and we would want to think of how best to balance the various obligations and duties that we have to do the best for this family as a whole.
Bakewell
But who is going to decide whether this baby's organs can be used for transplant?
Wyatt
Once the baby is born as a neonatologist we have a duty of care to the baby and in this case to both babies.  And our duty of care is to act in the baby's best interests.  And this is where the challenge comes, of course we also have a duty of care to parents and to respect their wishes and so on.  So the decisions about the cares of babies after delivery should be a collaboration between the medical team and the parents.  And that together there should be an attempt to reach agreement.
Bakewell
Bobbie.
Farsides
It is a collaborative decision and it's a decision I would suggest that cannot be anticipated in advance.  And I think in talking about the options that are available, particularly organ donation, one has to prepare the family for the possibility that it might not be able to happen but also for the real possibility that they might change their mind when they have their baby in front of them.  So I think it's keeping the conversation going whilst making practical arrangements that allow for the choice that the family will hopefully feel able to make.
Bakewell
Well let's get back to the story. The UK Donation Ethics Committee consider whether it's ethical for the organs of a newborn baby with anencephaly to be donated after death.
Paediatrician
My previous responses and those of everyone else I know who've been involved in this field are that it can't be done.  But in terms of the newer thoughts about donation after their heart has stopped beating, they're not breathing – it really gets one thinking that maybe this is something that could happen.
Bakewell
After all, apart from the absence of its brain, this baby is like any other.  So what organs can be retrieved from a newborn?
Paediatrician
The most likely organs that could be donated are the kidneys, which might well be able to be given to an adult.  Liver cells can be transplanted.  The other possibility is small bowel transplants from very small babies to other babies, the same with lungs.  Heart transplants happen but that's a difficult one.
Bakewell
And there are practical considerations.  This baby's organs will only be viable for donation if he is born alive. After the birth, and once the baby has been declared dead, then the organs can be retrieved.
But a transplant is only possible if there's time for recipients to be identified and their surgical teams mobilised. So all teams need to be ready.
The problem here is that no one can predict when Elizabeth will give birth.  The obstetrician must prioritise the needs of her healthy twin, so planning a caesarean around donation would be inappropriate. 
So the team considers whether prolonging life after birth, by supporting the baby's breathing, would be acceptable to enable transplantation to take place.
Obstetrician
We were proposing the idea of ventilating a baby who we knew was going to die and we had to be sure that people felt that was an appropriate use of resource, we had to be sure that people were comfortable that it wasn't causing any suffering for the baby.
Bakewell
Kenny and Elizabeth give a lot of thought to this question.
Kenny
We knew our little boy was going to have a very short life and we wanted it to be as special as possible and pain free and we don't want him suffering and by intervening are you doing that, and if you are are the benefits of the transplant going to outweigh the cost that he is going to have to take – and he doesn't have a choice, we're making the choice for him.
Obstetrician
We also needed everyone involved to be on board, you know this is a very contentious area and we have a great team, so we needed to be sure we weren't upsetting anyone.
Bakewell
The neonatologist, who will be looking after this baby at birth.
Neonatologist
To be honest we weren't really sure how a lot of people would take it and we felt that perhaps the best way was initially to talk to the senior members of the team.  These would be people who'd had a lot more experience.  What we didn't want was a situation where there was the sort of background of I don't want this to happen.
Bakewell
He approaches one of the senior nurses.
Neonatal nurse
I was a bit taken aback because I'd never come across this before.  So I had to go away and reflect on that.  And I thought actually this is something that's going to help them through this very difficult time and the possibility that another family would benefit from the very generous act.
Bakewell
The midwife knows that ventilating this baby could jeopardise the precious time the couple have with him for its very short life.
Midwife
I've witnessed babies who have just died in their parents' arms and it's a very peaceful thing to happen.  It's hard to say how I feel because I would say I'm a bit mixed about it.
Neonatologist
My worries were that we would end in a situation where mum was in one part of the hospital with the healthy twin and the anencephalic baby being ventilated in another part of the hospital and we wouldn't have the opportunity to reunite them before organ donation went ahead.
Bakewell
The obstetrician feels less conflicted.
Obstetrician
I was personally comfortable with the idea of ventilating simply for the point of organ donation.  Primarily for the comfort it would provide for the parents, this is the most significant brain abnormality you can have and I didn't see there was a harm in ventilating so that the transplant team could be mobilised.
Bakewell
The UK Donation Ethics Committee consider this issue.
Paediatrician
To put someone on a ventilator purely for the purpose of organ donation that's really a step, as far as I'm aware, nobody's taken in paediatrics.  My personal views, I have to say, vary over time with that.  But the best interests of that baby, which is our standard in terms of child health, are they met by looking at the baby as part of the family and thinking about the gift of donation or are we somehow using that baby as a means to procure organs?  I don't think that's true but I think lots of other people would have different views about that, so I don't think is a straightforward issue at all.
Bakewell
While mulling the issue of ventilation over the picture becomes more complex still.
Elizabeth
The other impact of ventilating him meant that we knew we would have some time with him but also give our families the opportunity, our parents, the chance to meet him and hold him.
Kenny
I think anything that we could do to make that more likely then we were going to consider.
Bakewell
So, to what lengths can a team go to keep a dying child alive?
Paediatrician
There are some limits on what we feel it's reasonable to do, so we wouldn't usually start a new powerful drug to enable them to stay alive a bit longer for someone else to come.  Whereas to carry one on that's already happening is kind of acceptable.
Bakewell
Here the team would be starting ventilation, rather than just continuing it.  But the couple have other reasons to prolong their son's life.
Elizabeth
We also wanted to get him baptised, that was really important to us, just to acknowledge his life and just how special he was and how special he was in God's eyes.
Kenny
He was going to go to heaven regardless of whether he was baptised or not but it involved God in the short life that he had and I suppose we believe that is for his good, as well as for our good.
Elizabeth
Obviously he didn't have the ability to make those decisions so you want to make the best decisions for him and for his sister.  So as well as obviously wanting to try and proceed with the transplant, if that worked out, as long as it wasn't for a prolonged period of time I didn't feel that it was the wrong thing to do.
Bakewell
The UK Donation Ethics Committee considers whether these wider benefits, in addition to enabling organ donation, might tip the balance in favour of ventilation.
Paediatrician
It's fair to say within the room there's a difference of opinion from people who thought the family centred best interest approach would enable elective ventilation in this circumstance with this family.  To others who thought this was morally something that should not be undertaken, not just in encephalic infants but in any human being, particularly in children who would have no way to say they consented, weren't able to decide in any way shape of form what's done to them.
Bakewell
Right, let's come back to the panel here.  We have a baby who is dying but the team and the parents are thinking of ventilating him to keep him alive.  Now what concerns do you have about that?  Susan.
Bewley
I think I'd start with the – just because we can doesn't mean we ought.  And talking about death while you've got a baby that's moving in your womb is extremely difficult and I think we have to talk about good deaths and bad deaths and all the practicalities that will be involved – putting needles in the baby, putting tubes down, separating the baby.
Bakewell
Just on the medical matter would this baby feel pain?  John.
Wyatt
Of course we can't know for certain whether the baby would feel pain but I think – and I think most neonatologists would agree that we should presume that the baby can feel pain and therefore if we thought there was any possibility that the baby was suffering and particularly if we were going to do invasive treatments like mechanical ventilation that we would give powerful painkillers in order to prevent any possibility that the baby was in distress.  But it does raise the wider question of is it right to be doing this at all and the problem with modern neonatal intensive care is that we've got very powerful technology, it is possible to keep babies alive under extraordinary circumstances but we need great wisdom to know whether this is the right thing to do.  My experience is that the best way for a baby to die is in the parents' arm, in privacy with support from staff as necessary.  Conversely death in an intensive care unit is a rather different thing.  So it is a very painful dilemma.  On the other hand I do recognise that the parents long to see some good come out of this terrible tragedy and their desire to see a positive outcome through transplantation is also something that I would recognise and honour.
Bakewell
Bobbie, what do you think?
Farsides
We mustn't underestimate that any donor family makes sacrifices.  If your loved one is an adult that dies there might be ways in which they die differently to facilitate donation.  But we're often reassured in that situation because we know the wishes of that adult and they might have made it very clear this is something that they wanted to do.  Here we're talking about the parents' wishes for the baby and for the family and I value the idea of legacy, the idea that this child will have done something – as his father said – incredibly generous but I think we do have to be very cautious in our balancing.
Bakewell
Now Kenny and Elizabeth are Christians and Kenny had mentioned the identity of the child in the eyes of God and the importance of baptism, now John what do you feel about that?
Wyatt
Well many parents would see that recognising the significance of their baby before birth and shortly after birth with some kind of ceremony, such as baptism or other religious ceremonies in other faith groups, is a very important and significant part of that.  Having said that all major faith groups recognise that it's possible for these kind of ceremonies to be performed very rapidly, shortly after birth and so on, and therefore although it may be preferable to delay the process to allow a more formal ceremony to take place I would question whether that's really justified.
Bakewell
And what about you Bobbie?
Farsides
I think we have to bear in mind that we are always, when we talk about donation after death, dealing with tragedy at the same time as the opportunity to be altruistic, the opportunity to do something quite amazing.  And different families will see that offer in different ways.  Clearly this is something this family wanted to seriously consider and I think it's to the credit of the medical team that they looked into the possibility but they also looked into how well they, as a team, would cope with facilitating that choice if it were to go ahead.  But we also have decisions to make at probably a higher level about how far we wish to go in order to say that somebody who can't express their own wishes about donation should be able to give a good donation.
Bakewell
Well this is the moment when I put you on the spot and pretend that you are this actual ethics committee, you've heard the story presented by Kenny and Elizabeth case, what would you advise – would you advise ventilation for the purpose of donation alone, for the other benefits as well – the benefits of bonding and the religious ceremonies we've referred to – or not at all.  What would your advice be?  Susan.
Bewley
I'm a doctor, I want to fight nature and all the cruel things it brings but from time to time I think the image of letting nature takes it course can be very helpful and at the same time as recognising the altruism and the care and the love these parents had for both their babies I think we have to sometimes say we don't have to use our powerful tools and we want to have a dignified death and I would be rather reluctant to go along the invasive path.
Bakewell
John.
Wyatt
Well I recognise this is an agonisingly difficult problem and I recognise the very noble desires of the parents and their generosity, their desire that the organs could be used for other desperately sick children but I am very uneasy about using invasive medical treatment for these purposes, even with the additional benefits of enabling other ceremonies, enabling more of the family to be there.
Bakewell
Bobbie.
Farsides
My advice would be to think of this as a package, to not separate donation and the other considerations but to say our priority here to offer the best possible end of life care to this infant and their family.  When this case came to us in the UK Donation Ethics Committee we were struck by the fact that this had to ultimately be a decision that rested with the parents and the medical team in terms of what they were prepared to do on behalf of this family.  But we did, at the same time, advise that ventilation would be in our mind an extreme intervention and one that would have to be thought about extremely carefully.
Bakewell
Thank you all very much - John Wyatt, Susan Bewley and Bobbie Farsides.
So now let's hear what the UK Donation Ethics Committee advised and what happened in this case.
Paediatrician
The feeling was that putting a baby on to life support machines to keep it alive for the purposes of organ donation alone was not ethically acceptable.  In fact similarly for the purposes of having other things happen, such as relatives visit or Christening, again on its own ventilating a baby for those things was something that was quite troubling but was slightly more of a debate.  In fact it was only when the combination of the two things – so putting a baby on life support for the purposes of spending more time with the family, Christening, and then organ donation on top of that, it was felt that that was ethically something that could be permitted.
Obstetrician
Eventually after all the discussions it was agreed that if they wanted it at the time and if that baby had vigorous enough signs of life to justify it then some attempt at ventilation would be considered.
Bakewell
In the intervening weeks Elizabeth and Kenny met with their transplant team to discuss the plans.  At 34 weeks, Elizabeth's waters broke and the babies needed to be delivered. The first baby, the healthy one was breach – a reason to do a caesarean.
Elizabeth
Our little girl was first, we were very fortunate that she was well and didn't need any extra help, even though she was six weeks early.  I guess I was worried that our little boy would come out stillborn and wouldn't be breathing at all but he came out breathing, which was lovely and I got a glimpse of him before he was checked over.
Bakewell
The neonatal nurse in charge of the baby.
Neonatal nurse
I attended to the baby's head, put a hat on him, put something in the hat to make the head more round, the baby was examined by the consultant and then after that we attached the baby to some monitoring equipment and Elizabeth was able to hold both twins.
Neonatologist
The transplant coordinators were working feverishly behind the scenes, phoning various places around the UK and I think Europe as well, to see were these organs wanted by anybody.
Elizabeth
We got a few photographs taken in theatre in case that was the only time they would be together and that he would be alive.
Kenny
And we had that little time in theatre where there were no tubes or anything.
Neonatal nurse
After a few minutes the baby's oxygen levels started to drop quite dramatically so I asked the consultant to come back in and Elizabeth said is it time, because she knew.  We took the baby through to the neonatal unit where the baby was given some sedation, which is normal if babies are going to have a tube inserted into the trachea, and then the consultant in charge intubated the baby and we attached the baby to the ventilator.
Bakewell
Elizabeth was moved from theatre to a private room in the intensive care unit where their son was on the ventilator, so that she and Kenny could spend time with both babies.
Elizabeth
It meant we had both babies together, we took lots of photographs, the grandparents all managed to come and spend time with their two new grandchildren.  They met one of their aunties.
Neonatal nurse
In the meantime we found out there was as yet no recipient, I kept asking the consultant but there was – no there's no news, there's no news, we're still waiting to hear.
Kenny
We were able to get him baptised knowing that he wasn't going to stop breathing because the machine was going to breathe for him.
Elizabeth
That was just a really special time, especially for later on when it was just the four of us after our families had gone home, later in the evening, it was just lovely to be just the four of us in that little room together.
Bakewell
Eventually the transplant coordinator received news about the transplant. Due to the baby's low birth weight and size, there were no suitable recipients that day.
Transplant Coordinator
We had to then go and speak to the parents and let them know but sadly on this day I was not able to go forward with any of the organs for transplant.
Elizabeth
Beforehand I thought I would be more disappointed than I actually was.  I still felt that we'd done the right thing.
Neonatologist
It then meant that we switched care from one of intensive care to one of palliative care.
Bakewell
When Elizabeth and Kenny felt ready to say goodbye, their son was taken off the ventilator.
Kenny
He continued to breathe for a number of hours and survived well into the following morning.
Obstetrician
The prolonging of life didn't end up resulting in a transplant but we'd done everything we possibly could and of course good arguably has come out of it.
Bakewell
The ethical discussions that this case triggered two years ago, have helped pave the way for another family.  Within the last year, organs from their baby with anencephaly were donated for the benefit of others - the first such donation in the UK:  the baby was not ventilated to keep him alive.
And the experience for Kenny and Elizabeth lives on.
Elizabeth
In the end we had 12 hours with him, part of that on the ventilator, and part of that breathing himself.  It helps afterwards when you're mourning his loss just to look back at the photographs and to smile of those lovely few hours that we spent together.
ENDS
Broadcasts

Podcast
Joan Bakewell and a panel of experts wrestle with the ethics of a real-life medical case.