Main content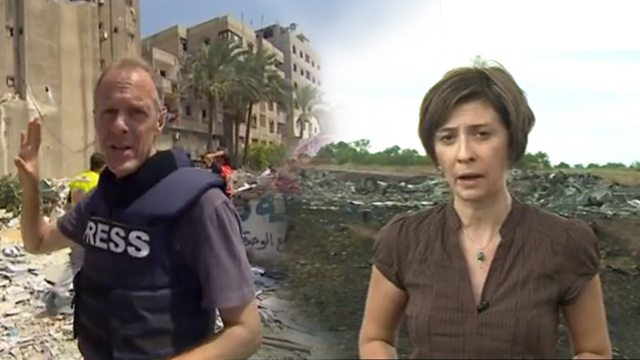 MH17 and Gaza reporting, Al Jazeera English journalist Sue Turton, Murdoch's media moves
The challenges of covering MH17 and Gaza, Sue Turton on her jailed Al Jazeera English colleagues and Rupert Murdoch's quest to buy Time Warner.
For rolling news services, there are tough choices to make in the newsroom over how to cover the MH17 disaster and the conflict in Gaza - which story to prioritise, how to deploy, and which angles to cover. Whilst, for reporters, there are the challenges of verifying stories and working in hostile environments. Steve Hewlett discusses how the news makes it onto our screens, and issues of taste and decency with two heads of newsgathering, Jonathan Munro from the BBC, and Jonathan Levy from Sky News.
Al Jazeera English journalists Peter Greste, Mohamed Fahmy and Baher Mohamed have been in prison in Egypt for six months. Last month, they were convicted of spreading false news and supporting the Muslim Brotherhood, and sentenced to between seven and 10 years in prison each. During that same trial, Sue Turton was sentenced to 10 years in absentia. Steve talks to Sue about the guilt she feels as her colleagues serve time in jail, and whether there is any hope of the convictions being overturned.
21st Century Fox, which Rupert Murdoch owns, has tried to buy Time Warner, which controls the likes of cable giants HBO and CNN. The offer of 46.6 billion pounds was rejected. It comes at a time when the sale of Sky Italia, owned by 21st Century Fox, and Sky Deutschland, 57 per cent of which is owned by 21st Century Fox, is believed to be imminent, leading to speculation that Rupert Murdoch will use the proceeds of the sale to boost his bid for Time Warner. Claire Enders from Enders Analysis discusses what this could mean for Rupert Murdoch's empire.
Producer: Dianne McGregor.
Chapters
MH17 and Gaza reporting challenges

With Heads of Newsgathering - BBC's Jonathan Monroe and Sky's Jonathan Levy.

Duration: 11:01

The plight of Al Jazeera English journalists imprisoned in Egypt

With Sue Turton who was jailed for 10 years in absentia.

Duration: 06:47

Business manouverings at Rupert Murdoch's empire

With Claire Enders, Enders Analysis.