Main content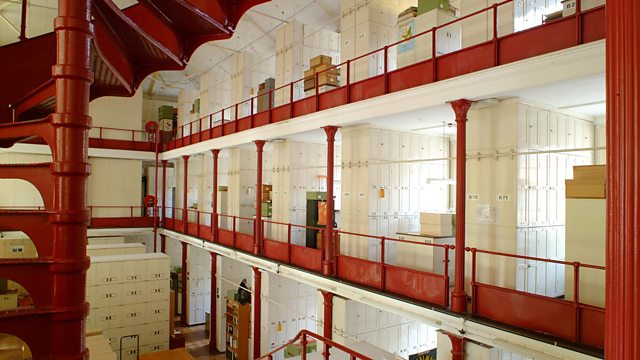 Pressed Plants and Possibilities
Professor Kathy Willis examines the vital significance of Kew's 19th-century herbarium collection of pressed plants. From 2014.
The Victorians realised that preserving the structural features of a plant was essential to classifying it, placing it on a plant family tree and building up an overall understanding of the relationships between plants. Central to this was the herbarium - a collection of dried plants documented, pressed and mounted onto identical sheets of paper. Kathy Willis examines the genesis of this process at Kew which plays host today to over 7 million specimens, and is now one of a network of herbaria around the world.
If you want to know what a plant is, the herbarium is where you come. But how was the Kew collection established? Kathy Willis hears from historian Jim Endersby on the influence of William Jackson Hooker whose private plant collection forms the basis of the collection.
Historian Anne Secord of Cambridge University examines the delicate relationship between artisan collectors in the field and gentlemen botanists which defied the rigid social divide to enable specimens to be gathered from far afield to advance botanical knowledge.
Kathy Willis learns from Kew botanist, Bill Baker, how patterns now emerge in the herbarium that enable changing patterns of plant behaviour from flowering times to plant distribution to feed into wider questions about the effect of changing climate and land use.
And in an age when the Empire was aiming to show everything to its best advantage researcher Caroline Cornish reveals how plants could be effectively displayed to a curious Victorian public through Britain's first Museum of Economic Botany.
Producer: Adrian Washbourne
Presenter: Kathy Willis is director of science at Royal Botanic Gardens at Kew. She is also professor of long-term ecology and a fellow of Merton College, both at Oxford University. Winner of several awards, she has spent over 20 years researching and teaching biodiversity and conservation at Oxford and Cambridge.
Eric Robson hosts Gardeners' Question Time from the Millennium Seed Bank, Wakehurst Place
Royal Botanic Gardens, Kew
Podcast
Our relationship with plants: a major new history by Kew's science director Kathy Willis.