Main content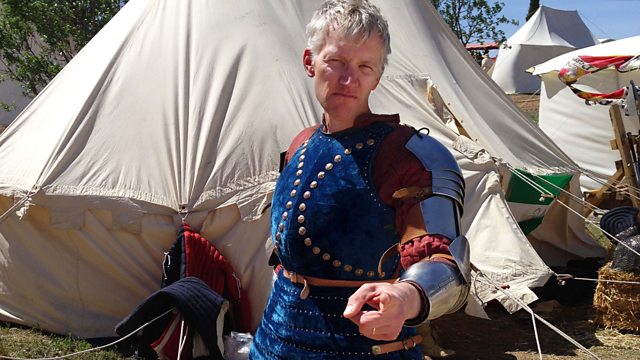 22/07/2014
Helen Castor takes the chair for Radio 4's popular history programme, visiting the World Championships of the International Medieval Combat Federation in Spain.
Helen Castor is joined by Professor Mark Stoyle from the University of Southampton and Dr Hugh Doherty from the University of East Anglia.
Tom Holland is in Spain at the World Championships of the International Medieval Combat Federation in Belmonte where fifteenth century combat is acted out under the blistering sun - but how accurate is this display and what does it tell us about knights of old?
We explore another iconic historic figure, the cavalier - and, in particular, Sir Thomas Lunsford, the so-called 'cannibal cavalier'. Did he 'snack' on body parts as the propaganda of the day might have us believe or had the Roundheads fallen for a Royalist joke?
We cross to Dublin to hear from Professor James Kelly about new work that shows just how many 'unwanted' children might have been kidnapped or trafficked. Professor Kelly believes that this little explored topic might well reveal thousands of individuals who were either transported to America or 'used' by street beggars or petty criminals.
Contact the programme by emailing making.history@bbc.co.uk - or write to Making History, BBC Radio 4, PO Box 3096. Brighton BN1 1PL.
Producer: Nick Patrick
A Pier production for BBC Radio 4.
Last on
Medieval Combat
Tom Holland travels to Belmonte in Spain to experience the atmosphere of a fourteenth century medieval tournament thanks to this year's International Medieval Combat Federation's world championships. But, is this theatre or historical reality?
Useful links
International Medieval Combat Federation 
Cavaliers and Roundheads
Where do these names come from? 
Professor Mark Stoyle is interested in the career of one particular notorious Royalist known as the the 'cannibal cavalier'. The individual in question was Sir Thomas Lunsford and he was the subject of Mark's Inaugural Lecturer at the University of Southampton.
Useful Links
Kidnapped Children in Eighteenth-Century Ireland
James Kelly MRIA is Cregan Professor of History and Head of the History Department at St Patrick's College. He is working on the fate of children in eighteenth century Ireland who were 'unwanted'. 
These weren't youngsters cast aside because their parents didn't care; rather they were traded because their families simply couldn't cope in an age before a welfare state. 
In a recent paper given at a History of Irish Childhood conference, Professor Kelly identified the following categories of 'kidnapped' children in the eighteenth century:
•         Some were apprehended by beggars in order to assist them in their questing activities. In some instances, such children were maimed, blinded, or otherwise mutilated in order to maximize their value as a source of alms.
•         Some were taken up and stripped of their clothing.
•         The most common category or child kidnap victim, based on the public outrage it generated, and the frequency with which it was reported, was that of seizing children in order to ship them to the Crown's American Colonies.
Useful Links
Making History is produced by Nick Patrick and is a Pier Production for BBC Radio 4.
Broadcast