Main content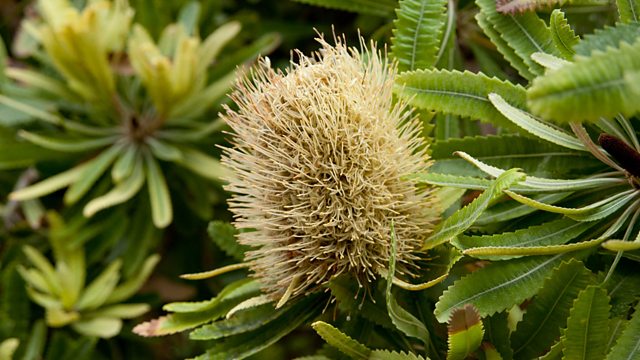 Plants to Shape Society
Professor Kathy Willis examines how plants proved a new route to political power and the growth of Britain's Empire. From 2014.
The 18th-century botanical impresario Sir Joseph Banks was convinced that Britain's destiny was as the major civilising power in the world, and this could be achieved by harnessing botany and imperial progress to each other's mutual benefit.
Professor Kathy Willis talks to Linnaean Society honorary archivist, Gina Douglas, on how Britain's acquisition of Carl Linnaeus' collection of books and specimens proved the tool to promote, identify, and trade plants across the Empire.
She hears from Richard Barley, Director of Horticulture at Kew and former director of Melbourne's Botanic Gardens, who discusses Banks' influence on the choice of plants taken with the first settlers to Australia.
But how central were plants to Britain's colonial project? Historian Jim Endersby weighs up Joseph Banks' 18th-century vision to use Kew as a centre to gather as many plants and plant products as possible, not only to enrich the Royal Garden's collection but for Kew to also function as a botanical exchange house between the colonies.
Producer: Adrian Washbourne
Presenter: Kathy Willis is director of science at Royal Botanic Gardens at Kew. She is also professor of long-term ecology and a fellow of Merton College, both at Oxford University. Winner of several awards, she has spent over 20 years researching and teaching biodiversity and conservation at Oxford and Cambridge.
Last on
The plant collector who brought us some of our most loved and well-known garden plants

Peter Evans pays tribute to Carl Linnaeus, the father of taxonomy, born 300 years ago.

Anna Pavord explores the life and legacy of the Swedish botanist Carl Linnaeus.
Broadcasts

Royal Botanic Gardens, Kew
Podcast
Our relationship with plants: a major new history by Kew's science director Kathy Willis.