Main content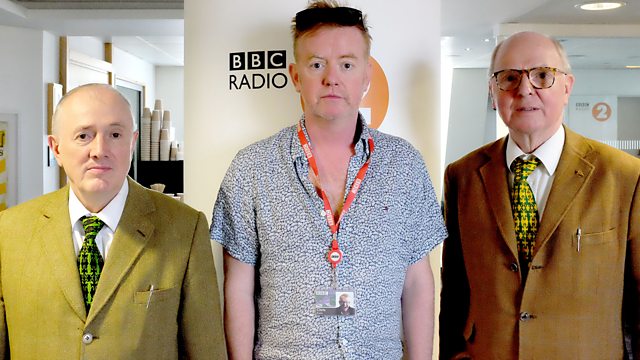 Chris Evans sits in and meets Gilbert & George!
Chris Evans kicks off the R2 Arts Show Summer Season. He talks to artists Gilbert & George about their new exhibition and to F1 engineer Adrian Newey about the art of car design.
Chris Evans kicks off the Radio 2 Arts Show Summer Season with a lively and unpretentious look at the areas of the Arts in which he has a particular interest...
Iconic British artists Gilbert & George talk to Chris about their latest exhibition which reflects the changing face of the East End, their home for decades.
Formula One engineer and designer Adrian Newey, currently the chief technical officer of the Red Bull Racing Formula One team, joins Chris to talk about the art of car design.
Film critics Angie Errigo and Jason Solomons discuss the significance of Orson Welles, his movies and the impact he's had on cinema as 'The Lady from Shanghai', the classic Film Noir directed by and starring him, returns to cinemas.
From Lowry to Hockney and from Banksy to Hirst, art critic Alastair Sooke will taking us on a journey round Tate Britain in which he picks his four must-see pieces of modern British art.
There'll be a lively debate about art auctions - how UK auctions differ from international art auctions, what's hot and what's not at the moment, and what's the most expensive painting ever sold?!
On the anniversary of Bob Dylan going electric, Cerys Matthews talks about how Dylan paved the way for many musicians and the impact this occurrence had on the music scene.
Plus Jason Solomons will be reviewing this week's big movie releases, including Hercules.
Last on

Gilbert And George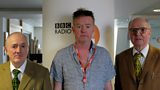 Leading British artists, Gilbert And George, who have been producing huge brighly-coloured photo-based colleage pictures on a black grid for almost five decades, join Chris to talk about their new exhibition "Scapegoating Pictures For London".
Scapegoating Pictures For London is at the White Cube in Bermondsey, London until 28th September
Adrian Newey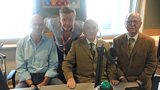 Formula 1 Designer Adrian Newey OBE joins Chris and Gilbert and George, ahead of the Hungarian Grand Prix, to debate when Design becomes Art.
Angie Errigo and Jason Solomons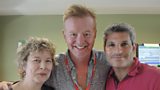 Film critics Angie Errigo and Jason Solomons discuss the phenomenon that is Orson Welles as his spellbinding classic "The Lady From Shanghai" is back in cinemas today in a stunning new restoration.
"The Lady From Shanghai" opens today at the BFI Southbank, Filmhouse Edinburgh and The Irish Film Institute and cinemas across the country.
Katharine Arnold, Harry Dalmeny and Lock Kresler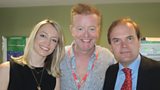 Have you ever wondered what it would be like to go to an art auction and make a bid? Well joining Chris in the studio is Harry Dalmeny, Old Master's Expert from Sotheby's, Contemporary art aficionado from Christie's Katharine Arnold, and on the phone from New York, Lock Kresler from the Dominique Levy Gallery. 
Jason Solomon with the film review
HERCULES (3D)

Director: Brett Ratner
Starring: Dwayne Johnson, John Hurt, Ian McShane, Rufus Sewell, Joseph Fiennes, Ian Whyte, Ingrid Bolsø Berdal, Irina Shayk
Having endured his legendary twelve labors, Hercules, the Greek demigod, has his life as a sword-for-hire tested when the King of Thrace and his daughter seek his aid in defeating a tyrannical warlord.
Hercules is out now and Rated 12A

JOE

Director: David Gordon Green
Starring: Nicholas Cage, Tye Sheridan, Gary Poulter
An ex-con, who is the unlikeliest of role models, meets a 15-year-old boy and is faced with the choice of redemption or ruin.
Joe is in selected cinemas now.
THE PURGE ANARCHY
Director: James DeMonaco
Starring: Frank Grillo, Carmen Ejogo, Zoe Soul, Zach Gilford, Kiele Sanchez, Michael K. Williams

The New Founding Fathers of America invite you to celebrate the annual Purge. Returning alongside writer/director/producer James DeMonaco to produce the next chapter fo the thriller are Blumhouse Productions' Jason Blum (Paranormal Activity and Insidious series), alongside Sebastien K. Lemercier (Assault on Precinct 13, Four Lovers) and Platinum Dunes partners Michael Bay (Pain & Gain, Transformers franchise), Brad Fuller (The Amityfille Horror, A Nightmare on Elm Street) and Andrew Form (The Texas Chainsaw Massacre, Friday the 13th). 

The Purge Anarchy is out now and Rated 15

DVD/Blu-Ray release 20 FEET FROM STARDOM

Director:  Morgan Neville
Starring:  Darlene Love, Merry Clayton & Lisa Fischer

Backup singers live in a world that lies just beyond the spotlight. Their voices bring harmony to the biggest bands in popular music, but we've had no idea who these singers are or what lives they lead, until now.

The DVD & Blu-Ray of "20 Feet From Stardom" is out now and Rated 12

Alastair Sooke
This week the UK's biggest art exhibition opened in London. It's called Art Everywhere and it features more than thirty thousand pieces of art on billboards and outdoor sites across the country. It also includes work from some of the UK's best contemporary artists including Anthony Gormley and Grayson Perry who both opened the show. And it got us thinking who are the top British modern artists of all time? We sent the art journalist and broadcaster Alastair Sooke to the Tate Britain to pick his four to get us started.
Cerys Matthews
On this very day in 1965, Bob Dylan was preparing to take to the stage at the Newport Folk Festival in Rhode Island USA. His performance - though only 5 songs long - would prove to be one of the seminal moments in folk history. Dylan plugged in his guitar, and went electric. As part of Radio's 2 guitar season, self-professed Dylan fan Cerys Matthews takes us back nearly 50 years ago today, to a very different era in music.
Broadcast