Nick Hewer
Richard Coles and Aasmah Mir are joined by Lord Sugar's longstanding Apprentice advisor Nick Hewer,
PhD student Hannah Earnshaw who's on the shortlist for a one-way ticket to Mars, and Lois Pryce who rode her motorcycle three thousand miles around Iran on her own. British Empire Medal winner Annie Chapman describes how she's raised hundreds of thousands of pounds for cancer research astride her tractor, lawn bowls player Andrew Newell explains why he wants to get Team Jamaica to the next Commonwealth Games, and JP Devlin tickles the ivories with Joe and Richard Stilgoe. Nancy Dell'Olio shares her Inheritance Tracks.
Nick Hewer presents Countdown on Channel 4. The Apprentice returns to BBC One this autumn.
Annie Chapman received the British Empire Medal for services to charity in June. Her Pink Ladies Tractor Road Run in East Anglia has raised over £300,000 for Cancer Research UK.
Hannah Earnshaw is studying for a PhD in Astronomy at The University of Durham. She's one of 700 people shortlisted by the Mars One Foundation which aims to establish permanent human life on Mars.
Lois Pryce motorcycled around Iran this April. She founded The Adventure Travel Film Festival and has written two books 'Lois on the Loose' and 'Red Tape, White Knuckles'.
Andrew Newell's Jamaica Road Kickstarter aims to crowd fund a Jamaican Lawn Bowls team in time for the 2018 Commonwealth Games on the Gold Coast.
Nancy Dell'Olio inherits Nessun Dorma from Puccini's Turandot and passes on Message in a Bottle by The Police. 'Nancy Dell'Olio: Rainbows From Diamonds' is at the Gilded Ballon in Edinburgh from August 15th to 24th.
Joe Stilgoe's show 'Songs On Film' is at Edinburgh's Assembly Checkpoint on July 31st and August 1st.
Produced by Dixi Stewart.
Last on
Motorcycle tales: Lois Pryce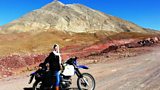 Long distance motorcyclist Lois Pryce recounts her 3,000 mile journey around Iran.
Studio guests - 19th July 2014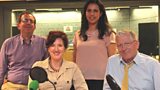 L-R: Richard Coles, Lois Pryce, Aasmah Mir and Nick Hewer.
Credits
| Role | Contributor |
| --- | --- |
| Presenter | Aasmah Mir |
| Presenter | Rev. Richard Coles |
| Interviewed Guest | Nick Hewer |
| Interviewed Guest | Hannah Earnshaw |
| Interviewed Guest | Lois Pryce |
| Interviewed Guest | Annie Chapman |
| Interviewed Guest | Andrew Newell |
| Performer | JP Devlin |
| Performer | Joe Stilgoe |
| Performer | Richard Stilgoe |
| Interviewed Guest | Nancy Dell'Olio |
| Producer | Dixi Stewart |