Main content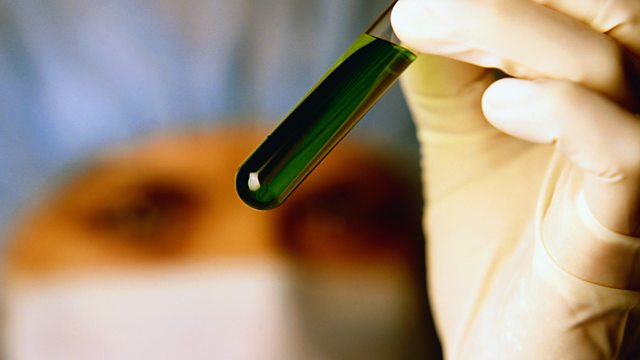 May is 14 and has type 1 diabetes. She feels her condition controls her and she struggles to take her insulin. What should the medical team do? With Joan Bakewell.
The teenage years are full of change and confusion, creating tensions for parents and children. How much worse can things get when a long-term illness becomes part of the mix?
May is fourteen years old and has type-1 diabetes. After being diagnosed at the age of seven, she initially copes well but, within a few months, she struggles to take her insulin regularly.
The diabetic team try on numerous occasions to help her, and her mum, to manage May's diabetes better, but she doesn't see the point. The risks don't seem real to her and she wants to be normal, like her friends.
At the age of eleven, May is admitted to hospital three times with dangerously high blood sugars. By the age of twelve, the long term complications the team have warned May about, start to appear.
Now on the brink of adolescence, May can't cope. She feels controlled by her diabetes and when those around her try to help, it feels like pressure.
What lengths can the medical team go to to encourage May to take the treatment she needs? Can they force her to take insulin?
Joan Bakewell and her panel discuss the issues.
Producer: Beth Eastwood.
Last on
More episodes
Previous
You are at the first episode
Clips

The Panel
Deborah Bowman, Professor of Ethics and Law at St George's University of London  
Lee Hudson, Paediatrician at Great Ormond Street Hospital responsible for adolescent and young people's health
Ellen-Louise Hall, a type 1 diabetic in her early twenties
Your Comments
---
I am writing to say what a superbly made programme this was. It captured brilliantly the complex issues linked with a diagnosis of diabetes, which I see very regularly in my work as a Paediatric Diabetes Clinical Psychologist. The mix of the 'real people' involved in the case and the panel analysing the case worked very effectively.  I used a couple of the clips in a study day I was teaching and the audience was incredibly moved by May's case and have I feel gained a deeper understanding of the hopelessness that is experienced by some living with diabetes. It must be a horrendous condition to have and I see the issues so well explored in the programme ,very regularly. It is such a challenge but just as the team featured in the programme, we are dedicated to supporting these difficult to reach patients and assist in improving their quality of life. I am planning to discuss the programme further with the diabetes team I work in to see how we could use it to help our patients - it may prove helpful in inspiring some of our families to improve their diabetes management. Many thanks for such an excellent, comprehensive episode which was evidently so well researched. 
(Dr Victoria Parnell)
---
I applaud your programme addressing the difficulties of type 1 diabetes in young people. The approach and panel input was well-balanced and interesting. However, I have been living with diabetes for 32 years and was also diagnosed as a student, and wonder why 3 points were not offered to young May:
Firstly, Diabetes UK is a charity support organisation exactly working to educate, inform and help all people living with diabetes. They publish a magazine bi-monthly. Secondly, they run family holidays in the UK in the summer -weekends and full weeks - with full medical support for people, like May, who need to see you CAN live an active and full life with diabetes. You meet young people of similar age and experience living with diabetes with whom to share your feelings and concerns. Finally, May was understandably worried by the debilitating effect of hypos (I have had similar traumatic episodes in Ireland and India) but she was not offered a background, long-lasting insulin regimen, such as Lantus or Ultratard, which at least provide a constant source of slow acting insulin cover, without likelihood of severe hypo.  It is not a perfect solution, but may have prevented such high blood sugars which led to eye and kidney damage, so young and so quickly.
(Georgina Benison, Norwich)
--- 
What struck me was that the diabetics and asthmatics interviewed felt very isolated.As an asthmatic child I had the priviledge of attending an Open Air School for 4 years, where all the pupils had health problems, so we didn't feel "different". During my early teaching career, I worked as an activities assistant at summer holiday camps organised by The British Diabetic Association. The camps had a doctor & nurses on the staff. The children were helped to manage & understand diabetes & learned the important lesson that there were others who had the same condition. Peer support seemed to be sadly lacking in the cases mentioned.
(Jill Saxton)
---
You should be aware that Diabetes UK runs care events, short residential programmes for children with Type 1 Diabetes where they meet others in the same situation and are helped to cope themselves. These courses are supervised by doctors, nurses and dieticians. They can transform the child's confidence and ability successfully to manage his/her condition. They are not expensive and grants can be obtained
 (Alastair Mackinlay)
---
I listened with anguish and immense sympathy to your interviews with May, her mother and the doctor and nurse treating her. Our son died in 2012 from type 1 diabetes aged 21 and the 24 year old son of friends of ours here in Germany died the year after. Both were abroad doing what they wanted to do with as much support from their parents as was possible but they, like May, were unable to muster the self-discipline (and acceptance of the disease) needed to control this most terrible condition whilst, at the same time, working, studying and enjoying themselves (like all their friends).
Like you and May's parents we could never work out what was the best way to deal with John's reluctance/refusal to measure his blood sugar regularly, make appointments for his 3-monthly check-ups and collect more insulin once he turned eighteen. In the end, I think a kind of fatalism developed in both us and John. John couldn't change his character, the disease wasn't going to go away in the foreseeable future and we couldn't exert the influence on John that we hoped we could. This didn't mean we gave up supporting him. My husband quietly sorted out all his medical needs whenever he was away from home and when he began work in Hong Kong. We thought that giving him his freedom would motivate him to take greater care of himself. This wasn't the case. Away from our messy mixture of shouting, nagging and kindness, he just went ahead and had a great time and neglected his health although my husband had always made sure he had money for insulin (private medical care was not available with his condition and he was no longer covered by the German health system) and had been out to Hong Kong to locate diabetic clinics and to find out about the Hong Kong health service which was available free to John once he had his residence permit. 
I've never written an email to the BBC or any other body in my life but the issue of type 1 diabetes is such a painful one for me that I felt I just had to write and offer my encouragement to May and her mother. I'd like to say to May that she defeated the condition as soon as she accepted it and started taking her treatment seriously. It IS possible to live a long life with the disease. I work with someone in her late sixties who has had type 1 diabetes all her life, as has her brother who is over eighty! I'd like to say to May's mother that she should carry on looking after her daughter as best she can and not to worry if she loses her temper and shouts at her sometimes (or even quite a lot of the time!). It's her concern that has kept her daughter alive so far and it will probably continue to do so in the future to a certain extent. Type 1 diabetics definitely need people who understand the disease to watch out for them. Both John and our friends' boy Patrick died alone at night, which is a source of unending sadness to both us and our friends. We have, however, recovered sufficiently to want to do all we can to stop other families suffering in the same way.
(Julia Hartley)
--- 
I listened with great interest to today's programme - I am the sister of a brother and mother of a daughter with Type1 diabetes. It is clear that psychological support is every bit as important as  the medical support for the condition itself - sadly however, psychological support is difficult to access on the NHS and is often only available after things have gone badly wrong. Perhaps this is one area of diabetes care that could improve - there have been great improvements in other areas over the years for which we are grateful.
I am alarmed though at the comments left by listeners - clearly there is scant understanding of what it is to be diagnosed with an incurable or lifelong condition. The lack of compassion shown by some of the people who have commented having listened to those young people on your programme is depressing and alarming. Sadly, they display only their ignorance and to even suggest that people with long term condition are a drain on the NHS is frankly offensive.
(Fiona Torrilla)
---
I was very surprised in the programme this morning that there was no focus on the importance of empathy. By this I mean the professional listening and responding to the young person in such a way that the young person feels heard. It is all very well listening to someone, getting them to write down their thoughts or draw images, but unless the young person feels heard and understood from their frame of reference, and really heard, not hollow 'I understand'. As an ex counsellor and author of many books on counselling themes, including 'Counselling Young People' and 'Counselling Young Binge Drinkers', I can only say that you really missed an important theme.  Empathy conveyed to and experienced by a client encourages a sense of trust, of feeling less isolated, of feeling that someone out there really cares, REALLY cares about the young person's inner world of anxiety, fear, hope, all the things that make them who they are.
(Richard Bryant-Jefferies)
---
I was so glad that you included so solidly the input of Ellen-Louise Hall, who herself has Type 1. The best advice of the programme, I thought, came from her: 'Just do your best, that's all you can do'. The concentration seemed to be mainly on what was seen as the baffled crux of the problem: Why wouldn't May listen to the advice and warnings? Why was it that she couldn't seem to understand? (How could she be made to understand?).  I worked for 12 years on Diabetes UK's counselling helpline, and listened to many people who themselves had Type 1, or were parents or concerned health professionals.
If I learned anything from this experience, it's this. When a child or young adult (or older adult) is diagnosed with Type 1 diabetes, it's an enormous shock, emotionally as well as physically. The physical necessities (learning about how to inject insulin/how much/when) are the immediate priority, because they have to be. The emotional shock can thus too often be put to one side or downplayed.  There needs to be a mourning process. It's a human necessity. The child needs to be able to express his or her bewilderment, grief, fury, whatever. If this doesn't happen (as it often doesn't when the child is very young, and the parent understandably goes straight to practicalities),
the feelings do not go away. They tend to re- emerge in the teenage years. With often dire results. You don't get anywhere, with teenagers or anyone else for that matter, simply telling them what they should be doing. You first need to listen to them.
I'm glad you listened to Ellen-Louise, who in the end, is the real expert.
(Jane Matera)
---
This was a fascinating programme. Thank you for putting it on.  As a therapist, and indeed a general nurse I was interested in the possibility of helplessness in such a person with a life threatening disease such as asthma or diabetes, and their non-compliance. Unsurprisingly such a child/ teenager would find it difficult, due to their lack of experience with life, getting to grips with becoming a teenager or whatever their life stage is, and with a developing brain. To try to get their own control on their life, as was mentioned. So, the parent, carer, health professional is also feeling a certain amount of helplessness, as they can understand more what the consequences of not taking these medications etc. are likely to be. When the person with the disease, and the people trying to help, both get into a sense of helplessness then the problem can multiply as they both struggle with what is very very difficult in any case. Helplessness.
So, I wonder whether it can be helpful to name and work with, appropriately the 'helplessness' of all of this, so that more of a grip on the helplessness can be found. Then there can be more of a concreteness to the helplessness, with feelings being acknowledged, with words being formed, and a moving, hopefully, into Helpfulness. Then it might be easier to enable the individual with the 'carer's' assistance, to manage more easily their condition, and sooner. As the person with the disease learns to take control in a more meaningful and engaging way.
(Gavin Robinson)
---
By chance I have had your progamme on this morning and found it very interesting. I thought it would be worthwhile commenting on some of my personal experience in the past, though I am 70 years old now, and things happened to me when I was much older than the teenagers in your programme. It is just that I found myself relating to some of their fears and experiences that were talked about. I am asthmatic and have been all my life. Now my asthma is quite well controlled by the use of inhalers and a couple of tablets. I know the names of the drugs in Spanish, they may be different in England, but I take a steroid inhaler called Seretide, using a spacer, twice a day.

For years I didn't take any preventative inhaler though doctors I had told me I was foolish not to. The one that was pushed was a steroid called Becotide, which came in a brown inhaler. I had terrible side-effects from this but the asthma specialist in the town where I lived in England would not believe me, and accused me of putting up a mental barrier. He actually told me to go and see a psychiatrist, and this gave me a huge feeling of inadequacy and self-doubt. Several times I remember persisting with the brown inhaler for quite a few days but with it I was totally unable to function, or even sleep. The specialist rather washed his hands of me and my own very sympathetic doctor couldn't do anything.  I went back on to the reliever, Ventolin, for a few years, but after two nights when I could not breathe I knew I had to do something else. I was fortunate to be able to see a hospital specialist in London who did not question my symptoms, but devised a sequence of treatments for me to try, one by one. I was able to settle on one which still had some side-effects, but these I was able to tolerate. So I lived with that (Flixotide) for 10 or 15 years until my Spanish doctor prescribed the current one, which has an extra ingredient. There have still been one or two emergencies when I went to a local hospital, but by and large the asthma is controlled.

The reason I have put this at this length is that my own experience of side-effects was dismissed by someone who was so sure of his medical knowledge that he felt he could tell his patient that he needed to see a psychiatrist for not accepting what he was told. (I began to think I knew what it was like to be a Soviet dissident in a psychiatric hospital).  At a later date (in England) I saw another local doctor, also an expert on asthma, who said reassuringly - "well, I believe you". Those words meant an awful lot, more than that doctor can possibly know. I am very grateful to quite a few doctors I have seen over the years actually.

So my point is that if this could happen to a well-educated adult, then it could easily happen to a child or a teenager - who as your programme said  will have many growing-up things to cope with in life, and whose attitude may be one of rejection and self-justification. Underneath all of that there may be something which the patient knows about himself or herself which goes counter to accepted medical knowledge. Being aware of such possibilities requires the doctor or medical staff to have extra human qualities above knowledge of medicine. At least one of these experts who it was my fate to come across didn't show he had much of those qualities and in my opinion wasn't able to make correct diagnoses because of this lack. I hope there are not more like him dealing with adolescents.
(Mike Gunner) 
---
Clearly a circumstance I have not lived, as a parent or when an adolescent, but there were so many elements of your program that left me with a feeling of avoidable naivety, of what is new here that has not happened before and why are we not able to deal with it 'better.'  Towards the end of the program you touched on one point that I would have thought might have been an early centrepiece in the clinical approaches to May. Your clinical panellists spoke of other teenagers, who presumably in many instances might now be adults, who said "I wish I had listened...."  These are the very people to whom May might have been turned to find some sense of the outcomes. Indeed, I am quite surprised that May herself, particularly when she had not only suffered physical and mental scarring that might have been avoided but HAD CAUSED SUCH A DRAIN ON OUR HEALTH RESOURCES, had not made any indication that she could help other teenagers bucking against their continuous medical regimens.  In the same vein, you could have a video prepared (like the ones that define the outcomes of smoking) to put before these young diabetes sufferers.
Yes, there was a great deal of what I can define only as demonstrated selfishness and at many levels, not just May's.  The clinicians and family had an inherent duty to prevent these probable outcomes rather than deal with their patient with such soft gloves.  May could have been shown the examples of these outcomes so that she might grasp them early on, and her failure to do so at some earlier point should fall entirely upon her and not upon the rest of the clients of the health service. Was it truly only when she realised she might have chronic renal failure that she applied a measure of common sense to her condition and own needs? Of course, it would be better if society had an answer to diabetes whether phenotypic or genotypic. In addition, I would refer you to a clinical trial using porcine pouches and insulin generating cells. If you find someone as recalcitrant as May perhaps they could put them forward to be clients for such trials.
(Malcolm Haynes)
---
I found your programme very interesting today. I was a teenager with asthma and was also a little noncompliant with the doctor's orders re using my inhaler, luckily the asthma was quite mild and did not cause lasting problems.  I wanted to make a suggestion which I am sure has already been thought of. I think it would be very useful for children with diabetes to have a low-cost summer camp to go to where they can be with others who suffer from the same illness, get into good monitoring habits, learn more about coping strategies from health professionals and be inspired by young camp leaders in their late teens and early 20s who are also sufferers and can share their knowledge and experience. Of course they would have lots of fun too and be able to take part in activities while relaxing in an atmosphere where they are not the one that's different.
(Anna)
---
As the mother of a daughter with Cystic Fibrosis and grandmother to a child with type 1 Diabetes (who lives with me) I tried to listen to your episode concerning the girl with diabetes, but had to turn it off in exasperation.  What an amazing catalogue of incompetence.  My grandson was diagnosed at three and eleven years later is doing exceptionally well although of course we have had difficulties along the way.  However, if things had become as appallingly chaotic as described in your programme, there would have been extreme intervention.  Even the throw away comment about giving her chocolate shows either the parents haven't been listening to anything they've been told, or the team are inadequate as chocolate is the worst thing you can give for hypos, the fat slowing down the absorption of sugar. Surely this child should have been made a ward of court or similar.  When someone is risking their life, it really doesn't matter what age they are, and getting precious about the onset of puberty is a luxury one surely does not have the time for as the damage is non-reversible,  and drastic measures should be taken.  Take control of your child's condition.  Yes, it involves considerable hard work.  I could not believe the amount of complaining I heard, and no mention of the superb support from NHS Diabetic Teams.  Well, the team at Bristol Children's Hospital are.  Maybe other areas of the country just let things slide.
(Mary Winter)
---
What a very interesting and informative programme!  May I make one comment:  I was diagnosed two years ago with Type 1 diabetes - at the age of 77!   I know your programme was concerned with young people, but the diabetic expert did say that Type 1 diabetes affects children and adolescents.   It's quite possible that other elderly sufferers might have been attracted to the programme in order to learn more about this difficult illness as I was, and might have been perplexed, if recently diagnosed at a much older age.  If this programme is to be repeated might I request that a qualification be added to the effect that, although apparently very rare, elderly people can, out of the blue, present with Type 1.  I enjoyed listening - thank you for listening to me!  Just for the record I am a white female.
(Nanda Purcell)
---
As always it was an interesting episode.  However, I think that the debate around cognitive dissonance or even a teenager's capacity for assessing risk, coupled with the right to make their own decisions (including bad ones) was being held unnecessarily, whilst her body was taking a hammering from acidosis.  I would have taken the diabetic girl for a tour of the wards - here we meet the blind man waiting for his double leg amputation.  Scare her into compliance and debate later.
(David Eifion-Wynne )
---
What a brilliant programme I've just listened to.  My daughter was diagnosed at the age of 9, and many of the thoughts expressed by May's mother regarding the early days brought back many memories.  My daughter is 28 years old now and has always been brilliant with her handling of the condition, but that's not to say that there haven't been testing times for her.  For me, the acknowledgement in the programme of the difficulties faced by adolescents - just by being an adolescent - was an incredibly important point.  It is tough growing up, but growing up with a chronic condition really does up the ante. One comment I do have is that Joan Bakewell referred to the condition as an illness. I think most people with Type 1 Diabetes would prefer to think of it as a condition they live with, as opposed to an illness (from which they will never recover).  And really well done to May for her terrific progress this past year. Thank you
(Vivienne Robins-Grace)
ENDS
Programme Transcript
Downloaded from www.bbc.co.uk/radio4 
THE ATTACHED TRANSCRIPT WAS TYPED FROM A RECORDING AND NOT COPIED FROM AN ORIGINAL SCRIPT.  BECAUSE OF THE RISK OF MISHEARING AND THE DIFFICULTY IN SOME CASES OF IDENTIFYING INDIVIDUAL SPEAKERS, THE BBC CANNOT VOUCH FOR ITS COMPLETE ACCURACY.
INSIDE THE ETHICS COMMITTEE
Programme 1 – Treating Teenagers
TX:  17.07.14 
PRESENTER:  JOAN BAKEWELL
PRODUCER:  BETH EASTWOOD 
Bakewell
The teenage years are full of change and confusion, creating tensions for parents and children.  How much worse can things get when long-term illness becomes part of the mix?  Early teens naturally struggle to assert themselves, to feel independent.  So what happens when adults, people in authority, try to insist on the treatment they need? 
Welcome to Inside the Ethics Committee.
This is the story of May.  Her story begins nearly 10 years ago when she was seven years old.  One weekend, her mum became increasingly worried.
Mum
Over the course of about three days she was being sick.  There was bed wetting every time she slept.  On the Monday I got her in the doctors and I got her to the car and she couldn't get her breath.  And I was thinking this isn't good.
Bakewell
May is diagnosed with Type 1 Diabetes - a serious life-changing condition. She will need several daily injections of insulin to keep her blood sugar levels regular.
Doctor
May was diagnosed when she was seven and we would be asking for the child to take on the injections very soon, even if it doesn't mean taking on the entire responsibility, at least loading up the pen, pressing the buttons and things like that.
Bakewell
Each time May injects insulin, she must first check the sugar content of her blood to work out how much insulin she needs.  She pricks her finger and deposits a drop of blood onto a device that reads her sugar levels.  It's a boring but essential routine and at first all goes well.
Doctor
So there's two elements to this management, this is not just a one-off thing where they do the injections, you need to be checking your blood sugar on a regular basis as well and if necessary it'll be the parent who makes the necessary adjustments with advice from the diabetes nurses and the medical team.
Mum
You get up at eight o'clock, test the blood sugars, if the blood level was up we'd ring the nurses and they'd tell us how many extra units of insulin.  Crank it up to how many units, stick it in the thigh, the bum.  We were pretty housebound for say about two months trying to adjust to normal life but it was daunting.
Bakewell
May is allowed off school while she and her parents adapt to this new way of life. But once back at school there are new problems.  Children can be thoughtless to say the least…..
May
It was alright at the start and then it was getting hard because I didn't know what me friends were going to say about it all.  If I was doing schoolwork and how would it affect that and everything.  When you have the start of diabetes you don't know how much insulin to have and how much food to have and everything.  Like without me mum and dad helping me out and doing it meself when I was at school.
Mum
The nurses were going into school, training the staff up and it was hard, especially for somebody so young.
Bakewell
Over the next six months May adjusts well. Her three-monthly blood tests at the clinic reveal that her efforts to take insulin are paying off, and her high blood sugar is gradually coming down. 
But day to day, the challenge is to inject just the right amount of insulin - certain foods push the blood sugar up while exercise brings it down. May has to keep track of all this:  but it's more than a child can reasonably handle.  She and her family do their best but when May is eight, she has a severe episode of low blood sugar – what's called a hypo – that really shocks them all.
May
I took my insulin and then my brother decided to play football in the house, so then I decided to play with him and then at the time the insulin kicked in straightaway and then all I remember was I just felt myself go.
Mum
May's brother come and fetched me panicking and she was just completely out of it on the settee – eyes were rolling.  Everything you've been trained goes out the window, just went to pieces.
Bakewell
May's brother calls the paramedics while her mum tries to give her sugar.  Twenty long minutes later, May comes round but the experience has a lasting effect.
Mum
Didn't want her to go parties, didn't want her to do sport at school, constantly on pens because you don't know when they're going to strike and I think this is the hard part especially with her being so young as well.
Bakewell
But the diabetic nurse is concerned by the way they're trying to prevent May having another hypo.
Nurse
It was either they wouldn't give the right amount of insulin or they would boost her up so she wouldn't go low when they were out and about.
Mum
From that hypo you over compensate everything.  May took sports up at school and it was just constantly giving her chocolate because we don't want her to have another hypo.
Nurse
She'd even have some sweets to go across the road to go shopping, just in case she went low.
Bakewell
Everyone's making an effort but over the next year, May's three-monthly blood sugar reading become dangerously high.
Nurse
Even though we were actually changing the insulin and increasing the insulin we were doing regular home visits, school visits and she was in clinic but we still couldn't get the blood sugars to actually come down.
Bakewell
By now May is now nine and the team try increasingly to involve her as much as possible in the treatment, getting her to do her injections and take her blood sugar readings herself. The nurse asks her, when she tests her blood, to write down the blood sugar readings in a diary.  The blood testing kit also logs each result.  They then go through the diary together.
Nurse
Writing down the blood sugars and doing it correctly didn't go down very well.  May would actually do a blood test and if it was high she wouldn't actually put that in the diary, she would actually put a normal blood sugar reading in.
Doctor
And that created a problem because if the numbers are high she's not taking her insulin but if she says her numbers are normal that puts us in a bit of a tight spot you see.
Bakewell
May is not collaborating:  she's actively resisting.  This is more than a medical problem. The team refer May to a psychologist to help her understand. While they don't want to alienate her, they feel they need to be open about what is happening.
Nurse
We actually confronted both May and her parents.
May
I just said I don't know, I said, because when I was doing my bloods they were these on the reading.  I just said it because I wanted to prove to everyone that I can do it.  And then when I went to the hospital it just didn't work.
Mum
You just can't believe that she's doing it.  So it was a shock that she was clever enough to think of something like that, especially at nine.  But it was one of those things, another hurdle, and we had to get over it.
Doctor
So what we do in that situation is take the control slightly away from the child and give it back to the parents and say right from now on you oversee every blood test that they do and you then see how much insulin they're getting.  So this sort of contract, almost, needs to be established with parents.
Mum
It was stressful, set times you've got to watch her do her bloods, you've got to watch her inject, it was like a prison sentence for both of us I think.
May
I have mum nagging me, then I have me dad nagging me and it was doing me head in because I wanted to get ready, go out with mates.  It was like my diabetes was controlling me than me controlling me diabetes.
Bakewell
Let's pause there for a moment and consider where we are with this issue.  With me is
Lee Hudson, a Paediatrician at Great Ormond Street Hospital responsible for adolescent and young people's health;  Deborah Bowman, Professor of Ethics and Law and St George's University of London and Ellen-Louise Hall, who is in early twenties and has Type 1 Diabetes.
Well let me start with you Ellen-Louise.  Does it sound very familiar?
Hall
It does sound very familiar.  I mean for me I was diagnosed at the age of eight, I've now been a Type 1 diabetic for 15 years.  At the diagnosis itself I collapsed at my next neighbour's birthday party, they took me into the hospital and immediately diagnosed me in A&E and they explained that I had to do blood glucose monitoring and the insulin injections – I was on two a day then.
Bakewell
Did you wonder what was going on?
Hall
The only thing I remember, because I'm quite a stubborn child, was that I only wanted to do my blood glucose monitoring because if anyone else did it it hurt.  But I wouldn't – I couldn't do the injections.
Bakewell
Did you not want to do the injections?
Hall
They scared me, I remember them scaring me.
Bakewell
Well nobody likes injections and the idea of a child doing it.  What did you make of this illness suddenly arriving in your childhood?
Hall
It was a big change and it was a big change for my family as well – the whole family's routine was turned upside down.  They chucked out all the Cokes – they only drank Coke and sugared squashes – to try and make it easier for me.
Bakewell
Well you must have wondered why it has suddenly arisen out of the blue, so let's ask you, Lee Hudson, why does diabetes type 1 happen?
Hudson
Type 1 Diabetes is a condition which usually presents in childhood or adolescence and essentially it's because the pancreas in the body – which is the organ that normally makes insulin – stops making insulin, so the body can't control its blood sugars.  And so you have to do that yourself, so that requires injections of insulin, that's a very difficult thing to do.
Bakewell
Now May in this story is nine years old, how capable is a child of understanding an illness?
Hudson
The difficulty with that question is that some children are at different levels of cognition, in other words understanding problems depending on where they're at in terms of their development.  But for most nine year old children will be early adolescent and so actually their capacity to be able to think abstractly or to think about the consequences of things are limited and the type of thinking that younger children, and probably May had at that time, is sort of concrete where your ability to think through things complexly are not there.
Bakewell
And Deborah that puts a huge responsibility on the parents.
Bowman
It does, I mean I think when you have a child who isn't able to make decisions for him or herself people are making decisions for them and they're well motivated and they're doing it on the basis of best interest but you are, to some extent, not only second guessing what their interests are but you're also managing the emotional and practical fallout of that.  You, as an adult, might know that what you're doing is well motivated and kind but when you're approaching a young child with a needle or bringing them in from playing because you've got to do their blood glucose monitoring or whatever actually it doesn't feel that to the child.  So you've already set up something in the relationship that might be problematic.
Bakewell
Trying to bring up a child normally is difficult enough so it collides with all those other…
Bowman
Exactly, I think it is interesting with chronic illness in children, I mean it's not so much an issue here but I have known quite young children who have always been ill who have actually been much more able than one might expect, given their age, to engage in treatment and that doesn't mean that they're making decisions for themselves but I think it does mean there's an ethical imperative to involve, consider.
Bakewell
Okay Lee, at what point do you begin to quite seriously involve the child systematically in their own treatment?
Hudson
You need to start that process from early on.  Now it's difficult to be categorical about when you should do that because actually it requires some assessment by a team of what the level of understanding and capacity for that child or young person is.
Bakewell
Why is it important to involve the child so early because you could just go on leaving the parents to do the measuring and so on?
Hudson
There are various reasons for that aren't there, I mean one – going back to what I just said – which is that you – there is going to be a development over time where you need to start somewhere, it's a bit like saying you can take up maths when you're in secondary school and start year eight maths, you need to start maths early on at five and learn how to add and take to start with.  But also you know this family are not with the child 100% of the time and neither should they be and so you need to have the child's involvement as well.  The other point is that when children aren't doing what we say or when children are not achieving what we want them to do we tend to label them as naughty children and we tend I think in chronic illness to align that same thought process.  Whereas in actual fact it's a lot of hard work for May.
Bakewell
Now we heard that May had had one of these low sugar episodes, a hypo it's called, what does that mean?
Hudson
It's pretty dreadful, I've seen it lots of times and Ellen can probably tell us a bit more about that but essentially it's quite difficult to get the balance correct and there will be times when you potentially have not eaten enough so don't have enough sugar or have had slightly too much insulin for that balance that your blood sugars will drop.  And when people's blood sugars drop your brain's starved glucose and so you can become unconscious but often become confused, people can become aggressive, it's horrible.
Bakewell
When it first happened to you what was that like?
Hall
The only one I remember when I was really little was really bad because I passed out on the school playground and my teacher didn't notice.  I think I was about nine, 10, something like that.  It was on a sports day and my mum heard that I left my hat at home and because it was a really hot day she came up to the school and she found me in the playground on my own passed out against a wall.  And it's the most horrendous feeling, it really is, when it's that bad you've got no control, you feel like the whole world is falling away from you, your body is shaking, you're trembling, you're confused, so when people are telling you to do things you can't get a grip of it, you can't focus at all, follow what they're saying.  It's very helpless feeling.
Bakewell
Now did that experience make you fearful?
Hall
From what I can remember didn't have that much of an impact that made me worry and panic.  The only impacts that I remember from that was what happened between my teacher and my mum which was quite distressing because basically my teacher turned round and said don't bring her back until she's better and my mum was like well she's never going to get better, she's Type 1 Diabetic, she's got this for the rest of her life, you just need to learn how to manage it.  And the teacher couldn't see that.
Bakewell
Let's go back to the story now.  May is 10.  The team has had some success getting her and her parents to manage her diabetes, but this is short-lived.  Peer group pressure is undermining their efforts.
Nurse
Over the next few years May's blood results every three months would be extremely high, indicating that her blood sugars were over 20 all the time and we'd got grave concerns about this.  And there was issues around school.
May
I was going into high school and that's when all me mates it was all about fashion and going out and chilling but at the time I had like girls saying stuff as well again, they were saying pretty nasty things.  And I used to go out and they used to take the mick out of me diabetes and they used to call me fat, they used to call me chicken legs.
Nurse
And because her blood sugars were high her behaviour would be a bit erratic, so she'd snap at somebody and say I'm not being your friend then.  So it spiralled.  And I actually did go in to the school and did a little bit of teaching session in an assembly about diabetes and what diabetes was and they couldn't catch diabetes – because a couple of the children were saying that they could catch if off her and they didn't want to sit with her.
Mum
It was hard at the time as well because me and May's dad had split up plus going into high school, it was just constant.  We'd probably have a couple of weeks where things would die down back to normal and then one person would say something and it would all flair up again.
May
At that point I thought I can do this anymore.  If I stop taking me insulin I knew for a fact I'd be in hospital and I don't have to go to school, so then I stopped taking me insulin.
Bakewell
May's blood sugars soar so high that she's eventually admitted to intensive care.   She's just 11 years old. May's lack of insulin means her body can't access energy from sugar: instead the body has to get its energy from fat, releasing ketones in the process – which are acidic.
Doctor
Your body doesn't function well when you have all this acid in the body.  You've passed tremendous volumes of urine and your body's dehydrated and ultimately every organ in your body can get affected.
Bakewell
May is given insulin to bring her blood sugars down, and gradually she recovers.
Mum
I remember the consultant coming to me and saying that she'd stopped her insulin and it's like I've given her a bit of trust.  As a parents' point of view I think you feel a bit of a failure because you weren't supervising 24/7.
Bakewell
The team explain to May and her parents just how dangerous the condition, ketoacidosis, is, and plead with her to take her insulin… their efforts are in vain.
Doctor
Within a space of 25 days she had three hospital admissions with diabetic ketoacidosis.  We insisted that mum now needs to actually physically give the injections herself.
Bakewell
The psychologist on the team starts to meet May more regularly.
Psychologist
She really was quite fed up of her condition.  One of the things she said was – I feel in control when I don't have to take insulin, it's controlling my life when I have to do it.  But because it's such a complex regimen I could really see her point that having to do anything meant it was controlling her, so it's not going to control me – I'm going to control it by not taking insulin.
May
At the start it was helping me, I used to draw stuff, I used paints, I used write me feelings down, it was helping me great.  She was saying like try and put myself first and my diabetes because I kept thinking me diabetes is still controlling me.
Bakewell
May's behaviour is now defiantly negative. Because of the risks involved it's decided to take a professional view of whether she has a mental illness as well.  It's decided not…. she is simply on the brink of adolescence
Psychologist
The only way she could conceive of controlling it was to not do it, so we'd come back to that again – I don't feel that unwell anyway, I don't see the point.  It's very tricky to be a psychologist in this because this is risky behaviour, what can we do, do you handcuff somebody to a bed to do it because what do you do?
Bakewell
It's a problem that crops up regularly with uncooperative teenagers.  May is struggling with diabetes. Lauren who is 15 has asthma and hates having to cope.
Lauren
As I've got older I just completely gone off the idea of having asthma, obviously I never liked it but I hate it, I don't like people knowing, I don't like the thought of taking drugs all the time and I don't like being one of the lung diseased people, I prefer to be normal.
Bakewell
Whenever she gets wheezy Lauren needs to use a reliever inhale, to open her airways.  But she also needs a preventer inhaler, morning and night, to reduce the inflammation.  She often can't see the point….
Lauren
I prefer taking the reliever because I can feel when that's doing something, I can't feel when the preventer's actually doing anything, so it just feels like a waste of time.
Bakewell
Her decision to avoid the preventer has serious results:  To her doctor's alarm she has to be admitted to intensive care.
Doctor
She had a very severe asthma attack that on our scale of severity was probably very severe to life threatening and she ended up in hospital and needing a lot of treatment to try and control the asthma.
Lauren
I haven't slept in the dark ever since because it's terrifying.  They went through with me how I need to take my medicine, like all the time and it just didn't stick.
Doctor
Although most of the time they see their illness as a bother in their life children can die from asthma.  But trying to get this message across to a young person who has a lot of other priorities in life is a really big challenge.
Bakewell
The problem's the same as May's team is facing.   Having been in hospital three times in the past month, May's health is equally precarious…
Doctor
She managed to stay out of hospital but her control was still so borderline that she could have come into hospital at any time.
Bakewell
There is now an outright struggle between May and her team.  May feels under pressure … she has an idea.. she starts diluting the drop of blood she puts on her blood testing monitor so that the sugar level reading is lower.
May
I used to spit on me blood and then I used to put it on the monitor and it used to come up with a normal reading.  I thought if I watered me bloods down then I won't get pestered for the fact that I wouldn't take me insulin.
Bakewell
The nurses notice these low readings and are at first delighted.  But their delight turns to alarm when May's own readings don't match the three-monthly blood test done at the clinic: that remains sky high. 
May
They were asking me if I've watered me bloods down at the time and then I said no, I said I haven't done that.
Bakewell
It's difficult for the team - confronting May while keeping her on side…
Nurse
You can be stern with them but they're not going to get a telling off, I never tell them off because at the end of the day it's their diabetes and we're just here to help.
Mum
I wanted to trust May in what she was telling me but then on the other side you've got the professionals telling you well May's doing this.  And we'd spend hours chatting about how we were going to change things and May would sit there and say one thing and go off and do another.
Bakewell
Well let's go back and discuss this now.  May is on the brink of adolescence and she's clearly being quite difficult, what's going on in her brain, literally what's happening to May's brain?
Hudson
We used to think that the brain was pretty much sorted by the time you were 10 but actually what we've come to realise in the very recent period is that the brain goes through considerable changes during adolescence and there are broadly two bits to that.  The first one is the changes which begin early on in the centre of the brain – and that's the fun or the party of the brain, it's the bit that controls exploratory behaviours, some people like to call them risk taking behaviours but there are lots of positive exploratory behaviours as well and that increases the massive rate.  Now the brake, if you like, the executive function, so the ability to be able to think through consequence comes a little bit later and that's what's called the pre-frontal cortex, if you like the brake.
Bakewell
It's quite touching, isn't it Deborah, because Lauren's said there she just wanted to be normal and it's not surprising in the confusion of adolescence that you'd like to have some anchor to which you can hope?
Bowman
It's not and actually I'd take out in the confusion of adolescence.  Many adults, who are diagnosed with an illness, will struggle to adapt.  We heard that the school is struggling, we heard that the grownups are struggling with this.  So I think of course it's important that she's an adolescent and there are development things about that but also it's important not to almost demonise inadvertently or stereotype adolescence as actually having what's a very common emotional response to what feels like a bomb going off in your life, when you have an illness and life is utterly changed by that experience.
Hudson
But there are particular aspects to adolescence though that executive function, being able to plan in the future is not as sophisticated as it might be in an adult, and so actually for a condition like diabetes or any chronic illness that's obviously quite important when you're trying to sell things in the long term.
Bowman
Although there are lots of people with mid-life crises who seem to have lost their executive….
Hudson
That's true.
Bowman
And Louise can you remember the actual point of being told as a child that what you were doing was putting your health at risk.
Hall
Yes I remember maybe round about 10 when I was starting to take on more responsibility for my own health, obviously my mum hadn't let go but she was trying to give me more responsibility with it and I think that's when my own health started to go downhill and I remember sitting in the doctor's and them saying – If you're not going to comply you've got risks coming towards you, this is what's going to happen – so as young as that.
Bakewell
And what did you make of the idea of risk?
Hall
It was just words, you don't fully understand what they mean.  I remember a lot of the focus was about my eyes – you'll go blind by the time you're 16, you'll do this, you'll do that.  But you don't fully understand it, does that make sense, you're hearing what they're saying but you don't fully understand.
Bakewell
The threats did no good?
Hall
No because you don't think about the long term, when you're that age you don't think about it.
Bakewell
And what about episodes of having high sugar – can you remember such episodes?
Hall
Yeah they were frequent, there were a lot of those unfortunately and it's not something I'm proud of but it was a constant struggle for me.  You know you'd see a high reading, then you'd think oh god what am I going to do and then you would think just ignore it or I'd inject like a random dose of insulin and think yeah that'll sort it out, it just gets into a cycle.
Bakewell
We've heard that May and Lauren both end up in intensive care and this is really serious.  Now what capacity do young people at that stage have to appreciate it could be life threatening?
Hudson
As Ellen describe, said very clearly, you kind of know what you need to do but it's being able to do it.  I think one of the common misconceptions around this time is to think that going back to people being naughty, your people not complying or concording with treatment, actually you think about it, the amount of effort that May is having to put in to not control her diabetes is actually much more than it would be to try and control it.
Bakewell
Deborah.
Bowman
This brilliantly sums up that capacity we see as a cognitive thing, about understanding, and actually May understands, May is being really, really smart intellectually, it's not about capacity in that sense, it's emotional response, it's the thing that we can all do – we can know something is good for us and do something utterly different, it's a perversity or an ambivalence that's at the heart of the human condition.
Bakewell
But how are we going to persuade teenagers to acknowledge this and to take the steps?
Bowman
I actually do wonder – because it becomes very much about the numbers and the measurements and that becomes the funnel through which everything's seen but actually hearing someone say I too know what it is to have those dual thoughts, to hear somebody say that, particularly your doctor or particularly your parents, to start from that position – I'm not saying it will fix it but I think you almost have to go back and have that really difficult conversation.
Bakewell
Ellen-Louise, can you remember feeling very truculent about the attitude of the grownups towards your illness?
Hall
I felt quite a lot of my adolescence that they didn't quite understand where I was coming from.  And trying to watch people like my mum and my dad trying to make me do what was best for my interests and the same with my doctors I did feel sorry for them because they were telling me all this stuff and I'd sit there and go yeah you're right, you're completely right I need to do this, I need to do that and then I'd sit there and think I know that it's right to do that why can't I actually do it.  And hearing May say about her friends at school, I empathise so much with that because my friends didn't know I was diabetic for about two years – I'd go and hide in the toilets to do my injections, I'd be very secret about it.
Bakewell
You wanted to be normal.
Hall
When you're someone who's got to do something very different to normal adolescent life it can be very hard to remember to actually do it, which sounds very silly but you can easily forget because your friends are going to the cinema, they're getting popcorn, you go oh yeah I'll have some popcorn, you eat it, do you see your friends injecting?  No so you don't inject.  Then throughout my adolescence I never knew another diabetic.
Bakewell
It's a classic case isn't it?
Hudson
Yeah and that's not silly at all, I mean identity's profoundly important to all of us and in fact what's classical about adolescence is the emergence of an increased desire to fit in and that's completely normal, so I don't think that's silly.  And May's mum said a wonderful phrase which I think summed it up, when she said it felt like a prison sentence.  And I think it's very easy for the people who are trying to support May and her family to contribute to that by then providing long term outcomes – you're going to go blind, or your kidneys are going to fail – which makes you feel like you've got a long term prison sentence not just the short one.  So that recognition – looking at short term benefits – so carrots not sticks.
Bakewell
Now we've heard all this about the young person's brain at what stage of development do they become able to do the things that are asked of them?
Hudson
Well that's incredibly tricky isn't it and if you just look at the law, for example, I'm not the expert and I've got an expert here next to me but if you look at the law the law doesn't know either does it, I mean you can get married at 16, you can go off to war with parental permission at 17 but you can't buy fireworks until you're 18.  So it's a tricky question.
Bakewell
So in medical terms what does the law have to say?
Bowman
The law recognises difference, so it's the test, if you like, or criteria of function rather than age, there isn't a magic age at which you can suddenly consent, it's specific to what you are being asked to do and it's also specific to that individual and those circumstances.  So it's perfectly possible that somebody at quite a young age might be able to consent to something really quite minor where the level of understanding and complexity is minimal but actually you might be quite advanced at adolescence before you can consent to the more complex things.  But it is an individual thing.
Bakewell
Let's get back to May's story because she's now 12 … the age when people with diabetes are screened for long-term complications… new conditions that could kick in and affect their long term health. It's a crucial moment.
Nurse
You can have damage to your eyes, damage to your feet because obviously it impairs your circulation, it also damages nerves and also all your organs really start having problems.
Bakewell
The team are really worried about May as her blood sugars have remained high for four years now. But each time they talk to her about what could happen she persists in not recognising the risks.
May
When they told me I just thought no they're lying, I don't think that's true.  I just thought to meself they're only saying it to make me do me insulin and [indistinct word], so I thought they were lying to me so I thought I'm right, you're wrong.
Bakewell
May's eyes are checked for early signs of damage.  Unfortunately the signs are there.
Nurse
To have your eyes tested at 12 and to actually find that you've got retinopathy at the age of 12 is a bit alarming really.
May
When we went to the meeting and they said about me eyes, they said your eyes have changed – I couldn't believe it because at the time I thought I was right and they were wrong.
Bakewell
Despite this news, May still doesn't want to engage.
Mum
She wasn't bothered about the diabetes side of things, she wasn't interested in school side of things and she was like a recluse.  She seemed to back off from everybody, she stopped talking to me, she was just going off the rails.
May
And at the time I completely forgot about me eyes and everything, I forgot about the eye test, I forgot about everything and I just thought I'm sticking to whatever I was doing.  Stopped taking me insulin again.
Bakewell
The psychologist is all too aware of just how difficult it is to get teenagers like May to understand the consequences of their actions.
Psychologist
It's a time of risk taking, it's a time of spontaneity, the feeling of immortality – these are hallmarks of the teenage time.  And if you then take a complex regimen like diabetes and you give that to somebody going through just those regular adolescent shifts – oh my.
Bakewell
It's spring 2012 and May is now 14.  Her doctor sees a worrying sign.
Doctor
May was not growing to her normal height potential and for a 14 year old teenager height is an important issue, so I tried to get the growth chart out and demonstrate – if you carry on this way you won't be as tall as what you should be.  But that didn't get anyway.
Bakewell
A urine test in august of that year reveals something alarming - May has protein in her urine, a marker of kidney damage.  She is referred to a children's kidney specialist who organises for May to have a kidney biopsy.  It's unusual to carry out this procedure on a diabetic at such a young age.
Kidney Doctor
The biopsy involves a local anaesthetic and a needle is passed from the outside into the kidney and two small bits of kidney tissue are removed.
May
That was the big part for me, I couldn't believe it.  They took me down to the theatre and they would put needles in me to numb me back and then they put a sleeping injection in me to make me go to sleepy.  And then all I felt was like clicks and everything.
Kidney Doctor
The kidneys are quite some way down below the skin, so it needs quite a bit of local anaesthetic but once that's in it's a relatively painless procedure and she tolerated the procedure very well.
Mum
You can read it in a booklet what they're going to do but until you're actually there and it really wasn't pleasant and you can see them taking the little piece of the kidney out.
May
I was terrified, I couldn't believe I was having it done, I just wanted to get it done and over with and just go home.
Bakewell
The tissue samples are analysed and reveal damage to May's kidneys caused by her high blood sugars.
Kidney Doctor
We know that in diabetes early kidney damage can be reversed by good control of the diabetes.  However, in May's case the extent of damage was such that she would be left with permanent kidney damage, there was no reversal element to the damage that I could see.
Bakewell
May is put on medication to support her kidney function and to try to reduce the rate of further damage.
Kidney Doctor
It was important to stress that if control of the diabetes is improved substantially the damage would progress very slowly or perhaps not at all.  However, if there was no improvement in her diabetes control I advised them that in five to 10 years there could be complete loss of kidney function leading to kidney failure.
Doctor
When these results came back they were a bit of a hard thing because the words that we said were going to come true now but even then if it's extremely unusual for me to see youngsters in my own clinic before they reach the age of 18 having this amount of renal damage and that was what was upsetting for me.
Nurse
We have lots of kids that are getting to adults and they're getting complications and actually say I wish I'd have listened.  But unfortunately with any teenager diabetic or not they don't listen to you, the damage has already been done and you can't take that back.
Bakewell
Well we're now into the problems of teenagers at full tilt, resisting treatment.  Lee, what can be done?
Hudson
Oh look it's tricky, I don't have a golden answer for you.  But this biopsy's now is just adding to that prison sentence a little bit more isn't it potentially, putting more pressure on really about long term consequences.
Bakewell
Deborah, are there are any legal considerations, I mean you can't make someone?
Bowman
You can't, I think the more regulated you become in your approach to this the more stuck everybody gets, so if you can be compassionate and calm and recognise the dignity of May as an individual and all those things they're not just words, they allow trust to remain and actually that matters.  The law – we don't have colonies where we put teenagers who aren't doing what we want, nor should we.
Bakewell
But diabetes is very complicated and the regimen is quite severe.  Is there a case for lowering the bar and making the treatment not so exacting, what would you say Deborah?
Bowman
I don't think lowering the bar is quite how I'd put it and that isn't just semantics.  I think you do have to work with where she is.  And you might have to negotiate – it might be small wins that you have to work with just to keep getting her through the door talking to you because we're hearing she's getting more and more withdrawn, it seems to me that we're not going to get anywhere unless we address that bit first.
Bakewell
So what does this mean – less insulin each day perhaps?
Hudson
It's very tricky isn't it because no doctor is going to suggest that at all.  And unfortunately as a professional in this situation, whether it be the specialist nurse or the psychologist or anybody and the parents actually for that matter, you have to oscillate between two positions.  I'm sitting on a fence aren't I?
Bakewell
We can all see the dilemma that this is.  But Ellen-Louise.
Hall
I've been sitting here busting to say this because I'm – I find it very difficult.  Listening to the recordings and saying that she doesn't listen and that she's not being compliant, I think people tend to forget that it's not just a case of there being insulin and not listening to the healthcare professionals, they may be listening but you know it's difficult to actually implement that in your own life.
Bakewell
So how did you change?
Hall
It's been a very long process and I'm not in the complete clear right now but I'm on the right track and I'm very proud of how far I have come.  I have had many times where I've been really good for a few weeks and then I'd go into that pit again.  But it's about finding the balance and about the small victories.  So things…
Bakewell
What little victories did you have?
Hall
Things like you're meant to do a BM – a blood glucose test – before you eat, so you know how much insulin to inject for.  I used to be really bad with BMing, I don't know why I just always used to forget to – oh food yum go.  So for instance I managed to do two BMs a day that would be a victory rather than having to do four.  And then you'd slowly build it up.  It's small victories like remembering to inject before a meal because I got into such a habit of injecting after I've eaten, now it's a case of – oh I injected before my meal that's really good.
Bakewell
And what was it that made you change – was it simply something called growing up?
Hall
I think it's a moment of realising that you're an adult and you actually have a life in front of you.  At say 15, which is where May is, you're not going to be thinking about oh when I'm 25 I want to get married, I want to have children or I want to have a career, you're not thinking like that, at 15 you're probably thinking about what you're doing next weekend and maybe your GCSEs.
Bakewell
So the realisation came slowly?
Hall
Very slowly.
Bakewell
And do you think that would happen for other people too?
Hall
Of course, it is about growing up.  Adolescence is about transitioning into being an adult and that's when you start to think about your actual life – where you are, what you want to do.  For me to be perfectly honest it wasn't until I was in university when I began to think I know what I want to do with my life now and I need my health to be on top form for me to be able to do that and that's when it starts to click into place that you think – ah okay let's sort this out.
Bakewell
Thank goodness.  What do you think would help people like May?
Hall
Find those peer support groups that are people of your similar age and try and build relationships with them.  Even if it's an online forum and it's even better if you have someone that you can meet up with, you may feel like adults don't really fully understand where you're coming from so it's better to find the peer support because that can be a real drive to help you gain control.
Bakewell
Okay at this stage in the programme I ask everyone's opinion about what advice they would give in this situation.  So Lee, what would you advise?
Hudson
My advice would be understanding and managing anxieties for the professionals involved that have been expressed very clearly in the captions that you've given us that you have to sit and you have to wait and to really understand how difficult that is really but there are no quick fixes here.
Bakewell
And Deborah?
Bowman
What I really, really like to see happen is Ellen-Louise talk to May, frankly, I hope Lee won't mind me saying this, we could have shut up, that was the most powerful thing and if we can work with her and keep her coming through the door that seems to me to be the ethical priority at the moment.
Bakewell
Ellen-Louise.
Hall
I think from me my advice would be just do your best, that's all you can do, take one day at a time.  There's no point making big plans, stick to little victories, stick to doing what makes you happy and what makes you comfortable.
Bakewell
Thank you all.  Ellen-Louise Hall, Deborah Bowman and Lee Hudson.
So let's find out what happened to May.  As the kidney specialist recalls, the kidney biopsy results finally strike a chord with her.
Kidney Doctor
May and her family were shocked by the information that I gave them and I think that May herself hadn't fully appreciated the seriousness of her non-compliance with her diabetes treatment.
May
It changed me when I find out I had kidney failure.  I was saying to myself why am I doing it?  So I decided to change my life around.  I'm putting my diabetes first now.  I take my insulin and everything, I'm doing everything right.
Doctor
Now May herself is convinced that she's got to start taking care of herself.  She's decided to give herself the insulin regularly and you can see the change that it's brought about in her blood sugars.
Nurse
In January this year it was absolutely outstanding, her blood sugars were roughly running about nine or 10, from being 20 to nine to 10, as an average, that's absolutely fantastic really.
May
When I went for my blood test only for three months and they said they were down, I couldn't believe it, I couldn't believe I did it at the time.  It makes me happy.  Everyone was just dead chuffed with me.  Every day I just think make sure you take your insulin, make sure you take all your medications and gradually do step by step every day.
Bakewell
Like May, Lauren is also trying to manage her condition – her asthma.  A text now reminds her to take her preventer inhaler morning and night.
Lauren
When I get a text in the morning obviously not on the weekends because it wakes me up a bit I feel that's easy because I don't think to take it because I haven't taken it for like ever.
Bakewell
But balancing the challenges of the teenage years with a chronic condition isn't easy.  Over the last year, May has had setbacks… and the years ahead are daunting.
May
Well I haven't got long till I leave school so it's – because I've got me exams, then it's all I want to go out friends and then I need to revise and the diabetes is another pressure and it's like some days you feel like I can do this, I can cope and then some days you think I can't do it.
Bakewell
But the team is still at her side.
Nurse
At the end of the day we're still there for her and we'll still try and help her.  I love teenagers but oh my goodness me.
ENDS
Broadcasts

Podcast
Joan Bakewell and a panel of experts wrestle with the ethics of a real-life medical case.