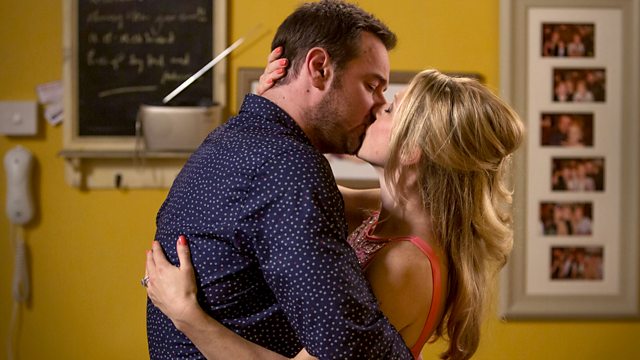 10/07/2014
Shirley and Patrick have a drink in the B&B – she confides in him that she just isn't maternal. Patrick tells her that the way she responded to George crying told a whole different story. Shirley confesses to Patrick that she hasn't seen her own mother since she was 15; she would never be able to forgive her and yet she wants Dean's forgiveness – is she a hypocrite?
Patrick purports that it may be too late for Shirley and her mum, but it doesn't mean it's too late to sort things with Dean. Shirley is hurt when Dean ignores her call. Patrick suggests to Shirley that maybe she's got Dean wrong – he's chosen to open up a business in Walford, surely it means he wants something to do with her. Patrick urges Shirley to keep trying to reach out to Dean before it's too late.
Mick is taken aback by Linda's want for another baby. He reminds her of the parts that aren't so easy. When he realises that she's serious, he firmly tells her that they have their three children and that it's their time now. Linda is angry that Mick won't even consider it and she confesses that it's because she's worried about what she'll do when Nancy, Lee and Johnny leave – who will she be if she's not their mum? Mick reassures her that it's a positive thing that they will have time for themselves, but soon states that he knows he won't get any peace until he agrees – and Linda concurs. Johnny walks Gianluca back to the tube station where they share a passionate kiss.
Johnny suggests staying in touch once Gianluca returns to Italy but Gianluca tells Johnny they need to be realistic – they will be in different countries. Johnny confesses that he wants to go to Italy with Gianluca. Stan creeps downstairs to help himself to a nightcap behind the bar and is caught by Lee and Dean who are still up drinking – they ask Stan to join them. Stan tells Lee and Dean that it means a lot to him seeing his grandsons together. Dean confesses that he's jealous of Lee's 'happy family'.
Dean ignores a call from Shirley – which Nancy clocks. She tells Dean that she reckons Shirley's not so bad – Dean tells her he'd swap her for Linda any day. Johnny returns from dropping Gianluca at the station and he, Dean, Nancy and Lee have a laugh together. Linda gets out of bed to check that Johnny has got home safely. Mick reminds Linda of how terrible it was when Johnny was born – Johnny and Linda were both so ill. Linda is fuming; she believes that Mick is reminding her of the worst time of her life to put her off having another baby. In the kitchen, Johnny confesses to Nancy that he was ready to go to Italy with Gianluca and feels stupid for it. Nancy clocks on to the fact that he and Gianluca had sex.
Linda, still upset with Mick, heads downstairs to put some food together for Johnny. Whilst in the kitchen she hears Mick starting to sing 'Pretty Flamingo'. He is oblivious to Lee and Dean around the other side of the bar. Lee tells Dean that this is Mick and Linda's song and heads off to bed. Dean heads outside for a cigarette, when Shirley approaches and asks him to hear her out. She tells him that she doesn't want to fight with him anymore. She states that she doesn't want to drive him away so she will back off. If he doesn't want her to be his mum anymore then she and him are finished – Dean tells her, 'good', before leaving a distraught Shirley outside the pub.
Back inside, Mick finishes his song and Linda passionately kisses him. Linda tells Mick that she's scared he could stop loving her but he tells her that that's ridiculous. Mick suggests that maybe she'd stop worrying, if they finally made things official; he asks Linda to marry her. Linda tells Mick that she doesn't need a huge wedding, but Mick promises her that one day he will give her the wedding that everyone will be talking about for years. Mick heads upstairs leaving a content Linda – that is until Dean appears from the other side of the bar.
Linda worriedly questions how long he's been there. Dean asks whether Linda and Mick really aren't married; he heard everything. Linda makes him promise not to tell anyone. Lee hesitantly comes in to Mick's room and tells him that he's done something really stupid to do with Lucy Beale...
Last on
Credits
| Role | Contributor |
| --- | --- |
| Lee Carter | Danny-Boy Hatchard |
| Mick Carter | Danny Dyer |
| Linda Carter | Kellie Bright |
| Nancy Carter | Maddy Hill |
| Johnny Carter | Sam Strike |
| Stan Carter | Timothy West |
| Dean Wicks | Matt Di Angelo |
| Shirley Carter | Linda Henry |
| Patrick Trueman | Rudolph Walker |
| Executive Producer | Dominic Treadwell-Collins |
| Director | Richard Lynn |
| Writer | Daran Little |