Main content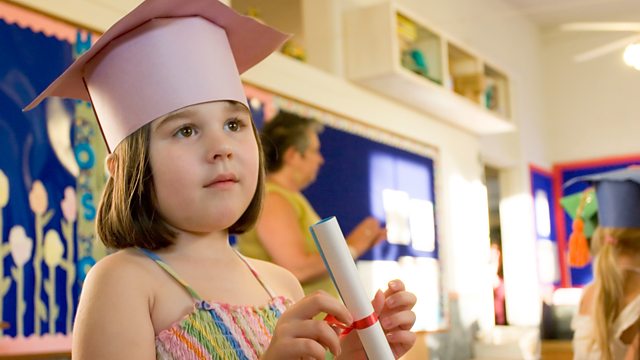 Primary school leavers; Women Bishops; Yasmina Reza; Joan Bakewell
Primary school leavers, Women Bishops, Yasmina Reza, Joan Bakewell, Proms with Erin Wall, and Catherine Wyn Rogers. Jane Garvey presents.
For the children leaving primary school there are now discos, proms, and sleepovers until the end of term. Then there is the leavers' play and the inevitable tears from children and parents. Why has it got so important and emotionally charged? And is this a good thing?
The Church of England has voted to allow women to become bishops for first time in its history. The Rev. Katrina Scott describes what the decision means to her and her congregation.
Elgar's The Kingdom kicks off The Proms. Soprano Erin Wall and mezzo-soprano Catherine Wyn-Rogers talk about the challenges of singing this demanding work.
Joan Bakewell DBE, talks about how technological advances in medicine and an aging population are changing clinical ethics.
Chapters
Women Bishops

Duration: 04:13

Leaving Primary School

Duration: 13:25

Yasmina Reza

Duration: 08:18

The Opening Night of the Proms

Duration: 07:39

Baroness Joan Bakewell

Duration: 06:06

Women Bishops

We

talk about the

Church of England's latest debate

and vote to decide whether to allow women into its top ranks as bishops. Rev Katrina Scott tells Jane what the result means for female parish priests.

Leaving Primary School

The end of the summer term is approaching and activities are hotting up for children in Year 6 - shows, discos, proms and sleepovers, the list is endless. So why all the focus on leaving primary school? Is it new? And is it a good thing? Sally Bates, Head of Wadsworth Fields Primary in Nottingham and parent and journalist Bee Rowlatt join Jane. We also hear from a selection of year 6 leavers.

Yasmina Reza

Yasmina Reza, best known for her plays 'Art' and 'God of Carnage', has a new book out. 'Happy are the Happy' is a novel about eighteen different people, each chapter narrated by a different character.  Cumulatively they reveal secret passions, many disappointments and a strong propensity for infidelity. Yasmina Reza joins Jane to talk about relationships, philandering and the perception of difference - right or wrong -  between the French and the English.

'Happy are the Happy' by Yasmina Reza  is published by Harvill Secker.

The Opening Concert of the 2014 Proms

This Friday the largest classical music festival in the world opens on the stage of the Royal Albert Hall in London and for the next two months, the Royal Albert Hall plays host to The Proms. There will be over 90 concerts including a BBC Sport Prom, a Cbeebies Prom, the Pet Shop Boys and performances from many of the world's top orchestras. Taking part in this opening concert will be two women who have sung on some of the world's best stages: soprano Erin Wall and mezzo-soprano Catherine Wyn-Rogers. They join Jane to talk about the challenges of singing in one of Elgar's most demanding works.

Baroness Joan Bakewell

Journalist, broadcaster and Labour Party Peer Baroness Joan Dawson Bakewell DBE returns to BBC Radio 4 to present a new series of

Inside the Ethics Committee

. This year celebrating its tenth anniversary, the programme puts real-life cases before a panel of experts to explore the workings of clinical ethics committees on issues including genetic testing on children and treating people with dementia. Jane Garvey talks to Baroness Joan Bakewell about the new series of Inside the Ethics Committee and the development of clinical ethics in relation to technological advances in medicine and an aging population.

Credits

| Role | Contributor |
| --- | --- |
| Presenter | Jane Garvey |
| Interviewed Guest | Rev Katrina Scott |
| Interviewed Guest | Bee Rowlatt |
| Interviewed Guest | Sally Bates |
| Interviewed Guest | Yasmina Reza |
| Interviewed Guest | Erin Wall |
| Interviewed Guest | Catherine Wyn-Rogers |
| Interviewed Guest | Joan Bakewell |
| Producer | Karen Dalziel |