Main content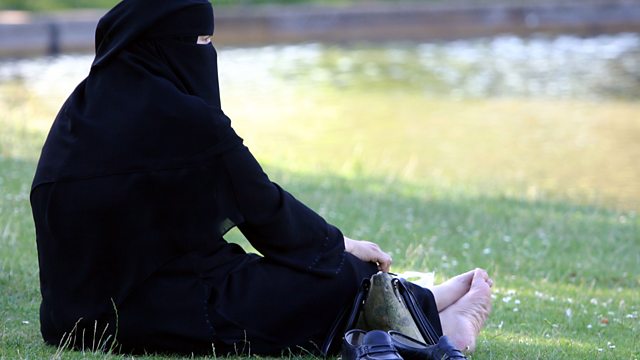 Islamophobia and the veil; Growing up in a cult; Women in Parliament; David McKee on Elmer
Changing behaviour in Parliament to encourage women to stand; Islamophobic attacks and the veil; Growing up in and escaping a cult; David McKee on his friendly elephant Elmer.
With women making up fewer than one in five MPs at Westminster, politicians across parliament are calling for new measures to get more women to stand for election. Conservative MP Mary Macleod, who chairs the All Party Parliamentary Group on Women in Parliament, joins Jane Garvey to discuss the culture and behaviour that needs to change, and the barriers still facing female candidates.
Baroness Oona King talks to Jane Garvey about why girls are flocking to public speaking. Nine years ago only 30% of students taking part in Jack Petchey's "Speak Out" Challenge, now it's 70%.
The ban on the burqa in France has been upheld by the European Court of Human Rights. And, attacks on Muslim women wearing the veil in the UK are reported to be on the increase. Does traditional dress put women at risk? Would a UK ban protect women and reduce Islamophobic attacks? The criminologist Dr Irene Zempi has spoken to women who wear the veil in Leicester. Shalina Litt is Muslim and wears a full veil on the streets of Birmingham. They both join Jane to discuss UK attitudes to the burqa.
Born into the notorious Children of God cult, Natacha Tormey spent her childhood convinced that she was part of an elite children's army that would one day save the world from the Antichrist. Denied an education, Natacha had barely any knowledge of life outside of the various communes her family lived in, where followers followed teachings that encouraged total sexual freedom. Natacha was physically and sexually abused from a young age but finally escaped the cult at eighteen and began to piece together her life in the outside world she knew nothing about. She joins Jane to talk about her childhood and her ongoing struggle to adapt to freedom.
The bestselling children's book Elmer the Patchwork Elephant celebrates 25 years this summer. The story of a boldly coloured elephant, Elmer's adventures teach children about empathy and tolerance. The author David McKee, who grew up reading fables, believes stories with a moral are important. So what impact do cautionary tales have on children and how have they changed since they were popularised in the 19th century?
Jane speaks to David McKee and The Guardian's children's books editor, Julia Eccleshare.
Last on

Chapters
Women in Parliament

Duration: 09:40

Public Speaking

Duration: 02:54

Islamophobia and the Veil

Duration: 11:00

Natasha Tormey

Duration: 09:25

Cautionary Tales

Duration: 07:13

Women in Parliament

With women making up fewer than one in five MPs at Westminster, politicians across parliament are calling for new measures to get more women to stand for election. Conservative MP Mary Macleod, who chairs the All Party Parliamentary Group on Women in Parliament, joins Jane Garvey to discuss the culture and behaviour that needs to change, and the barriers still facing female candidates.

Public Speaking

The number of young girls taking part in a major public speaking competition has more than doubled in the last decade. Jack Petchey's "Speak Out" Challenge has trained over 100,000 young people across schools in London and Essex and the competition final is tonight. Nine years ago only 30% of the students were girls, this year it's 70%.

Baroness Oona King is a patron of the foundation. She is a Labour peer in the House of Lords and is a diversity executive at Channel 4

Islamophobia and the veil. Are Muslim women at risk if they wear the veil on UK streets?

The ban on the burka in France has been upheld by the European Court of Human Rights.  And, attacks on Muslim women wearing the veil in the UK are reported to be on the increase. Does traditional dress put women at risk? Would a UK ban protect women and reduce Islamophobic attacks? The criminologist Dr Irene Zempi has spoken to women who wear the veil in Leicester. Shalina Litt is Muslim and wears a full veil on the streets of Birmingham. They both join Jane to discuss UK attitudes to the burka.

'Islamophobia, Victimisation and the Veil' by Irene Zempi and Neil Chakraborti is published Palgrave Macmillan. 

Natacha Tormey

Born into the notorious Children of God cult, Natacha Tormey spent her childhood convinced that she was part of an elite children's army that would one day save the world from the Antichrist.  Denied an education, Natacha had barely any knowledge of life outside of the various communes her family lived in, where followers followed teachings that encouraged total sexual freedom.  Natacha was physically and sexually abused from a young age but finally escaped the cult at eighteen and began to piece together her life in the outside world she knew nothing about.  She joins Jane to talk about her childhood and her ongoing struggle to adapt to freedom.

Born into the Children of God: My life in a religious sex cult and my struggle for survival on the outside is published by Harper Element on 3rd July 2014.

Cautionary Tales

The bestselling children's book Elmer the Patchwork Elephant celebrates 25 years at Andersen Press this summer. The story of a boldly coloured elephant, Elmer's adventures teach children about empathy and tolerance. The author David McKee, who grew up reading fables, believes stories with a moral are important. So what impact do cautionary tales have on children and how have they changed since they were popularised in the 19th century?

Jane speaks to best-selling children's author and illustrator David McKee and The Guardian's children's books editor, Julia Eccleshare.

Credits

| Role | Contributor |
| --- | --- |
| Presenter | Jane Garvey |
| Interviewed Guest | Mary Macleod |
| Interviewed Guest | Oona King |
| Interviewed Guest | Irene Zempi |
| Interviewed Guest | Shalina Litt |
| Interviewed Guest | Natacha Tormey |
| Interviewed Guest | David McKee |
| Interviewed Guest | Julia Eccleshare |

Broadcast