Main content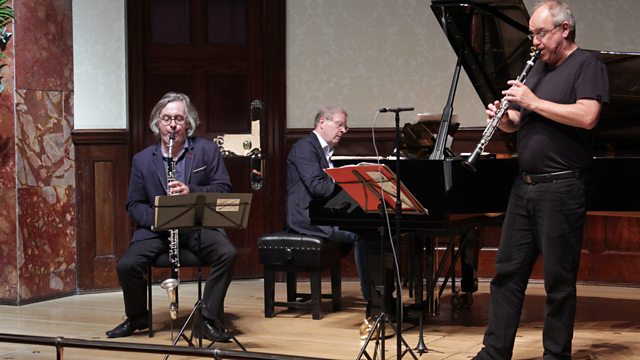 Wigmore Hall: Trio di Clarone
Trio di Clarone perform at Wigmore Hall, London. Mendelssohn: Concert Pieces Nos 1 and 2. Bruch: Three Pieces, Op 83. Schumann: Kanonische Studien; Fantasiestucke.
Live from Wigmore Hall, London.
Trio di Clarone
Having inspired 18th century composers such as Mozart to write seminal works in his concerto and quintet, the clarinet was still a relatively new instrument during the 19th century. Technological advances in instrument making rapidly brought it into the mainstream and later composers such as Mendelssohn were inspired by the virtuoso playing of performers such as his good friend Heinrich Baermann. Trio di Clarone have been exploring this music for many years and bring the fruits of their journey to Wigmore Hall in works by Mendelssohn, Bruch and Schumann.
Mendelssohn: Concert piece No 2 in D minor, Op 114
Bruch: 8 Pieces for clarinet, viola & piano, Op 83 (No 2 Allegro con moto; No 6 Nachtgesang, Andante con moto; No 7 Allegro vivace, ma non troppo)
Schumann: Kanonische Studien, Op 56 (No 2 Adagio; No 3 Andantino; No 4 Mit innigem Ausdruck; No 5 Innig)
Schumann: Fantasiestücke, Op 73
Mendelssohn: Concert piece No 1 in F minor, Op 113
Presented by Sean Rafferty.