Main content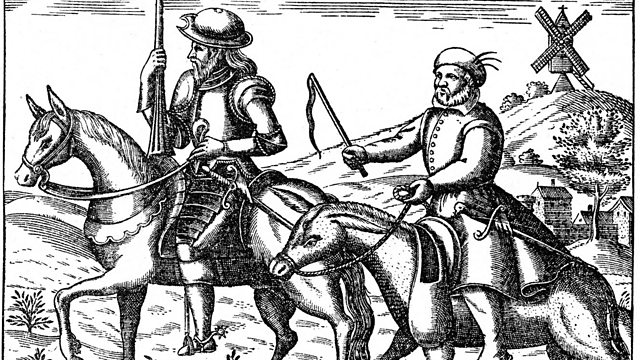 An Unquiet Mind
Texts and music on the theme of an unquiet mind, with readings by Katherine Parkinson and Greg Wise. With Cervantes, Tolstoy and Orwell, plus Berlioz, Strauss, Britten.
From the madwoman in her attic to the troubled king straining against the leashes of his medical attendants, the depiction of what has historically been called madness has been a common theme in art, music and literature. It has engaged both those who have sought to share their own experience of an unquiet mind and those who have used it to explore complexity, colour and difference in their subjects. Literary contributions in this programme include Cervantes' Don Quixote, Mr Rochester's sad, bad first wife, Anna Karenina and her self-destructive passion, and the Patrick Hamilton character who knows only that he must kill. There's a contemporary account of what it was like to be around George III as his grasp on reason slipped away, and readings about characters - such as Winston in Orwell's Nineteen Eighty-four, driven mad by circumstances. We also look at collective madness, the greatest example of which must surely be war.
In music Berlioz describes obsessive love in his Symphonie Fantastique, Strauss depicts the absurdities of Don Quixote in his tone poem of the same name, and Peter Maxwell Davies has his own take on the madness of George III in his 8 Songs for a Mad King. There is also music by Britten, Gesualdo and Nick Drake.
Extracts are read by Katherine Parkinson and Greg Wise.
Producer - Ellie Mant.
Music Played
Timings (where shown) are from the start of the programme in hours and minutes
Patrick Hamilton

Hangover Square, read by Greg Wise

Sylvia Plath

Mad Girl's Love Song, read by Katherine Parkinson

Dale Wasserman

Man of La Mancha, read by Greg Wise

Leo Tolstoy

Anna Karenina (translated Rosemary Edmonds), read by Katherine Parkinson

George Orwell

Nineteen Eighty-Four, read by Greg Wise

Hilary Mantel

Vacant Possession, read by Katherine Parkinson

Victor Starbuck

Moon-Madness, read by Greg Wise

Madame D'Arblay

The Diary and Letters of Madame D'Arblay Vol 2, read by Katherine Parkinson

Cervantes

Don Quixote (translated Edith Grossman), read by Greg Wise

Emily Dickenson

Much Madness is Divinest Sense, read by Katherine Parkinson

Douglas Adams

Life, the Universe and Everything, read by Greg Wise

Lewis Carroll

Alice's Adventures in Wonderland, read by Katherine Parkinson

Ivor Gurney

To God, read by Greg Wise

Charlotte Bronte

Jane Eyre, read by Katherine Parkinson

Wilfred Owen

Mental Cases, read by Greg Wise

Elizabeth Jennings

Night Garden of the Asylum, read by Katherine Parkinson

William Shakespeare

Sonnet 140, read by Greg Wise

Producer Note

From the madwoman in her attic to the troubled king straining against the leashes of his medical attendants, the depiction of what has historically been called madness has been a common theme in art, music and literature. It has engaged both those who have sought to share their own experience of an unquiet mind and those who have used it to explore complexity, colour and difference in their subjects. Literary contributions in this programme include Cervantes' Don Quixote, Mr Rochester's sad, bad first wife, Anna Karenina and her self-destructive passion, and the Patrick Hamilton character who knows only that he must kill. There's a contemporary account of what it was like to be around George III as his grasp on reason slipped away, and readings about characters - such as Winston in Orwell's Nineteen Eighty-four, driven mad by circumstances. We also look at collective madness, the greatest example of which must surely be war.

 

The programme begins inside the mind of Patrick Hamilton's protagonist as he tries to remember who it is that he must kill. I paired this with the pained dissonances in Gesualdo's madrigal Belta poi che t'assenti; (And, of course, Gesualdo famously murdered his wife and her lover…) Sylvia Plath also examines the confusion of a troubled mind, and I thought the sparseness and then muddy texture of John Cage's piano piece reflected this. Dale Wasserman questions what madness is – perhaps "to see life as it is, and not as it should be", and Nick Drake's Black Eyed Dog could be interpreted as blackness or depression. Like Tolstoy's Anna Karenina, Berlioz's Symphonie Fantastique depicts a character suffering a self-destructive, obsessional love. Next an example of somebody broken by the situation they find themselves in. I felt the plaintive quality of Roxburgh's solo clarinet line mirrored the bleakness and despair of Orwell's text. The Hilary Mantel passage has a colourful account of life inside an asylum, followed by Purcell's Bess of Bedlam - a famous fictional inmate who went mad from love. Victor Starbuck's Moon Madness portrays somebody who to all outward appearances seems mad, but inside is content with his view of the world. I liked dreamy quality of the Bridge Moonlight with the poem.

 

There was only one possible music choice to accompany Madame D'Arblay's real-life diary entry about encountering Mad King George, likewise for Cervantes's Don Quixote. Emily Dickenson's poem is one of several to suggest that it is only the majority view that dictates what is considered mad, and what sane. This is followed by a movement of a string quartet written just before Schumann himself lost his sanity.  Douglas Adams' character Arthur Dent actively decides to go mad, and Queen tackles the subject with a huge collection of euphemisms for madness.

 

Gurney was not only a composer, but also one of the 1st World War's foremost poets. His experience of mental illness and war inspired his work in both fields. His prayer To God lambasts the cruelty of men to men, blaming him for it, followed fittingly by Gurney's War Elegy. There are many examples of mad women in 19th century literature, and I chose one of the most famous. Jane Eyre's wedding is disrupted when it's discovered that Mr Rochester is already married to a mad woman hidden away in the attic. He rages against the priest and lawyer for judging him, quoting the bible at them. Haydn's Insanae et vanae questions the use of striving after earthly things if you neglect heaven.  

 

Wilfred Owen's Mental Cases describes the devastating effects of war on the soldiers who experienced it. This is followed by Britten's beautiful setting of another Owen poem in his War Requiem.  The trilling of the flute in Morton Feldman's piece reminded me of a bird's call, and I liked the unsettling and still quality of this music under Jennings' poem Night Garden of the Asylum. The programme ends with Shakespeare's sonnet about the perils of unrequited love, coupled with Humperdinck's Shakespeare-inspired scene depicting a happier love.

 

Producer – Ellie Mant

The hidden history of plant-based diets