Main content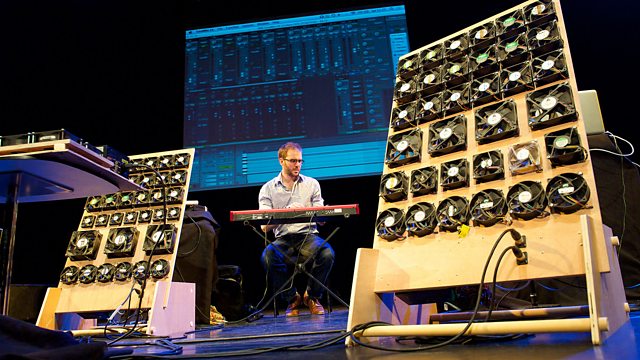 Sara Mohr-Pietsch presents music performed at London's Southbank Centre, including Arlene Serra, Luke Styles, Yann Seznec, Piers Hellawell with Bourne Davis Kane and Andy Scott.
Staged by the PRS for Music Foundation to coincide with this year's Commonwealth Games, the first ever New Music Biennial showcases new commissions from a wide range of composers across the UK in two special events held in London and Glasgow. In this first programme from Southbank Centre, we hear music for piano and percussion from Arlene Sierra, choir and skateboards from Samuel Bordoli and Bill Bankes-Jones, weather-generated sounds from instrument builder Yann Seznec, vocal music from Luke Styles, a collaboration between Piers Hellawell and the improvising trio of Bourne Davis Kane, and a text-based piece by Andy Scott featuring Foden's Brass Band. Presented by Sara Mohr-Pietsch.
Arlene Sierra: Urban Birds
Xenia Pestova, Kathleen Supove and Sarah Nicolls (pianos)
Jose Miguel Fernandez (electronics)
Luke Styles: The Girls Who Wished to Marry Stars
Juice Vocal Ensemble
Trish Clowes (saxophones)
Christopher Montague (electric guitar)
Louise McMonagle (cello)
Callum Gourlay (double bass)
James Maddren (drums)
Yann Seznec: Currents
Yann Seznec, Hugh Jones, Sam Beste
Piers Hellawell with Bourne Davis Kane: Sound Carvings, Strange Tryst
Bourne Davis Kane
Samuel Bordoli: Grind
Words by Bill Bankes-Jones
Roundhouse Choir
Osnat Schmool (conductor)
Andy Scott: A Child Like You
Anna-Clare Monk (soprano)
Lauren Scott (harp)
Foden's Brass Band
Michael Fowles (conductor).
More episodes
Previous
You are at the first episode