Main content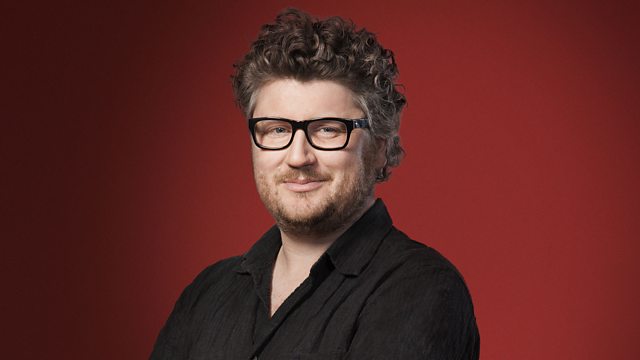 Riga - European Capital of Culture 2014
Tom Service explores the musical culture of Riga in Latvia, one of the European Capitals of Culture for 2014.
Tom Service visits the ancient port of Riga, Latvia's capital and one of two European Capitals of Culture for 2014 alongside Umea in Sweden.
As the BBC's Damien McGuinness explains to Tom at locations around Riga, Latvia is a country with a turbulent history, having experienced foreign domination for over seven centuries prior to achieving its first independence in 1918, but the Latvian people have maintained a strong national identity as a result of its musical traditions, from traditional folk song stretching back over a thousand years, to a choral tradition which today involves tens of thousands of Latvians singing in amateur choirs, and the Latvian Song and Dance festival which is held every 5 years and attracts over 40,000 participants.
WORLD CHOIR GAMES
Tom was in Riga for the opening day of the World Choir Games, a biannual event involving 27,000 singers in 460 choirs from around the world. He meets the members of Latvian Voices, a female a cappella group who were winners at the last games in Cincinnati and who are reinventing Latvian folk song for a new generation, and drops in on rehearsals in Riga's Old Town for one of Britain's three hopeful choirs, the Bradford Catholic Girls' Choir and their director Tom Leech.
LATVIAN NATIONAL OPERA
Riga also has historical links with composers like Richard Wagner, who was music director of opera in the city for 2 years, and claimed that The Flying Dutchman was inspired by a sea crossing from Riga to London in 1839. Today's opera house was built as a German dramatic theatre in 1863, and was taken over by the new Latvian National Opera company when the country first gained independence in 1918. Tom meets the soprano Maija Kovalevska, who started her career at LNO, the musicologist and head of Latvia's Music Centre, Inara Jakubone, tells Tom about Wagner's time in the city, and the current Artistic Director Zigmars Liepins talks about the company's place in this year's European Capital of Cultural events.
BORN IN RIGA
Tom meets other musicians (along with Maija Kovalevska) who were born in Riga, including the cellist Mischa Maisky, who remembers growing up in the city in the wake of WW2 before moving to Russia, Israel and Italy, and the composer Peteris Vasks. Also born in the 1940s, Vasks studied double-bass in neighbouring Lithuania (having been denied a place at Riga's Academy of Music by the Soviet regime) before returning to his homeland to specialise in composition, and writes music which is rooted in Latvian nature and culture.
PROTECTING LATVIA'S MUSICAL TRADITIONS
For a nation of just 2 million people, Latvia has produced an astonishing number of world-class musicians, from the conductors Andris Nelsons and Mariss Jansons to a host of opera singers such as Kristine Opolais and Alexanders Antonenko. Ivars Cinkuss, one of Latvia's leading choral conductors, explains the country's strong musical education system which was established during the Soviet era, but which is now under threat with music no longer being mandatory for school children. Tom puts these challenges facing Latvia's unique musical culture to the Latvian Prime Minister, Laimdota Straujuma.
Credits
| Role | Contributor |
| --- | --- |
| Presenter | Tom Service |
| Interviewed Guest | Damien McGuinness |
| Interviewed Guest | Tom Leech |
| Interviewed Guest | Maija Kovalevska |
| Interviewed Guest | Inara Jakubone |
| Interviewed Guest | Zigmars Liepins |
| Interviewed Guest | Mischa Maisky |
| Interviewed Guest | Peteris Vasks |
| Interviewed Guest | Ivars Cinkuss |
| Interviewed Guest | Laimdota Straujuma |