Main content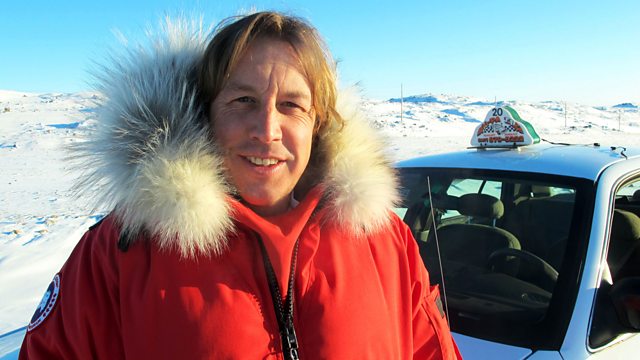 London cabbie Mason McQueen takes on the challenge of driving a taxi in Iqaluit, battling Arctic storms, icy roads and winds of 70 miles-per-hour.
London cabbie Mason McQueen follows up on his experiences in Toughest Place to be a Taxi Driver as he takes on a global taxi-driving challenge.
Mason gives up his black taxi to work in one of the most remote inhabited cities on earth during the coldest time of the year. In the frontier city of Iqaluit on the edge of the Canadian Arctic, there is no public transport - so the city's small, rugged band of taxi drivers are vital to keeping the population on the move.
An Arctic boom town, Iqaluit attracts many Canadians who are willing to brave the cold, dark and harsh conditions in return for the high wages on offer. It is also a place where the original inhabitants of the Arctic, the Inuit, are still struggling to find their place in the modern world. During his time in Iqaluit, Mason catches a glimpse of the old Inuit world as he joins a hunter out on the sea ice and also spends time in a local soup kitchen, providing an insight into the homelessness, depression and drug abuse that plagues the modern Inuits.
As a full-scale blizzard hits the city, Mason faces driving conditions tougher than anything he has ever experienced. He must battle through temperatues of minus 30 degrees, ferocious winds of 70 miles-per-hour, icy roads and white outs to get the people of Iqaluit safely home.
Clips

Credits
| Role | Contributor |
| --- | --- |
| Presenter | Mason McQueen |
| Series Producer | Simon Watts-Davies |
| Producer | Hannah Griffiths |
| Assistant Producer | Becky Evans |