Main content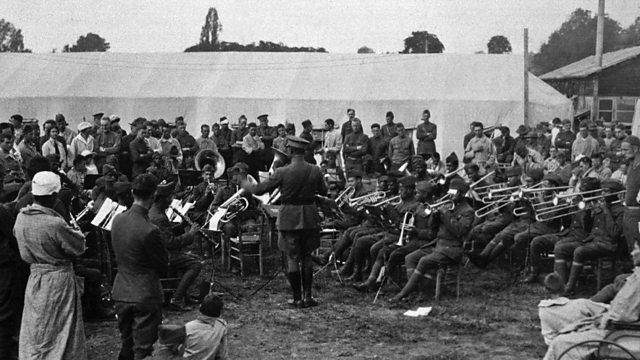 World War One: Cradle of Jazz
Alyn Shipton examines how jazz emerged from ragtime during World War One, asking if the war itself was the catalyst to launch the jazz age.
In 1917, the Original Dixieland Jazz Band made what are generally regarded as the first jazz records. But where did this music come from? What changes were going on during the period of World War One that prompted the musical and social changes that led to the jazz age of the roaring twenties? Alyn Shipton sets out to chart the evolution of jazz from ragtime at a time when few recordings exist to document the emergence of this new musical form.
His journey takes him across America on the TOBA circuit of African-American Theatres, where vaudeville acts and blues singers pioneered musical change, and to Britain and France, where black entertainers offered light relief to those in the grip of the war. We hear from Alyn's historical Radio 3 interviews with big band pioneer Jesse Stone, who formed his first band in 1918, and trumpeter Doc Cheatham, who served his apprenticeship on the wartime theatre circuit, as well as archive interviews with Jelly Roll Morton and Willie "The Lion" Smith.
There's music from Scott Joplin, James P Johnson, James Reese Europe, and Ma Rainey, plus European recordings by Dan Kildare and Gordon Stretton among others. Alyn also talks to music historians Paul Oliver, James Lincoln Collier and Howard Rye to find out whether the war itself was the catalyst for musical change.