Main content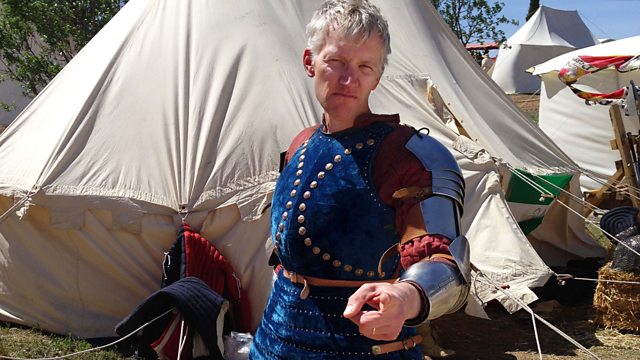 08/07/2014
Helen Castor takes the chair for Radio 4's popular history magazine programme, looking at what some are describing as a crisis in our industrial heritage museums.
Is there a crisis in our museums - in particular those that care for our industrial heritage?
That's the view of one academic who fears that the volunteering model adopted by many organisations needs to change. Dr Geraint Coles has a long experience of working on restoration projects such as the Chesterfield canal. He fears that changes in our society means that people are retiring much later than they were ten years ago - so finding fit and active volunteers to help run museums, preservation railways and other industrial heritage centres is becoming more and more difficult.
Making History's Mike Greenwood visits the Bluebell Railway in Sussex to see how they recruit, train and keep their volunteers. Ian Bapty, Industrial Heritage Support Officer for England, and Karen Perkins Director of Arts and Museums at Luton Culture join Helen to discuss the ways they are meeting this challenge
Tom Holland takes the train to Cumbria - or should that be Rheged? He meets historian Tim Clarkson and hears how sixth century poetry has been shaped and re-shaped so that the kingdom it describes is now much, much bigger than it ever was.
Finally, Helen meets Professor Linne Mooney from the University of York to find out how familiarity with the scribes who copied the works of Chaucer as well as government papers, afforded her unique insight into how and why written English begins to supersede French and Latin in the fourteenth century.
Contact the programme:-
Email making.history@bbc.co.uk
Write to Making History, BBC Radio 4, PO Box 3096. Brighton BN1 1PL
Producer: Nick Patrick.
A Pier production for BBC Radio 4.
Last on
A Crisis in Industrial Heritage?
How long can our small preservation railways and other industrial heritage organisations continue? That's the question posed by Dr Geraint Coles, from the University Campus Suffolk and an academic with many years experience of running industrial heritage projects. Dr Coles believes that key changes in society are resulting in fewer volunteers coming forward to keep these places going. We have already lost people who worked with what is essentially Victorian technology but now, because people's working lives are getting longer and longer, we are losing those early retirees who had the time and good health to learn new skills and work in the industrial heritage sector.
Ian Bapty's position was funded by English Heritage as a response to this problem and in Luton, Karen Perkins and her team have started to re-define the idea of a volunteer so that it can be anything from someone who gives up a day to work with the town's collections to a youngster liking something on Facebook.
If you work in this sector we would like to hear your thoughts on the issue Dr Coles raises. 
Useful Links
The Association for Industrial Archaeology
English Heritage
Ironbridge Gorge Trust
Luton Culture Museum Makers
Making History visited the
Bluebell Railway in Sussex
to find out how it recruits, trains and keeps its volunteer team.  
Where was Rheged?
Tom Holland heads to Penrith in Cumbria to try and find out the geographical extent of the Dark Ages' kingdom of Rheged. 
Many in the Scottish Borders and Cumbria today believe that Rheged stretched from Glasgow to Chester and maybe right across to North Yorkshire and Northumbria. But, there is no evidence for this, indeed there is very little evidence which points to exactly where this sixth century kingdom was. Tom met up with the historian of the north in the period after the fall of Rome, Tim Clarkson, who argues that it's the paucity of evidence (largely references in the poems of Taliesent) that has created a myth out of history. His best guess is that Rheged was on the shores of the Solway Firth and, like most embryonic states at this time, was relatively small.
Useful Links
Tim Clarkson
Education Scotland
Early British Kingdoms
Rheged Centre
The Coming of English
Helen Castor went to the London Metropolitan Archives to meet with Professor Linne Mooney from the University of York who has spent many years studying the original manuscripts of Chaucer's work. Over time she has come to recognise the hand of the writers who copied his work and she can see that they were working on government documents at the same time. These professional copyists would, in much of the fourteenth century be writing in French and Latin but, increasingly, the archives show that English was used in both literature and administrative work.
Helen and Linne discussed why this change occurred - was it because the Lancastrian rulers needed wider support in the country or was it driven by the literary communities commercial desires?
Professor Linne Mooney
London Metropolitan Archives
Further Reading: Scribes and the City of London Guildhall Clerks and the Dissemination of Middle English Literature, 1375-1425 Linne R. Mooney and Estelle Stubbs
Making History is produced by Nick Patrick and is a Pier Production for BBC Radio 4
Email the programme making.history@bbc.co.uk
Find us on Facebook
Broadcast