Main content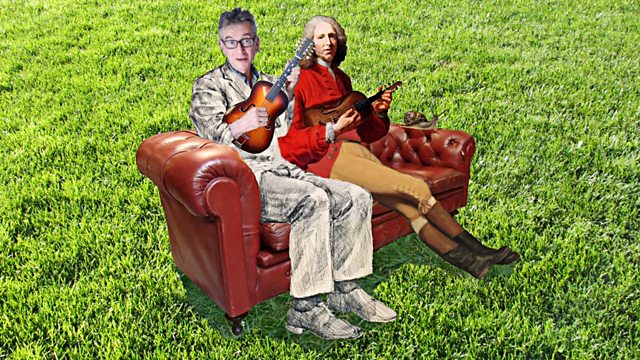 Who Does John Hegley Think He Is?
Poet and performer John Hegley thinks he might be descended from the leading French Baroque composer and theorist Jean-Philippe Rameau and sets out to see if he is.
Poet and performer John Hegley thinks he might be descended from the leading French Baroque composer and theorist, Jean-Philippe Rameau, and for Radio 4 sets out to see if he is.
According to family legend, John's great grandmother was a descendant of Jean-Philippe Rameau, a connection evidenced by a shared surname and a bank note in local currency (now lost) linking them to the same small community near Paris. In the 250th anniversary year of the great composer's death, John undertakes a Rameau pilgrimage to Paris, looking for further evidence of whether he is related to the Baroque Master, discovering the importance of Rameau's contribution to classical music, and learning something about his life and sublime music along the way. Very much the philosopher-composer, Rameau caused a stir with his first opera: he was fiercely attacked for his revolutionary use of harmony, and for breaking Lully's mould. For much of his career he seems to have been involved in wars of words over musical ideas, and even, occasionally, unseemly brawls. He was under fire especially during the 'Querelle des Bouffons', a bust-up between the defenders of the French operatic tradition and the champions of Italian music, which included his enemy Rousseau. John attempts to get to know Rameau the musician and the man: strict; secretive; slightly eccentric, and prone to breaking his employment contracts as an organist. His superiors at Clermont cathedral, unwilling to release him 8 years into a 29 year contract, were horrified when Rameau decided to select the most disagreeable stop-combinations and discords possible at the organ during an important Easter service, and let him go.
Rooting for Rameau with the help of experts and performers in Britain and Paris, John discovers perhaps Rameau's most significant legacy, his Treatise on Harmony of 1722, which sparked a revolution in music theory. In this tome he used mathematics, analysis and commentary to attempt to derive universal harmonic principles from natural causes, becoming known as the Isaac Newton of Music in the process (a title possibly invented by his friend Voltaire). Rameau's fame spread throughout Europe, and his Treatise formed the foundation for instruction in Western music that persists to this day. Undeterred by this hefty achievement, and having discovered that Rameau did not write his own first opera until he was 50, John has been inspired to begin a musical of his own, and has taken up piano lessons so that he can perform some of Rameau's easiest pieces. We hear the fruits of this endeavour, and a few episodes of reflection through music and poetry of the inspiration John's found in his believed connection to his ancestor, whether true or not.
Last on
Broadcasts