Main content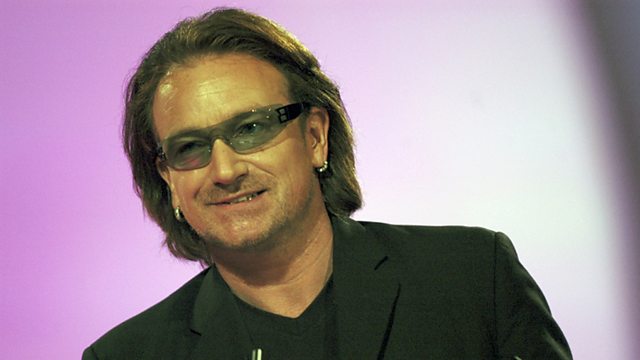 A-nis: Bono
Documentary telling the story of U2 frontman and campaigner, Bono, who has used his fame and influence to raise awareness of social issues and to combat poverty.
Bhon a chaidh e a sàs ann a saoghal ceòl rock aig deireadh na 70an, tha Bono, prìomh sheinneadair a' chòmhlain U2 agus am fear-labhairt ainmeil, air cliù agus aithne air leth a choisinn am measg an t-sluaigh.
Tha Bono air a bhith aig ceann fear dha na còmhlain as cliùteach san t-saoghal. Tha U2 air dusan clàr a thaisbeanadh agus tha an còmhlan cho soirbheachail ri luchd-ciùil sam bith agus iad air 150 millean clàr a'reic. Chaidh 22 duaisean Grammy a bhuileachadh orra, barrachd na còmhlan sam bith eile.
Bho thòisich iad ann an Èirinn aig deireadh na 70an, tha Bono agus U2 air a bhith a'brosnachadh agus a toirt taic do bhuidheannan mar Amnesty International agus iomairt ONE/DATA. Chleachd Bono an aithne 's a' chliù a choisinn e ann a saoghal a' chiùil gus daoine bochda a chuideachadh 's an t-sluagh oideachadh ann an iomadh cùis shòisealta.
A-NIS: BONO. Since breaking into the rock scene in the late seventies, U2's dynamic lead singer and spokesman Bono has become an unlikely public figure. U2 have released 12 studio albums and are amongst the biggest bands in the world with 150 million record sales.
They have won 22 Grammy Awards, more than any other band. Since they began in the 1970s, Bono and U2 have campaigned for human rights and supported organisations like Amnesty International and the ONE/DATA campaigns.