Main content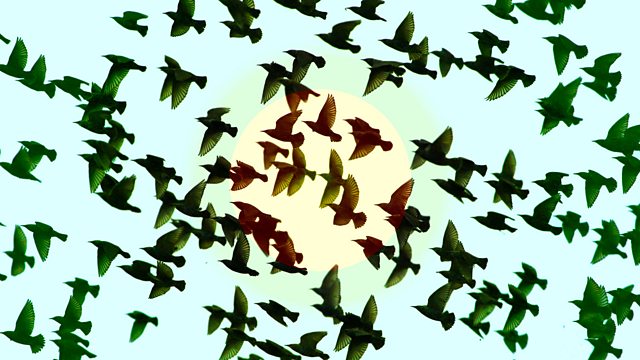 The Warmth of Other Suns
John McCarthy explores the various motivations for human migration and considers what emotional impact it can have on both the individual and the societies that absorb them.
In birds and animals, the great migration is a natural and often profoundly moving spectacle - tens of thousands of wildebeest moving across the plains of Africa in search of water, or the 4000 mile annual journey of the snow goose from their warm wintering to their summer breeding grounds.
In human terms, migration brings the chance for a new start, the prospect of wealth and a better way of life - but is frequently associated with pain, persecution and prejudice. The upheaval can bring distress, but also opportunity and the lure of what the poet Richard Wright described as "the warmth of other suns".
From the mournful lyricism of Psalm 137 ("By the rivers of Babylon we sat and wept") which describes the yearning sorrow and anger of the exiled Jews after the Babylonian conquest of Jerusalem, to Dvorak's New World Symphony inspired by the Czech composer's encounter with America, John McCarthy considers the way writers, poets and musicians have captured both the human and emotional impact of migration.
He also hears the stories of child migrants who were sent from Britain to Australia in the 1950s and 60s, promised a sun-kissed land in which they could ride horses and pick peaches from the trees, but who found themselves unwanted, ostracised and abandoned.
Producer: David Prest and Gil Percival
A Whistledown production for BBC Radio 4.
Last on

Music Played
The Snow Geese by William Fiennes

(Picador) The author follows the geese as they migrate.

Black Boy by Richard Wright

A poem evokes his own experiences of America's Great Migration.

The Child Migrants, presented by Charles Wheeler (Whistledown Productions)

The veteran reporter tells the story of Britain's child migrants.

The Road Home by Rose Tremaine (Chatto and Windus)

An Eastern European migrant has a pang of conscience about his family back home.

How To Be An Alien by George Mikes (Andre Deutsch)

A post-war handbook for the émigré arrival to Britain.

The Weary One by Pablo Naruda from The Poetry of Pablo Naruda (Farrar, Strauss and Giroux)

A poem about the experience of living in exile.

By the Rivers of Babylon from The Book of Psalms (New International version)

A painful longing of a people for their lost homeland.

We Refugees by Benjamin Zephaniah from his collection Wicked World!

A reflection on the nature of the exiled community.

'It is a source of great virtue' by Hugh of St Victor.

A 12th century monk from Saxony on the lure of a homeland.

Longing by Ry Cooder and V.M. Bhatt

A Meeting by the River.
Water Lily Acoustics.

Exodus by Davey Graham

The Guitar Player.
Castle Music.

Everything Stops For Tea by Mario 'Harp' Lorenzi

The Great Dance Bands Play Hits of the Thirties.
Past Perfect.

High Noon (Do Not Forsake Me) by Tex Ritter

High Noon.
Rollercoaster.

Hallejulah by Jocelyn Pook

Broadcasts