Main content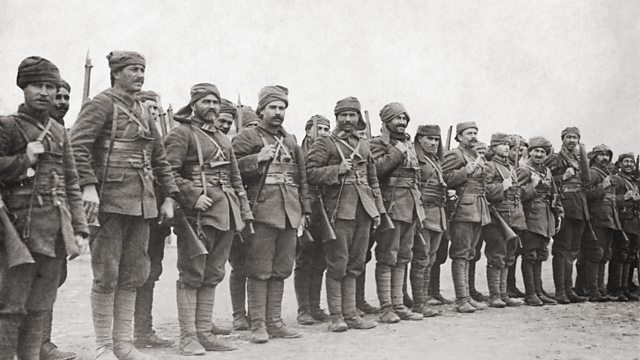 Oh What a Lovely Savas
Rana Mitter is joined by writers of fiction and history to discuss the roles of Turkey, India, China and Japan in World War I and the repercussions for those territories.
'Oh what a lovely Savas' begins Rana Mitter in this edition of Free Thinking, using the Turkish word for War. Along with Sean McMeekin of the Koc University in Istanbul, the novelist Kamila Shamsie, Naoko Shimazu of Birkbeck College and Erez Manela of Harvard University Rana puts Japan, China, India, the Ottomans, Koreans and others centre stage in the years 1914 to 1918.
If you weren't from one of the European Great Powers could you even get into the Paris Peace Conference in 1919 which was to lead to the Treaty of Versailles? And was the failure of the Racial Equality Clause to get on the statute books at this conference the beginning of the end of Empire even for those who won the war ?
Rana and guests discuss a world in which creating an empire was the accepted way of gaining a place at the top table of international diplomacy and power... until a war changed the way the world was for everyone - including the victors.
The very legitimacy of the idea of Empire was possibly the biggest ideological casualty of the so called First World War.
That's 'Oh What a Lovely Savas' with Rana Mitter and guests - Free Thinking.
Discover more about the First World War Centenary season across TV, radio and online.
Books from the programme's contributors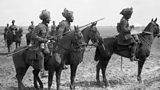 Empires at War: 1911-1923 edited by Robert Gerwarth and Erez Manela
July 1914: Countdown to War by Sean McMeekin 
A God In Every Stone by Kamila Shamsie  
Japan, Race and Equality: The Racial Equality Proposal of 1919 by Naoko Shimazu 
Image: The Battle of Arras, April-May 1917. Forward scouts of the 9th Hodson's Horse (Bengal Lancers), Indian Army. Photo by Lt. Ernest Brooks. This is photograph Q2061 from the collections of the Imperial War Museums.
Credits
| Role | Contributor |
| --- | --- |
| Presenter | Rana Mitter |
| Interviewed Guest | Kamila Shamsie |
| Interviewed Guest | Naoko Shimazu |
| Interviewed Guest | Sean McMeekin |
| Interviewed Guest | Erez Manela |
Featured in...
Spying, peace negotiating & the power balance around the world, films, books, paintings