Main content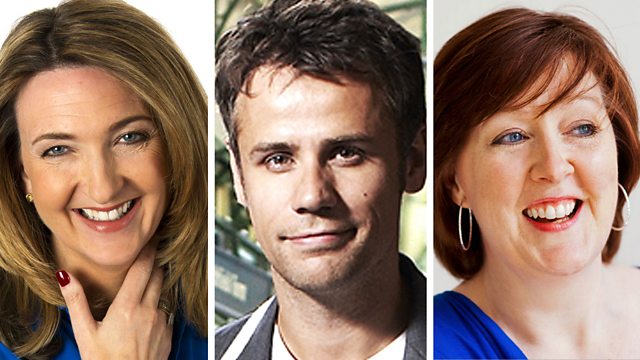 Diversity, Changes to Radio 5 Live and Facebook Controlling Emotions
Radio 5 Live presenter changes, increasing Black, Asian and ethnic minority representation on and off screen and how ethical is it for Facebook to play with people's emotions?
Radio 5 Live has announced that three of their main presenters - Richard Bacon, Victoria Derbyshire and Shelagh Fogarty - are to leave the station in the autumn. Adrian Chiles and Tony Livesey are to get expanded roles. Although there will be no shortage of female co-presenters on the station, Eleanor Oldroyd's one-hour Friday afternoon show will be the only programme fronted solely by a woman. Steve hears from Jonathan Wall, Controller 5 Live about the changes.
Act For Change, a project designed to address the lack of diversity in British television was launched this week with both ITV and the BBC in attendance. It comes after the BBC Director General announced plans to increase representation of Black, Asian or ethnic minority groups (BAME) on and off screen. Proposals include a new top level leadership programme, a £2.1 million Diversity Creative Talent Fund and, for around one in six people on air to be from BAME backgrounds within three years - an increase of nearly five percent. Steve hears from Simon Albury, Chair of the Campaign for Broadcasting Equality, who is concerned about the amount of money invested in the Talent Fund and Avril Russell, a black writer who says Tony Hall's plans won't help her. They are joined by Alan Yentob, the BBC's Creative Director.
Facebook has revealed that it manipulated the news feeds of nearly 700,000 unknowing, randomly selected users in a psychological study, to determine how positive and negative emotions can spread on social media. The study, which has just come to light, has sparked outrage from some people and the Information Commissioner's Office is looking into it. Steve Hewlett is joined by the web psychologist Nathalie Nahai.
Producer: Dianne McGregor.
Last on
Chapters
The diversity challenge

With Simon Albury, Avril Russell and Alan Yentob

Duration: 12:14

5 Live presenter changes

Jonathan Wall, Controller 5 Live on concerns that the station is becoming Radio bloke?

Duration: 06:51

The ethics of Facebook playing with people's emotions

With Nathalie Nahai, the web psychologist.

Duration: 04:00

Broadcast