Main content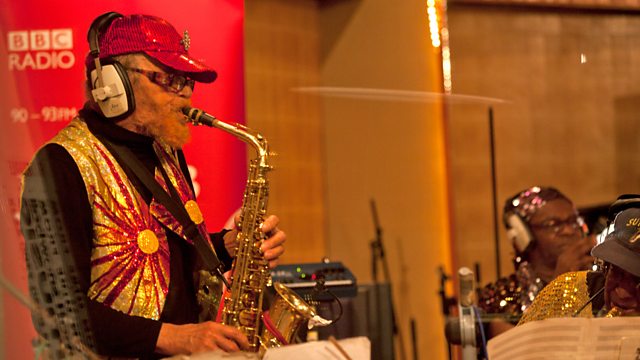 Sun Ra Centenary Session
Jez Nelson introduces a studio session with the Sun Ra Arkestra and guest saxophonist Shabaka Hutchings to celebrate the life of composer and bandleader Sun Ra.
A second chance to hear one of the highlights of 2014 - the Sun Ra Arkestra in session, celebrating the centenary year of the band's iconic leader.
One hundred years since his birth and over twenty since he left for his home planet, Sun Ra remains one of the most intriguing and influential figures in contemporary jazz. His legendary big band, the Arkestra, continues to sell out concert halls worldwide and he is referenced in a wide range of contemporary music and other artforms to this day. There have been several live recordings of the Arkestra since Sun Ra died in 1993 but little in the way of high fidelity studio sessions. Furthermore, while Sun Ra is frequently cited for his outlandish personality and sci-fi stageshows, his substantial achievements as a composer are often overlooked.
To mark his centenary year in 2014, Jazz on 3 presents an ambitious studio session with the core 14-strong Arkestra under the direction of original band-member Marshall Allen. Celebrating Sun Ra's rich songbook, the group performs a mixture of classic and rediscovered repertoire, and also features guest saxophonist Shabaka Hutchings.
Presenter: Jez Nelson
Producer: Joby Waldman
First broadcast 30th June 2014.
Last on