Main content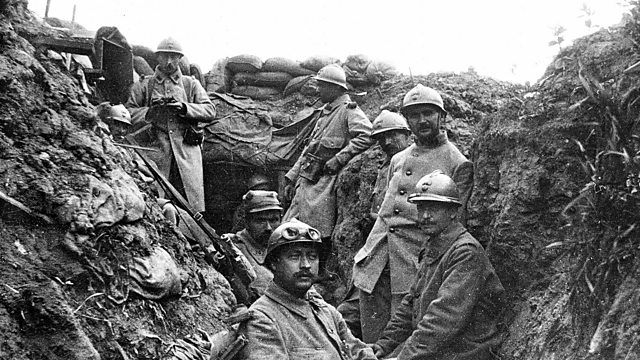 Music in the Great War: Rob Cowan with Jay Winter
With Rob Cowan. Including Essential CD of the Week: Volodos plays Mompou; Brainteaser: Transports of Delight; Historian Jay Winter; Building a Library: Ravel: La Valse.
Music in the Great War, with Rob Cowan and his guest, the historian Jay Winter.
BBC Radio 3 continues to tell the story of World War One through the music of the time. For two weeks (23 June-6 July) the station will dedicate much of its schedule to exploring wartime composers and musicians from Britain, Europe and across the globe. The programmes show how a rich variety of music powerfully expressed the nationalism, pride, escapism, nostalgia, camaraderie, entertainment, grief and loss of a society at total war.
Each day this week, Radio 3's schedule will be a showcase for the musical and cultural experience of one of the major participants - France (30 June), Russia (1 July), the USA (2 July) and Empires (3 July).
9am
A selection of music, including the Essential CD of the Week: Volodos plays Mompou, SONY. We also have our daily brainteaser at 9.30.
9:30 - 10:30 Including a selection of music from the time of World War One.
10:30
Rob's guest this week is the American historian Jay Winter, a specialist in World War I and its impact on the 20th century. He has authored or co-authored several war-themed books, including The Great War and the British People, The Experience of World War I, and, most recently, Sites of Memory, Sites of Mourning: The Great War in European Cultural History, 1914-1918. He was also co-producer, co-writer and chief historian for the PBS series The Great War and the Shaping of the 20th Century, which won an Emmy Award. Jay is the Charles J. Stille Professor of History at Yale University and is a fellow of the Royal Historical Society.
11am
Ravel
La Valse
The Building a Library recommendation from last Saturday's CD Review.
Today's Brainteaser Answer - Transports of Delight
The Orient Express.
The music played:
Richard Rodney Bennett
Murder on the Orient Express: Waltz
Hollywood Bowl Orchestra
John Mauceri (conductor)
PHILIPS 438 685-2