Main content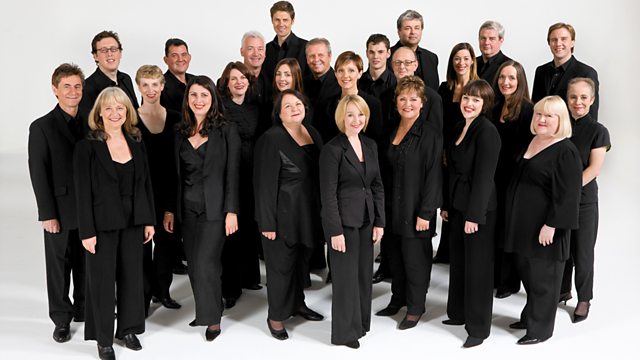 BBC Singers - Davies, Holst, Elgar, Darke, Browne, Parry (part 1)
From St Paul's, Knightsbridge, the BBC Singers under Andrew Griffiths in music written during World War I. With works by Henry Walford Davies, Holst, Elgar and Harold Darke.
Live from St Paul's Knightsbridge in London, the BBC Singers under Andrew Griffiths perform choral music written during the Great War.
Henry Walford Davies: A short Requiem - Mvt 5, Requiem Aeternam II
arr. Gustav Holst: Choral Folk Songs, Op.36b - I love my love; Matthew, Mark, Luke and John
Holst: Nunc dimittis
Walford Davies: Solemn Melody
Edward Elgar: Unaccompanied part-songs 1914 - The Shower (H. Vaughan), Op.71 No.1; The Fountain (H. Vaughan) Op.71 No.2; Love's Tempest (Maykov, trans. Newmarch), Op.73 No.1; Serenade (N.M. Minsky, trans. Newmarch), Op.73 No.2
Harold Darke: As the Leaves Fall, Op.26
Interval: Gramophones at the Front
Part 2
William Denis Browne: Magnificat & Nunc Dimittis (centenary of first performance in 1914)
Hubert Parry: Songs of Farewell
BBC Singers
Stephen Farr (organ)
Andrew Griffiths (conductor)
All of the music featured in this evening's concert was written by British composers during the years of conflict between 1914-1918. Composers reacted in different ways to the horrors of war. Some turned to pastoral imagery as a form of escape, as in the folk-song settings of Holst and the part-songs of Elgar. Others, such as Henry Walford Davies and Harold Darke, composed music to honour the fallen. The main work in the second half is Parry's poignantly powerful Songs of Farewell. Parry had always been a strong admirer of German music and was convinced that the two countries could never go to war. The conflict therefore was a source of great sorrow to Parry, and this masterpiece of sacred choral writing reflects a deep and personal view of the world.
More episodes
Previous
You are at the first episode