Main content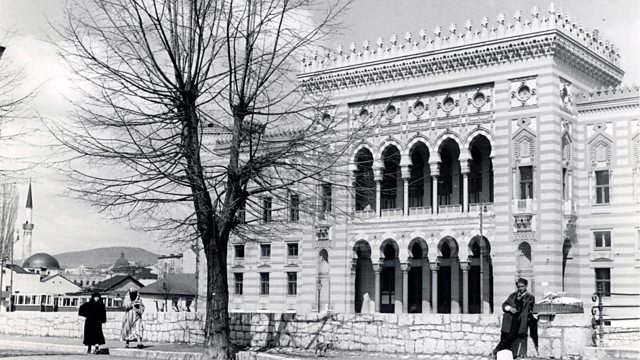 Vienna Philharmonic - Haydn, Schubert, Berg, Brahms, Ravel
Live from Vijecnica National Library, Sarajevo, Vienna Philharmonic and the Sarajevo Opera Choir in a WWI commemorative concert. With Brahms, Schubert and Ravel.
Live from Vijecnica National Library, Sarajevo
Presented by Sara Mohr-Pietsch
As part of Radio 3's Music in the Great War season we join together with broadcasters from across Europe for an historic event. One hundred years after the assassination of Archduke Franz Ferdinand, the Vienna Philharmonic performs in Sarajevo's historic Vijecnica National Library, joining forces with the Opera Choir of the National Theatre of Sarajevo for music from France, Germany and Austria in a tribute to peace and international friendship.
Haydn: Quartet in C, op. 76 Nr. 3 'Kaiserquartet': 2nd movement
Schubert: Symphony no.8 in B minor 'Unfinished'
Berg: Three orchestral pieces: No 3: March
Brahms: Song of Destiny, Op.54
Ravel: La valse
The works in this programme combine music of composers from Austria, Germany and France. Haydn based the melody of the 2nd movement of his quartet on a hymn he'd written for the Austrian Emperor Francis II. Schubert's 'Unfinished' remains one of the most popular yet mysterious symphonies, leading us by way of the mysteries and chasms of the human soul toward a vision of consummation and peace. Shortly before the outbreak of World War I, Alban Berg began the composition of his 'Three Pieces for Orchestra'. Berg, who was a soldier in the imperial army, anticipates the catastrophe of the war as well as the suffering of its countless victims in this March.
In his Song of Destiny Brahms the composer and humanist contradicts the hopeless worldview of a great poet. Ravel described La Valse as the "quintessence of the Viennese Waltz", in which the "premonition of an awesome and inescapable maelstrom" was converged. The apocalyptic foreboding is unmistakable.
Donald Macleod explores the life and work of Haydn through the string quartet
Music Played
World War I Centenary Concert