Main content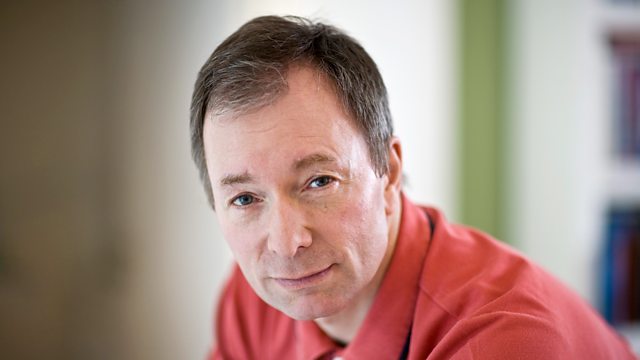 Tony Parsons
Richard Coles and Suzy Klein join Tony Parsons to talk about boxing and writing, hear the Inheritance Tracks of Mari Wilson, and talk to the Shropshire young poet laureate.
Tony Parsons joins Richard Coles and Suzy Klein. Tony talks about his new crime novel, The Murder Bag, and about his first foray into the genre of crime writing. He also talks about boxing, his Father and the importance of his family.
Ian Boughton is the Grandson of Rutland Boughton, originator of the very first 'Glastonbury Festivals' and the composer of 'The Immortal Hour'. The festivals, which ran from 1914 to 1926, inspired Michael Eavis to start his own Glastonbury Festival and Ian talks about his Grandfather's work, his radicalism and the very first Glastonbury Festivals.
Mia Cunningham is the first ever Young Poet Laureate of Shropshire. Her Grandfather Paul is a poet too and contributes his Wenlock Edge country diary to the Guardian Newspaper. They talk about family poetic DNA and why poetry is so important to them.
Roger Beckett took up painting and sketching as a result of a trip to Spain where he stumbled across a public painting festival. He now runs 'Pintar Rapido', an event all are welcome to where you paint or sketch en masse in a day. The event celebrates the urban landscape and is in London on Saturday July 19th and 20th.
Michael Ibsen is a Canadian cabinet maker working in London. He is the nephew of Richard lll 17 times removed and is making the coffin the King will be buried in next year. Michael talks about his famous relation and the coffin he's designing.
JP Devlin meets Al Murray and they walk around the Imperial War Museum in London which is reopening in July after a major refurbishment.
This week's Inheritance Tracks are from Mari Wilson, the beehive Queen of Neasden. She chooses The Folks Who Live on the Hill by Peggy Lee and How Can You Mend a Broken Heart by the Bee Gees.
On Saturday evening, at York Minster, there's a major choral piece celebrating Le Grand Depart, the start of the Tour de France in Yorkshire, with 12 choirs and around 400 people chosen from along the 'Tour' route. Alex Lindley, a Saturday Live listener and one of the singers and organisers, wants to say 'Thank You' to everyone involved and tells us about the event.
Clips

When I talk about Shropshire
When I talk about Shropshire 
When I talk about Shropshire it all comes down to the people,
English, European, Asian, Bajan and Caribbean.
Immigration is part of Shropshire's cultural dedication
to everyone willing to participate in our landscape's evolution.
Save our countryside! The Shropshire Hills will stay alive
with the sound of music like Bangra, Reggae, Soul and tribal beats.
Shout it from the rooftops, sing it in the streets.
I'm just a Shropshire Lass... so raise your glass to difference,
Chalk or cheese, birds or bees, come rain or shine,
Make Shropshire yours, I've made it mine.
By:  Mia Cunningham
Water separates me from my ancestors' Motherlands.
Water separates me from my ancestors' Motherlands.
Water separates me from my ancestors' Motherlands
carrying secrets in her clasped hands.
Holding on to my past like a precious gem
grasping love, culture and those forgotten men.
Pressing it gently upon my face
feeling a physical presence, which I embrace.
Finding out about a lost generation which I see in my reflection
of curiosity and temptation.
Making me the person who I am today
filling my heart with a sudden delay.
Searching for a race inside an empty glass
which carries the water from my past.
Water separates me from my ancestors' Motherlands.
Carry me to my future which I wish I could understand.
By: Mia Cunningham
Studio photo: Richard, Suzy, Tony Parsons, Paul Evans, Mia Cunningham, Roger Beckett, Ian Boughton.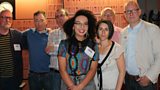 Credits
| Role | Contributor |
| --- | --- |
| Presenter | Richard Coles |
| Presenter | Suzy Klein |
| Presenter | JP Devlin |
| Interviewed Guest | Tony Parsons |
| Interviewed Guest | Ian Boughton |
| Interviewed Guest | Mia Cunningham |
| Interviewed Guest | Roger Beckett |
| Interviewed Guest | Michael Ibsen |
| Interviewed Guest | Mari Wilson |
| Interviewed Guest | Alex Lindley |
| Producer | Chris Wilson |