Main content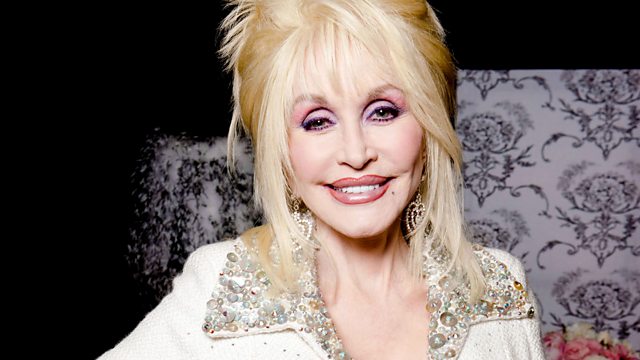 Dolly Parton - feminist icon? And poet Hollie McNish's Letter to an Unknown Soldier
Why everyone loves Dolly Parton. A celebration of Ann Radcliffe's Gothic fiction. Combating loneliness. And poet Hollie McNish shares her contribution to a new WW1 memorial.
Dolly Parton makes her debut Glastonbury performance this weekend. Her platinum blonde hair, sequinned styling, and famous cleavage make her instantly recognisable but it's her wit, her writing, and her huge hits that have made her a star. As she's said herself, "I may look fake, but I'm real where it counts." We look at her enduring appeal across the generations and ask; Is she a feminist icon?
On platform one of Paddington station in London, there is a statue of an unknown soldier who is reading a letter. 'Letter to an Unknown Soldier' is the name of a project which asks everyone to contribute to marking the outbreak of the First World War, by writing their own. All the letters the soldier receives will be published on a website in an effort to create a war memorial entirely from
words.
Widely seen as the mother of the Gothic Novel, Ann Radcliffe was the highest paid author of her time but despite this, has widely been ignored compared to writers like Jane Austen. This weekend, the University of Sheffield is holding a conference to celebrate her 250th anniversary. So why has she been forgotten and what influence does her writing have on contemporary gothic authors?
The charity Contact the Elderly organise tea parties across the country hosted by volunteers - to help older people feel less isolated. Volunteers get a lot out of it as do the people who attend. In the latest in our series on loneliness we look at ways to tackle or even prevent feeling lonely.
Clips

Chapters
Dolly Parton

Professor Helen Morales and Krissi Murison look at the appeal of the Queen of Country

Duration: 09:53

Combatting Loneliness

We look at ways to tackle or even prevent loneliness

Duration: 13:37

Ann Radcliffe

Ann Radcliffe, mother of the Gothic Novel, why has she been forgotten?

Duration: 08:20

Letter to an Unknown Soldier

A project which asks everyone to contribute to marking of the First World War

Duration: 09:42

Dolly Parton

Dolly Parton makes her debut Glastonbury performance this weekend. Her platinum blonde hair, sequinned styling, and famous cleavage make her instantly recognisable, but it's her wit, her writing, and her huge hits that have made her a star. As she's said herself, "I may look fake, but I'm real where it counts." In her almost sixty year career, she's sold more than 100 million records, received 46 Grammy nominations, and is a successful businesswoman and philanthropist, reputed to be worth a quarter of a billion dollars. Professor Helen Morales – whose new book about Dolly Parton is called Pilgrimage to Dollywood – and former NME Editor, and now Sunday Times journalist, Krissi Murison, who recently met Dolly in Tennessee, join Jenni to look at the enduring appeal of the Queen of Country.

 

Dolly Parton will be making her debut performance at Glastonbury on Sunday, and is currently touring the UK until 2 July. Her latest album Blue Smoke: The Best of Dolly Parton is out now. And Helen Morales's book Pilgrimage to Dollywood: a Country Music Road Trip through Tennessee is published in July by University of Chicago Press.

Combatting Loneliness

All this week we've been hearing from a range of voices in different circumstances on how they are affected by feelings of loneliness. It's something which can be experienced at any age, and is not restricted to the elderly or those who live alone, but it's also a condition which seems to have a stigma attached and can be embarrassing to admit to. Today we look at ways to tackle or even prevent loneliness. We hear from the charity Contact the Elderly, who organise monthly tea parties across the country, hosted by volunteers, to help older people feel less isolated. Jenni is joined by Laura Ferguson, Director of the Campaign to End Loneliness, and by Tracey Robbins - Programme Manager for Neighbourhood Approaches to Loneliness at the Joseph Rowntree Foundation - to explore what is being done at both a policy and grassroots level to combat and reduce what is said to be the silent epidemic of our times.

Ann Radcliffe

Often seen as the mother of the Gothic Novel, Ann Radcliffe was the highest paid author of her time, but despite this has been widely ignored compared to writers like Jane Austen. This weekend The University of Sheffield is holding a conference to celebrate her 250th anniversary. So why has she been forgotten, and what influence does her writing have on contemporary gothic authors? To discuss, Jenni is joined by Rebecca Stott, Professor of Literature and Creative Writing at the University of East Anglia, and by Angela Wright, Senior Lecturer in Romantic Literature at Sheffield University.

Letter To An Unknown Soldier

On platform one of Paddington railway station in London, there is a statue of an unknown soldier reading a letter. Letter To An Unknown Soldier is the name of a project which asks everyone to contribute to marking the outbreak of the First World War by writing one of their own. All the letters the soldier receives will be published on a website in an effort to create a war memorial. Jenni talks to Professor Kate Pullinger, co-creator of the project, who has invited people to write their own letters, and to the poet Hollie McNish, who has written a letter of her own.

 

Hollie McNish will be performing at the Latitude festival in July and she will be touring in October

Credits

| Role | Contributor |
| --- | --- |
| Presenter | Jenni Murray |
| Interviewed Guest | Kate Pullinger |
| Interviewed Guest | Hollie McNish |
| Interviewed Guest | Helen Morales |
| Interviewed Guest | Krissi Murison |
| Interviewed Guest | Angela Wright |
| Interviewed Guest | Rebecca Stott |
| Interviewed Guest | Laura Ferguson |
| Interviewed Guest | Tracey Robbins |
| Producer | Beverley Purcell |