Main content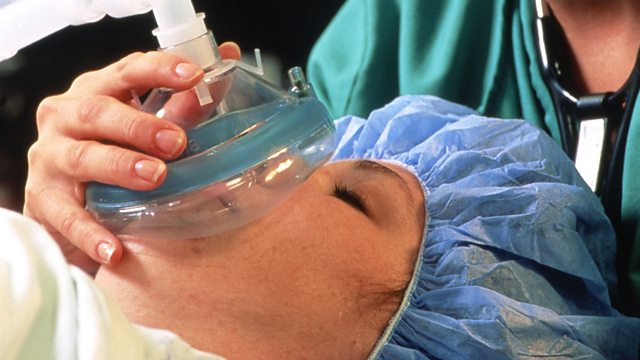 Anaesthesia
General anaesthetics have been used in operating theatres for over 150 years. Yet, as Linda Geddes reports, scientists are only now really understanding how they work.
General anaesthetics which act to cause reversible loss of consciousness have been used clinically for over 150 years. Yet scientists are only now really understanding how these drugs act on the brain and the body to stop us feeling pain. Linda Geddes reports on the latest research using molecular techniques and brain scanners.
Linda visits the Anaesthesia Heritage Centre where William Harrop-Griffiths, President of the Association of Anaesthetists of Great Britain and Ireland, tells her about the discovery of agents that knock us out.
As an operation takes place in the Royal United Hospital in Bath, Professor Tim Cook explains the role of the anaesthetist.
Linda talks to Professor Nick Franks of Imperial College, London, about his research into how anaesthetics work at the level of the cell. Irene Tracey, Professor of Anaesthetic Science at Oxford University, discusses how her fMRI scans of people as they slowly undergo anaesthesia have revealed how the brain switches off. Professor Steven Laureys, Head of the Coma Science Group at Liege University in Belgium, explains how understanding anaesthesia can help coma patients and what it tells us about the difficult question of human consciousness.
Last on
Broadcast