Loneliness; Barbara Kruger; Honey & Co; Bad girls in fiction
Our series on loneliness continues as we find out why parenthood can be an isolating experience and how it changes as your children grow up. Conceptual artist Barbara Kruger talks how she combines bold slogans, text and image to investigate the dynamics of power in popular culture. Cook The Perfect falafel and tabule salad with Honey & Co; Authors Zoe Pilger and Emma Jane Unsworth are writing about literary bad girls. What is the attraction of female anti-heroines? The numbers of women taking up archery has increased. Anna Bailey went to meet the members of the Aquarius Archery Club in London as they met for their weekly coaching session.
Last on
Loneliness & Parenthood
Becoming a parent is portrayed as one of the most fulfilling moments of our lives. We are assured by family and friends umpteen times that, 'it's hard, but it's so worth it.' But even if we are braced for the good and the bad, being a mother can be an extremely isolating experience for some. As part of our loneliness series, we hear from two listeners with very different experiences.
Cook the Perfect… Falafel & Tabouleh Salad
Since opening just over 18 months ago, the tiny London restaurant Honey & Co has quickly become one of London's most talked about dining destinations, and has gained a loyal following for its homely, fresh, and fragrant dishes. It was set up by the husband and wife team Itamar Srulovich and Sarit Packer who met in a restaurant kitchen in Israel ten years ago and have been cooking together ever since. They were inspired by the wealth of Middle Eastern dishes they found in Jerusalem and Tel Aviv restaurants - from Tunisian, to Moroccan, Persian, Palestinian, Lebanese, Jordanian, and Turkish cuisines - which form the basis of their new book Honey & Co: Food From The Middle East. They join Jenni to Cook The Perfect Falafel and a fresh tabouleh salad.
Honey & Co: Food From The Middle East is published by Salt Yard
Archery
If you watched the Hunger Games on TV on Saturday night you'll have seen how adept with the bow and arrow the central character is – as indeed is Princess Merida in Brave. And it's not just on screen that women archers are having a bit of a moment. Danielle Brown won her second gold for Team GB in the 2012 Paralympics, and the number of young women taking up the sport has increased by nearly 50 per cent since the London Games. Anna Bailey went to meet Dani Brown and the members of the Aquarius Archery Club in London as they met for their weekly coaching session.
Literary Bad Girls
A new wave of anti-heroines is appearing in novels - women who prefer drink, drugs, and sex to finding the perfect man. There's Ann-Marie in Zoe Pilger's Eat My Heart Out - a skint, furious 23 year old whose sex life is violent and disastrous. There's Laura and Tyler in Emma Jane Unsworth's Animals, who knockback booze and drugs and prioritise time together over time with men. And there's middle-aged Jenn in Helen Walsh's The Lemon Tree, who lusts after her teenage step-daughter's boyfriend. So what's behind this genre of literary bad girls? How much are we seeing a cultural shift towards women behaving badly, not only in books, but in films and also TV?  And what does the emergence of the anti-heroine say about the status of women in the real world? Jenni is joined by Zoe Pilger and Emma Jane Unsworth to discuss.
Eat My Heart Out by Zoe Pilger is published by Serpents Tail
Animals by Emma Jane Unsworth is published by Canongate
Barbara Kruger
If you don't know her name, you've probably seen her work in art galleries, on magazine covers or in giant installations that cover walls, billboards, buildings, buses, trains, and tram lines all over the world. Barbara Kruger's work combines bold slogans, text and image to investigate the dynamics of power in popular culture today. She joins Jenni to talk about her life and work.
A major exhibition of Barbara Kruger's work confronting social and cultural conventions of gender, consumerism, and desire opens at the Museum of Modern Art Oxford on Friday 27 June and runs until 31 August
RECIPE: Yemeni-style falafel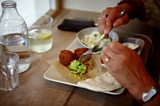 Itamar is a quarter Yemeni on his grandfather's side. This falafel is a tribute to that heritage, and it is great- the traditional Yemeni combo of coriander, cardamom and garlic makes it super-vibrant in colour  and flavour.
*1/2 onion, peeled (about 60g)
*1 clove of garlic, peeled
*250g soaked chickpeas (from 125g dried)
*1 green chilli, seeds and all
*3 sprigs of parsley, picked
*1 small bunch of coriander (about 15-20g), leaves and top part of stems only
*1/2 tsp ground cumin
*1 tsp freshly ground cardamom pods
*1/2 tsp salt
*2 tbsp gram flour (use plain if need be)
*1 tsp baking powder
Instructions: 
1. Start the night before: Wash the chickpeas then soak at room temperature in a large bowl with lots of water (at least four times the volume of the chickpeas) for at least 8 hours. Falafel will never work with tinned chickpeas.
2. The chickpeas should double in weight. Lift them out of the water and place in a bowl, remove any stones or ones that have gone black.
3. Put the onion, garlic, chilli and herbs in a food processor and pulse them to chop roughly.
4. Add the chickpeas and blitz until mixture becomes a thick paste with small, even-sized bits and a rough bread crumb consistency. The best way to check the mixture is done is to scoop up a small amount and squeeze it in your palm - it should hold its shape. If it falls apart, return to processer for another spin.
5. Tip mixture into a large bowl, add the spices, salt, flour, baking powder and sesame seeds. Mix until all is combined well.
6. Heat a deep pan with enough oil to cover the falafels. You can test if the oil is hot enough by placing a small piece of mix in the oil- as soon as it starts to bubble, it's ready.
7. Shape the falafel mix with damp hands into little balls or torpedo shapes about the size of a walnut. Or you can shape them using one spoon to scoop up the mixture and a second to shape it and carefully drop into the hot oil.
8. Cook them through until the exterior is browned and crisp ( about 2-3 minutes). Remove to a plate covered with a paper towel to absorb the excess oil and repeat the process until all the of them are fried.
9.Serve right away while they are crunchy and hot with tahini sauce. Falafels does not stand being reheated well.
Tahini Sauce:
The best Tahini paste is Lebanese, Palestinian or Turkish.
Add a clove of garlic, a pinch of salt,  juice of 1 lemon and 120ml water to 125 g of tahini paste. Blend until creamy and adjust seasoning to taste.
Tips:
Use a neutral vegetable oil that doesn't have much flavour, like sunflower or rapeseed.
Falafel always contains chickpeas and oinions, cumin and baking powder. But other than that anything goes. There are many variations in the spices you can use such as ground coriander, ground cinnamon, a pinch of white pepper (not black), sesame seeds or a clove of garlic.
RECIPE: Tabouleh Salad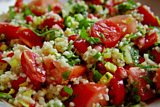 This is a delicious herby Lebanese salad and it's best made when tomatoes are in high season, sweet and full of flavour. Use coarse grind bulgar cracked wheat for this, as the soft tomatoes need the added crunch. Bulgar wheat has more texture and flavour than couscous and is just as easy to prepare for this dish.
Serves 4-6 as a mezze
Method:
Prepare the basic bulgar wheat
*75g of bulgar cracked wheat
*75ml boiling water (90ml for coarse grind)
*pinch of salt and splash of olive oil
If you're using a mug to measure, use the same amount of bulgar wheat as water.
1. Place the bulgar wheat, oil and salt in a bowl and stir well till the grains are all covered in the oil.
2. Pour over just-boiled water and quickly cover with clingfilm to seal in the steam. Leave for five minutes and then use a fork to fluff the bulgar wheat up and break it up.  
3. Allow to cool uncovered and then it's ready for use. It will keep for three days in an airtight container in the fridge.
Tabouleh Salad:
*l00g cooked coarse grind bulgar wheat (see method above)
*l00g fresh pomegranate seeds
*l00g tomatoes, cut into small dice
*1 large bunch of parsley (about 30-40g), picked and chopped
*3 sprigs of mint, picked and chopped
*1 green chilli,deseeded and chopped
*2 inner stalks of celery,finely sliced
*zest and juice of 1 lemon
*1 tbsp olive oil
*1/2 tsp sea salt
1. Mix everything together in a bowl and adjust the seasoning to taste.
Credits
| Role | Contributor |
| --- | --- |
| Presenter | Jenni Murray |
| Interviewed Guest | Barbara Kruger |
| Interviewed Guest | Zoe Pilger |
| Interviewed Guest | Emma Jane Unsworth |
| Interviewed Guest | Itamar Srulovich |
| Interviewed Guest | Sarit Packer |
| Interviewed Guest | Carolyn Lazarus |
| Producer | Karen Dalziel |