Main content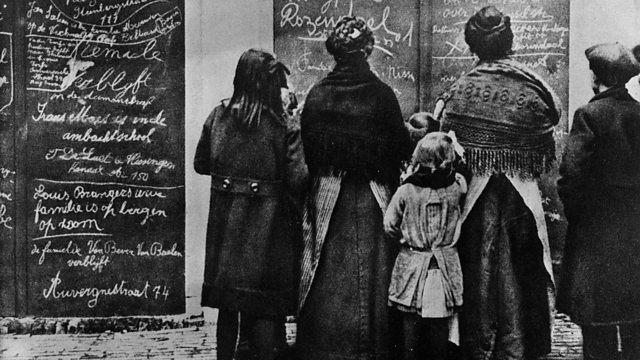 BBC NOW at the Gregynog Festival
At 2014's Gregynog Festival, Jac van Steen leads the BBC National Orchestra of Wales in a concert commemorating two world wars and exploring the plight of Belgian refugees in Wales.
Jac van Steen conducts BBC NOW in a commemoration of two world wars, exploring the plight of Belgian refugees in Wales. Part of Radio 3's WWI season, Music in the Great War.
Live from Aberystwyth Arts Centre as part of the Gregynog Festival.
Presented by Sian Pari Huws.
Butterworth: A Shropshire lad - rhapsody for orchestra
David van der Woestijne: Symphony
Jongen: Harp Concerto
8.00 pm Interval music:
Franck: Pièce héroïque
Elgar: Le drapeau belge
Sian Pari Huws talks to the Director of the Gregynog Festival, Rhian Davies, about the links between Belgium and Mid Wales in the First World War.
8.25 pm:
Morfydd Owen: Morfa Rhuddlan
Kelly: Elegy for strings: "in memoriam Rupert Brooke"
Ian Parrott: Luxor
George Butterworth was one of many young composers whose careers were tragically cut short by the Great War. His rhapsody explores the world of A.E Housmann's poem "A Shropshire lad", a reflection on the senselessness of the Boer War. It's regarded as a minature masterpiece, perfectly encapsulating the futility of war filtered through his love of English folksong. When war broke out in 1914, a million Belgians fled their country with some 100,000 coming to Britain. Among them was organist and composer Joseph Jongen, who made a new home in Bournemouth - though he took his summer holidays in North Wales. The Cello Concerto displays his melodic charm whilst embracing the eloquence of Wagner and the delicacy of Debussy. David van der Woestijne was born in 1915, to refugee Belgian parents at the Lion Hotel in Llandinam, Powys, and went on to become a leading Belgian composer. Like Butterworth, Morfydd Owen was also deeply influenced by folk music she found around her. The Welsh tune Morfa Rhuddlan commemmorates a savage battle between the Welsh and the Saxons in the eighth century.
In 1914, the Autralian composer Frederick Kelly joined the Royal Navy alongside the poet Rupert Brooke. Together they sailed for Gallipoli but Brooke died on route, and Kelly was one of the party who buried him on the Greek island of Skyros in 1915. Kelly was moved to write an elegy to his friend as a tender lasting memorial. The following year he was killed in the last days of the Battle of the Somme.
Ian Parrot was Gregynog Professor of Music at University College of Wales, Aberystwyth (1949-83), and second Artistic Director of the Gregynog Festival (1956-61). His time in the Royal Signals Corps took him to Egypt, and the experience there influenced his early compositions. Whilst in Cairo he even found time to write a complete opera, "The Sergeant-Major's Daughter", but it was his symphonic impression of the temple of Luxor, which earned him greatest success, winning first prize from the Royal Philharmonic Society in 1949.
Credit
| Role | Contributor |
| --- | --- |
| Performer | BBC National Orchestra of Wales |