Main content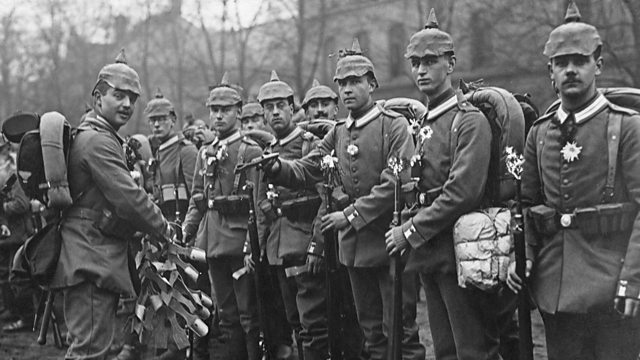 Penny Gore with music connected to WWI. Reger: Abschiedslied. Eisler: Gegen den Krieg. Stephan: Music for orchestra. Braunfels: Te deum (Pt 1). Rimsky-Korsakov: Capriccio espagnol.
Part of Radio 3's WWI season, Music in the Great War.
Penny Gore explores some of the music written by German composers during the First World War. Contrasting works by Reger and Eisler are followed by Stephan's Music for Orchestra and an extract from Braunfels' luxuriously scored Te Deum. The afternoon is rounded off with a performance of Rimsky-Korsakov's Capriccio espagnol.
Reger
Abschiedslied
BBC Singers
Paul Brough (conductor)
2.03pm Eisler
Gegen den Krieg
BBC Singers
Paul Brough (conductor)
2.17pm Stephan
Music for orchestra
Melbourne Symphony Orchestra
Oleg Caetani (conductor)
2.43pm Braunfels
Te deum (1st part)
Swedish Radio Symphony Orchestra
Gitta-Maria Sjoberg (soprano)
Lars-Erik Jonsson (tenor)
Manfred Honeck (conductor)
3.03pm Rimsky-Korsakov
Capriccio espagnol
BBC Philharmonic
Richard Farnes (conductor).