Main content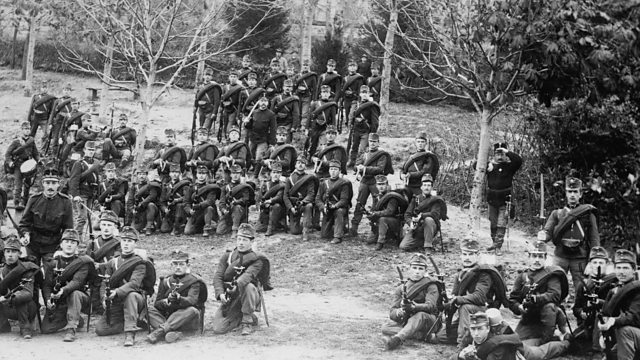 Music in the Great War: Austria-Hungary at War
With Sarah Walker. CD of the Week: Elgar: Piano Music; Brainteaser: Listeners' Puzzle; Music and literature scholar Kate Kennedy; Sarah's Essential Choice: Beethoven: Symphony No 3.
with Sarah Walker and her guest, the music and literature scholar, Kate Kennedy.
9am
A selection of music, including the Essential CD of the Week: Elgar: Piano Music, Ashley Wass, NAXOS. We also have our daily brainteaser at 9.30.
9:30 - 10:30 Including a selection of music from the time of World War One.
10:30
Sarah's guest this week is the consultant to the Radio 3 World War One programming, Kate Kennedy. Kate is a Research Fellow at Girton College, Cambridge, where she teaches in the English and Music Faculties. She has published numerous papers on music and literature around the First World War, and is currently working on a biography of the poet and composer Ivor Gurney, and co-editing The Silent Morning: Cultural Responses to the Armistice, 1918. She has also recently co-edited and contributed to a special edition of the Journal of First World War Studies, entitled The First World War: Music, Literature, Memory. She gives regular lectures in music festivals, pre-concert talks, contributes as a guest to programmes for Radio 3 and is a freelance baroque cellist.
11am
Sarah's Essential Choice
Beethoven
Symphony No.3 'Eroica'
Vienna Philharmonic Orchestra
Georg Solti (conductor)
DECCA.
Today's Brainteaser Answer - Only Connect
The connection was Mornings.

The music played:
Debussy
From Dawn to Midday on the Sea (1st mvmt La Mer)
Royal Concertgebouw Orchestra
Bernard Haitink (conductor)
PHILIPS 438 743 2   

Grieg
Morning (Peer Gynt)
Gothenburg Symphony Orchestra
Neeme Jarvi (conductor)
DG 437 523 2    

Britten
March, (Matinees Musicales)
National Philharmonic Orchestra
Richard Bonynge (conductor)
DECCA LONDON 425 659 2 
Time Travellers: the podcast