Main content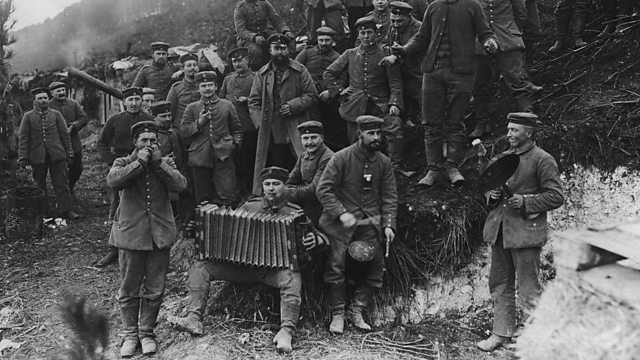 Music in the Great War: Germany at War
With Sarah Walker. CD of the Week: Elgar: Piano Music; Brainteaser: Listeners' Puzzle; Music and literature scholar Kate Kennedy; Essential Choice: Strauss: Eine Alpensinfonie.
with Sarah Walker and her guest, the music and literature scholar, Kate Kennedy.
9am
A selection of music, including the Essential CD of the Week: Elgar: Piano Music, Ashley Wass, NAXOS. We also have our daily brainteaser at 9.30.
9:30 - 10:30 Including a selection of music from the time of World War One.
10:30
Sarah's guest this week is the consultant to the Radio 3 World War One programming, Kate Kennedy. Kate is a Research Fellow at Girton College, Cambridge, where she teaches in the English and Music Faculties. She has published numerous papers on music and literature around the First World War, and is currently working on a biography of the poet and composer Ivor Gurney, and co-editing The Silent Morning: Cultural Responses to the Armistice, 1918. She has also recently co-edited and contributed to a special edition of the Journal of First World War Studies, entitled The First World War: Music, Literature, Memory. She gives regular lectures in music festivals, pre-concert talks, contributes as a guest to programmes for Radio 3 and is a freelance baroque cellist.
11am
Sarah's Essential Choice
Strauss
Eine Alpensinfonie
Berlin Philharmonic
Herbert von Karajan (conductor)
DG.
Today's Brainteaser Answer - Puzzle
What connects the  composer's surname initial and the numbers of the symphonies to an island in the South Seas, famous for a story of mutiny?
Answer: Tea for Two (T 4 2), which was orchestrated by Shostakovich with the title 'Tahiti Trot'.

The music played:
Tchaikovsky
1st mvmt Symphony No 4
Berlin Philharmonic
Herbert von Karajan (conductor)
DG 419 872 2    

Tchaikovsky
1st mvmt Symphony No 2
Russian National Orchestra
Mikhail Pletnev (conductor)
DG 449 970 2